AAA Tipsy Tow 2013: How To Get A Free Ride Home After New Year's Eve Celebrations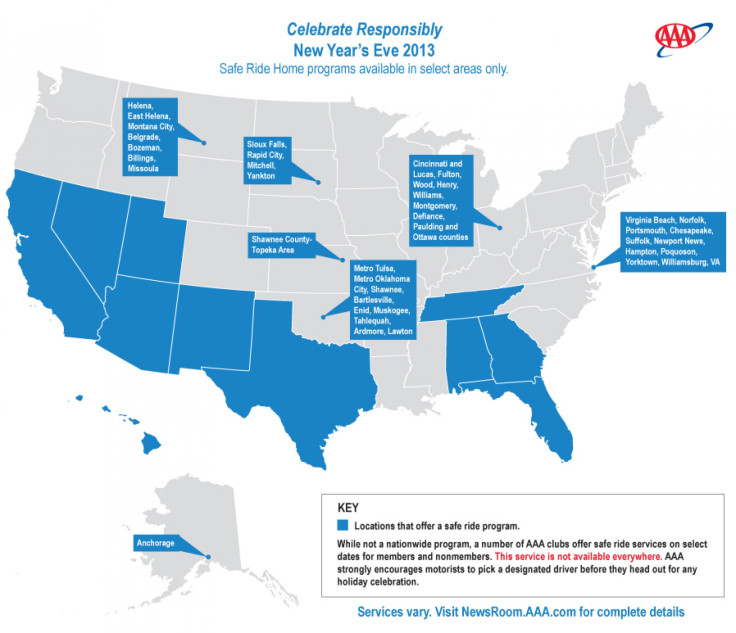 As a courtesy to 2013 New Year's Eve revelers, AAA, formerly known as the American Automobile Association, is providing a Holiday Safe Ride Program to members and nonmembers in select states.
The free service, which is known as "Tow-to-Go" and "Tipsy Tow" in certain AAA regions, helps drivers who are too intoxicated by providing them a ride home after their New Year's celebrations.
This may seem like a great backup plan for partygoers who've partaken in a few glasses of wine, champagne or other drinks of choice, but keep in mind the Holiday Safe Ride "Tipsy Tow" program will not be available in all areas.
Contrary to popular belief, the program is not a nationwide program but rather a service provided by AAA clubs in participating states. While individual AAA clubs provide the service for revelers, "AAA strongly encourages motorists to pick a designated driver before they head out for any holiday celebrations," AAA said in an official press release.
Take a look below to see which AAA clubs are offering a Safe Ride Program:
The Auto Club Group in Florida, Georgia and Tennessee: "Tow-to-Go" program
AAA Arizona: Statewide
AAA South Dakota: Sioux Falls, Rapid City, Mitchell and Yankton only
AAA Oklahoma: Metro Tulsa, Metro Oklahoma City, Shawnee, Bartlesville, Enid, Muskogee, Tahlequah, Ardmore and Lawton only
AAA Northern California: All club territories
AAA Nevada: Statewide
AAA Utah: Statewide
AAA Tidewater: (Greater Hampton Roads area: Cities of Virginia Beach, Norfolk, Portsmouth, Chesapeake, Suffolk, Newport News, Hampton, Poquoson, Yorktown and Williamsburg, VA) – only through Jan. 1, 2014.
AAA Northwest Ohio: Lucas, Fulton, Wood, Henry, Williams, Defiance, Paulding and Ottawa counties
AAA MountainWest: Helena, East Helena, Montana City, Belgrade, Bozeman, Billings, and Missoula and Anchorage, Alaska
Automobile Club of Southern California: All club territories
AAA Texas: Statewide
AAA New Mexico: Statewide
AAA Hawaii: Statewide
AAA Alabama: Tow-For-Life
AAA has also provided a list of a couple of taxi programs in some areas not covered by the Holiday Safe Ride service.
Ohio: In Cincinnati the Care Cab can be reached at 381-FREE (3733). AAA Allied Group provides Montgomery County residents cab rides through its "ArriveSafe" program, which can be reached at 937-449-9999.
Kansas: In Topeka the Care Cab can be reached at 785-357-4444 and 785-842-TAXI (8294) for Lawrence residents through the Tipsy Taxi program. The official AAA call center only routes Care Cab requests within the city limits of Wichita.
"Drivers should be aware of the high crash risk from drinking and driving associated with holidays, and we encourage them not to get behind the wheel if they've been drinking," said the Auto Club's senior traffic safety researcher, Steve Bloch, in a press statement.
While the AAA Holiday Safe Ride "Tipsy Tow" programs offered in certain states help those drivers get home after their New Year's partying, it by no means the only available service for getting home if you're too intoxicated. AAA provides an extensive list of third-party programs in each state that provide rides home if you've had too much to drink. Services such as Sober Sam in New Jersey will even drive you back in your own car -- for a nominal fee. Ultimately, that's still a small price to pay for getting home safely.
Unlike the AAA Holiday Safe Ride "Tipsy Tow" programs, many of these services do require advance booking. If you think you'll need a ride home after your New Year's celebrations, be sure to make your reservations as soon as possible.
Depending on your AAA club, the "Tipsy Tow" program may also be offered on other holidays and big event days in 2014. Check your local AAA club for details.
© Copyright IBTimes 2023. All rights reserved.