Abbott, others settle inflated drug prices charges with DOJ for $421 mln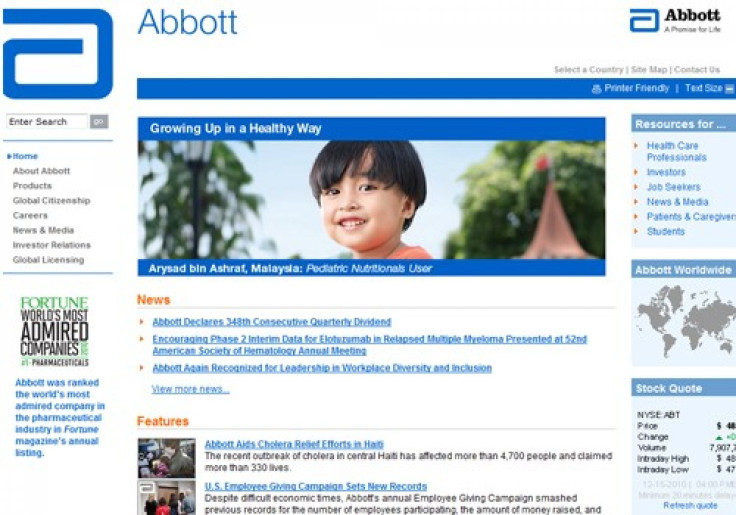 Three pharmaceutical companies have agreed to collectively pay a fine of $421 million to settle charges of inflating drug prices, according to the Department of Justice (DOJ).
According to the Justice Department, Abbott Laboratories Inc., B. Braun Medical Inc. and Roxane Laboratories Inc., a subsidiary of Boehringer Ingelheim Corporation, have reported falsely inflated drug prices knowing that federal healthcare programs relied on those reported prices to set payment rates.
The government had charged Abbott, Braun and Roxanne with creating artificially inflated spreads (a spread is the difference between the resulting inflated government payments and the actual price paid by healthcare providers) to market, promote and sell the drugs to existing and potential customers.
Because payment from the Medicare and Medicaid programs was based on the false inflated prices...the defendants caused false claims to be submitted to federal healthcare programs, and as a result, the government paid millions of claims for far greater amounts than it would have if Abbott, B. Braun and Roxane had reported truthful prices, the Justice Department said.
Abbott was charged with inflating the price of dextrose solutions, sodium chloride solutions, sterile water, vancomycin (a powerful, intravenous antibiotic) and erythromycin (an oral antibiotic).
Roxane was charged with reporting false prices for the following drugs: Azathioprine, Diclofenac Sodium, Furosemide, Hydromorphone, Ipratropium Bromide, Oramorph SR, Roxanol, Roxicodone and Sodium Polystyrene Sulfonate.
B. Braun was charged with inflating prices of 49 of its drug products, including water-based solutions used to facilitate the intravenous infusion of other drugs and for fluid replacement, including dextrose solutions, sodium chloride solutions, sterile water and lactated ringers solution. They also included intravenously administered nutritional solutions and a variety of other intravenously administered drugs.
While Abbott has agreed to pay $126.5 million, B. Braun and Roxane will pay $14.7 million and $280 million respectively. All three pharmaceutical companies have denied any wrong-doing but said they have agreed to the settlement to avoid long-term litigation costs.
With these settlements, the Department of Justice has now recovered more than $1.8 billion from pharmaceutical manufacturers arising from similar unlawful drug pricing schemes. By offering their customers one price and then falsely reporting a greatly inflated price to the lists the government uses when determining how much to pay for the drugs, we believe pharmaceutical companies created an incentive for the purchase of their drugs, since buyers could obtain government payment at the inflated price and pocket the difference, said Assistant Attorney General (Civil Division) Tony West.
These settlements are part of the government's emphasis on combating health care fraud. One of the most powerful tools in that effort is the False Claims Act, which the Justice Department has used to recover approximately $4.6 billion since January 2009 in cases involving fraud against federal health care programs. The Justice Department's total recoveries in False Claims Act cases since January 2009 have topped $5.8 billion.
The latest settlements resolve allegations brought by a whistle-blower under the qui tam provisions of the False Claims Act. The False Claims Act suits were filed by a Florida home infusion company, Ven-A-Care of the Florida Keys Inc., and its principals. The False Claims Act allows for private persons to file suits to provide the government information about wrongdoing. Under the statute, if it is established that a person has knowingly submitted or caused others to submit false or fraudulent claims to the United States, the government can recover treble damages and $5,500 to $11,000 for each violation of the statute. If the government is successful in resolving or litigating its claims, the whistle-blower who initiated the action can receive a share of between 15 percent to 25 percent of the amount recovered. As part of these settlements, the Ven-A-Care whistle-blowers will receive approximately $88.4 million.
© Copyright IBTimes 2023. All rights reserved.