Adam West Death Anniversary: Quotes By The Legendary Batman Actor
Adam West, best known for his role as "Batman" in the ABC network series, was born Sept. 19, 1928, in Washington. He worked as a disc jockey at a local radio station before becoming an actor.
West caught the eye of ABC executives after his portrayal of a resourceful secret agent in a Nestle's Quik commercial.
The legendary actor died June 9, 2017, in Los Angeles after a brief battle with leukemia at the age of 89.
"Our dad always saw himself as The Bright Knight and aspired to make a positive impact on his fans' lives. He was and always will be our hero," his family said in a statement after his death.
Here are some famous quotes by the actor from AZ Quotes, Brainyquote and IMBD.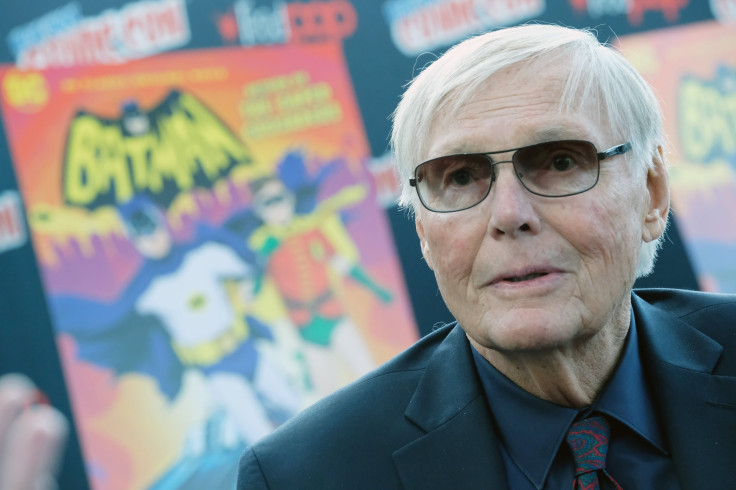 1. "I think it's that wherever I go, people are so nice to me, and they come up by the hundreds, and they say nice, funny things. As an actor, I just like to make people happy, make them laugh. That's our job, to entertain, and if I'm entertaining you folks, then I'm happy."
2. "But I am simple in that I no longer feel the need to walk on a red carpet. I am a private person. I don't need a lot of company. And I find it really, really difficult to talk about myself."
3. "I learned a long time ago that because people love Batman, I should too. I learned that I shouldn't resent it even though it prevented me from getting other roles. I really had to become fond of Batman in order to deal with it. I embraced it."
4. "Crummy pictures, live appearances, circuses, avant garde theater, dinner theater. I've done it all. I've been shot out of cannons. I know what the people want. I'm out there with the people."
5. "How many actors have a shot at being a part of something that became a part of pop culture? It's been very rewarding. I'm not getting the 20 million bucks for the new movies, but at least I'm getting warmth and recognition from people wherever I go."
6. "Over the years, I've learned that if you can just hang in there and, regardless of what's presented to you, take it as a challenge and try to bring in something fresh, then it works."
7. "Playing Batman is an actor's challenge. First, it's different; then, you have to reach a multi-level audience. The kids take it straight, but for adults, we have to project it further."
8. "That typecasting is a mean, long-fanged yellow dog that grabbed my leg about three in the morning at least once a week. It was tough to deal with."
9. "Before I was limited to playing leads in low-budget movies. The series has given me the exposure — God knows — so that perhaps I would now be considered for important pictures, which is what I'm after."
10. "I love to do voiceover because, for me, if you know what you're doing, it's simple. No makeup, no costuming, none of the baloney. None of the egos - you don't have to deal with all that crap. I love voiceovers."
© Copyright IBTimes 2023. All rights reserved.