After Raid On Donald Trump's Mar-a-Lago Estate, Mike Pence Considers Testifying Before Jan. 6 Committee
Former Vice President Mike Pence said on Wednesday that he would consider testifying before the Select Committee to Investigate the Jan. 6 Attack on the Capitol. Pence was the target of a pro-Donald Trump mob that had chanted for him to be hung for certifying the 2020 presidential election.
Pence's consideration comes after the FBI raided Trump's Mar-a-Lago estate. He made the remarks during a New Hampshire event, called "Politics & Eggs," held at St. Anselm College and broadcast by NBC News.
The event is one of the key stops on a presidential campaign trail. Pence has not stated whether he will run for president in 2024.
He said that if the committee asked him to "participate, I would consider it."
Having Pence answer questions under oath is considered crucial as the committee focuses on Trump's role in the riot. Pence has mostly been undecided on whether he would serve as a witness.
Some Trump allies asserted executive privilege when asked to testify. Still, Pence did not say whether he would cite such privileges. Rather, he said it would be "unprecedented in history" for a former vice president to testify before a congressional committee.
Throughout U.S. history, only one vice president testified before a congressional committee. Schuyler Colfax testified before multiple congressional committees when he served as vice president under Ulysses S. Grant.
Multiple presidents also testified before congressional committees during their time in office, and after their terms were over.
"Any invitation directed at me, I'd have to reflect on the unique role I was serving in as vice president," Pence said Wednesday.
In another break from the far-right, Pence also said the hate directed towards the FBI and its agents in response to the raid on Trump's Mar-a-Lago estate "must stop."
"We can hold the attorney general accountable for the decision he made without attacking the rank-and-file law enforcement personnel at the FBI," he said. "Calls to defund the FBI are just as wrong as calls to defund the police."
However, Pence joined calls from his fellow Republicans for more transparency surrounding the decisions that led to the raid. He also called for the release of more information, referring to the affidavit that led to the approval of the warrant used to justify the raid.
The Department of Justice recently opposed such a measure.
"This unprecedented action does demand unprecedented transparency," Pence said.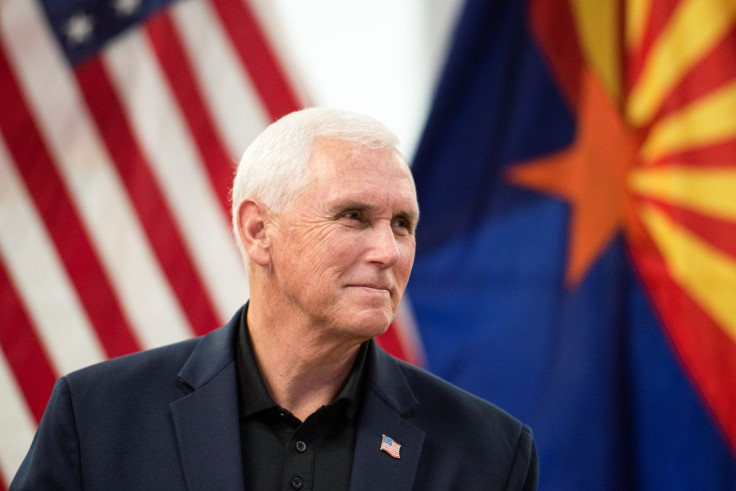 © Copyright IBTimes 2022. All rights reserved.
FOLLOW MORE IBT NEWS ON THE BELOW CHANNELS