After T-Mobile-Sprint Merger, CEO John Legere Could Be New WeWork CEO
John Legere, the long-haired CEO of T-Mobile US, Inc., will be out of a job when his company's merger with Sprint Corporation finalizes by early 2020 and WeWork wants him -- apparently.
Legere will step down as T-Mobile CEO once the $26 billion deal with Sprint is complete and will be replaced by COO Mike Sievert. The merger isn't fully closed, however. T-Mobile and Sprint have received all the federal approval needed, but they still need to defeat or bypass a lawsuit from the State attorneys generals and secure approval of the merger from the California Public Utilities Commission.
In the meantime, rumors are rife Legere is being considered for the WeWork CEO post but isn't one of the leading candidates, according to sources cited by media. It's been confirmed WeWork has talked to Legere about the possibility of leading the embattled coworking space company once led by eccentric co-founder Adam Neumann, who was forced out in September as CEO as part of a bail-out package. CNBC reported the CEO search continues but no decision has been made.
Analysts believe Legere has a better than even chance of landing the job given his close ties to both SoftBank Group Corporation, which owns 80 percent of WeWork, and Marcelo Claure, executive chairman of Sprint, who is leading the job of getting Sprint's merger with T-Mobile through regulatory proceedings.
Claure was recently named WeWork's executive chairman as part of the bail-out. SoftBank took full control of WeWork in October.
On March 12, 2019, both Legere and Claure testified about the T-Mobile-Sprint merger before the U.S. Federal Communications Commission (FCC). FCC voted to approve the merger via a 3-2 vote on October 16.
Legere has had a good track record as T-Mobile CEO compared to his scandal-wracked term as CEO of telecom firm, Global Crossing, which filed for one of the largest bankruptcies in history in 2002.
Since Legere became T-Mobile CEO in 2012, the company's shares have skyrocketed 240 percent. T-Mobile has grown from the fourth-largest carrier in the U.S. to the third largest and is now a legit competitor to market leaders Verizon Communications Inc. and AT&T Inc.
T-Mobile is the third largest wireless carrier in the United States with 84.2 million customers as of the end of this year's third quarter.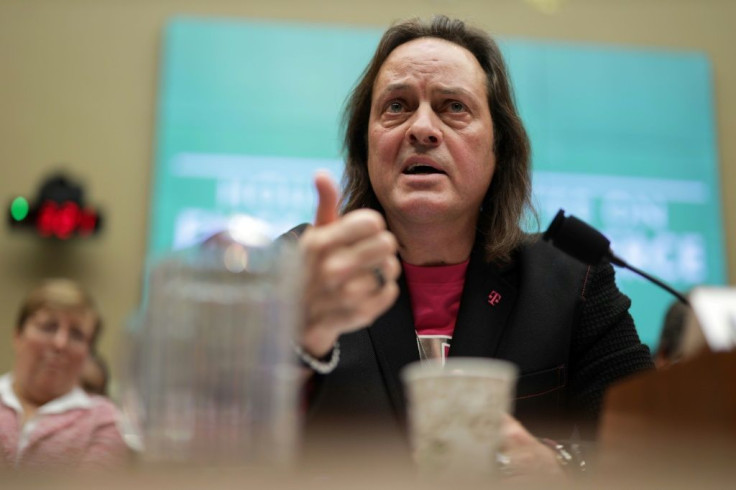 © Copyright IBTimes 2023. All rights reserved.