'Aharen-San Wa Hakarenai' Episode 5 Live Stream: How To Watch Online [Spoilers]
KEY POINTS
"Aharen-san wa Hakarenai" Episode 5 is airing Friday
The anime is based on Asato Mizu's story
The episode will stream on Crunchyroll
Aharen is addicted to a popular game from the past and Raido wonders if it is a little out of fashion.
The official website has released the synopsis and spoiler stills of "Aharen-san wa Hakarenai" Episode 5. Aharen cannot stop herself from playing a monster capture and training game.
When Raido sees her engrossed in the game, he decides to join her. As the game progressed, Aharen is surprised to see Raido's fighting spirit and immeasurable desire to win the game.
In Episode 4 of the "Aharen-san wa Hakarenai" anime, Tobura, a strict and mysterious teacher, started teaching Raido and Aharen's class.
Tobura was annoyed when she saw Raido and Aharen doing something else during class hours. She decided to give them a stern lecture about maintaining the decorum of the class.
As Tobura continued to observe the closeness between Raido and Aharen, she was enchanted and almost passed out. Meanwhile, Raido wondered if Tobura was doing okay.
"Follow the 'indecipherable' daily lives of two students who form a particular and peculiar friendship," read the official "Aharen-san wa Hakarenai" anime synopsis, according to Crunchyroll.
The cast of the anime includes Takuma Terashima as Raido, Inori Minase as Reina Aharen, Yurie Kozakai as Miyahira Sensei, Tomori Kusunoki as Hanako Sato, Tetsuya Kakihara as Ishikawa, Natsumi Fujiwara as Atsushi, Maria Sashide as Futaba, M.A.O as Mitsuki Oshiro and Kana Hanazawa as Tobaru Sensei.
The opening theme song of "Aharen-san wa Hakarenai" anime, titled "Hanarenai Kyori" or "Inseparable Distance," is by TrySail. The ending theme, "Kyori-Kan" or "A Sense of Distance," is performed by HaKoniwalily.
The anime is based on the original story by Asato Mizu. Yasutaka Yamamoto is the chief director, while Tomoe Makino is credited with the direction.
The scripting of the series is by Ayumu Hisao and Takao Yoshioka. The music is composed by monaca and Satoru Kousaki. Chie Mishima, Tomoka Iwasa, Yuko Yahiro and Yuki Fukuchi are the chief animation directors.
"Aharen-san wa Hakarenai" Episode 5 is scheduled to release Friday. Fans in the U.S. can watch the episode online on Crunchyroll. The episode will live stream in Japanese with English subtitles.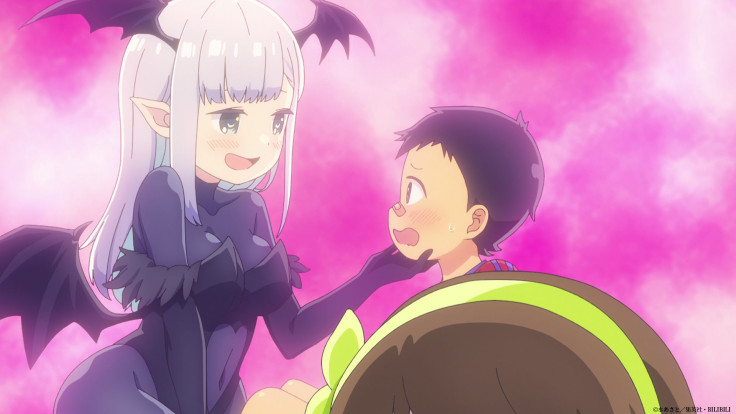 © Copyright IBTimes 2023. All rights reserved.