AirAsia QZ8501: Weather Could Hamper Search Operations For Missing Plane, Reports Say
Update as of 5:26 a.m. EST: A lightning storm is currently underway in the waters between Indonesia and Singapore, around the area where Flight QZ8501 went missing, BBC reported, adding that the region has seen heavy storms, lightning and rains through the weekend. Towering thundercloud formations in the region -- with clouds rising up to 50,000 feet were reported by BBC Weather.
Bad weather could hamper the search for AirAsia Indonesia flight QZ8501, which went missing Sunday morning local time, BBC reported, citing aviation industry website Flight Global. The plane, with 162 people aboard, lost contact with air-traffic control at 7:24 a.m. local time (7:24 p.m. EST, Saturday).
The search for the Airbus A320-200 is being led by Indonesia's Civil Aviation Authority, which has now accepted Singapore's offer to assist in the search-and-rescue operations. According to reports, Malaysia and India also have offered to help look for the missing plane, which was on its way from Surabaya in Indonesia to Singapore's Changi International Airport. The weather included slight rain in the area that the plane was flying through when it disappeared, according to a Wall Street Journal report cited by BBC.
"In general cumulonimbus is quite dangerous for aviation activities because it causes thunderstorms and heavy rain," an official from Indonesia's meteorological agency reportedly said, according to BBC, which cited the Journal. "We have issued a notice that the flight route is cloudy."
The plane is expected to have gone missing between Tanjung Pandan on Belitung island and the West Kalimantan city of Pontianak, separated by about 250 miles of ocean.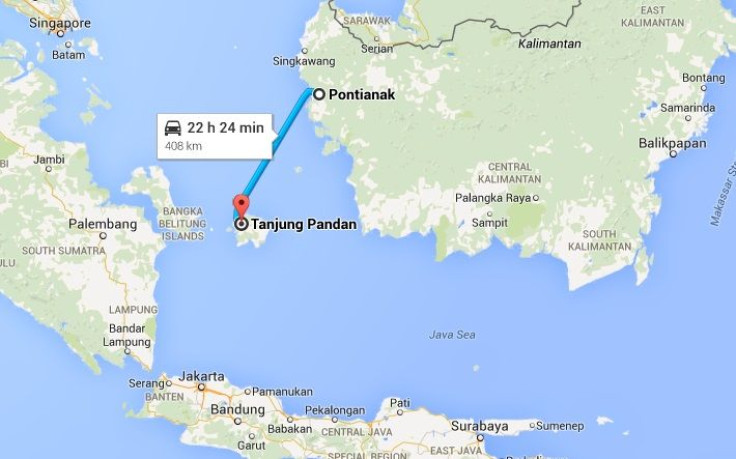 The BBC also reported that the Indonesia's National Search and Rescue Agency has dispatched one vessel to search for the plane, and the Civil Aviation Authority of Singapore had earlier announced that its air force and navy, including two C-130 planes, were on stand-by to aid the operation.
According to Djoko Murjatmodjo, Indonesia's acting director general of transportation, it is understood that there was no distress signal from the plane after its pilots requested to change the flight plan and fly at a higher altitude to avoid bad weather. According to FlightRadar24, a flight-tracking website, the plane was flying at an altitude of 32,000 feet while other aircraft in the region were flying at altitudes between 34,000 and 39,000 feet.
"The plane contacted Jakarta Air Traffic Control at 0612, at the frequency 125.7megahertz. During that contact, the Jakarta Air Traffic Control could still identify the plane on the radar screen," Murjatmodjo said at a press conference, BBC reported. "The plane stated that it was trying to avoid cloud and directed the plane to the left of M635 route and asked to go up to altitude 38,000ft. We have not received the ELT (distress) signal so our conclusion so far is the plane lost contact at 0617."
AirAsia Indonesia is the Indonesian arm of Kuala Lumpur-based AirAsia, which has run a successful low-cost airline in the region and has a good safety record, and Flight QZ8501 is the first instance of an untoward incident in its operating history.
© Copyright IBTimes 2023. All rights reserved.