Alicia Keys And Husband Swizz Beatz Slam People Calling Her 'Anti-Makeup'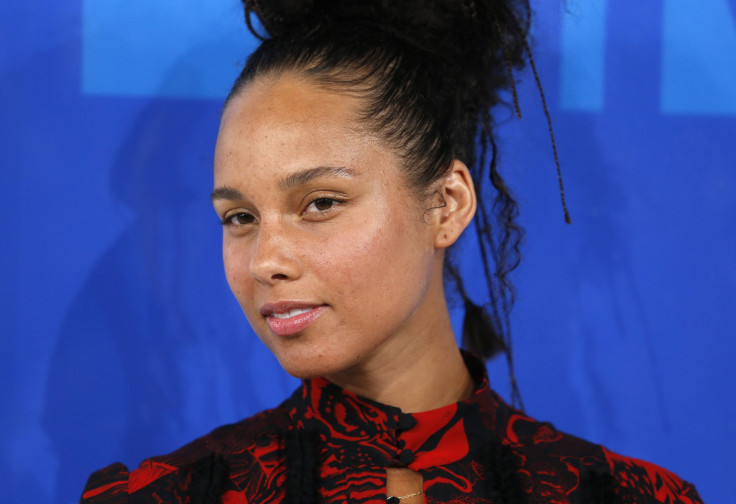 If you caught the MTV Video Music Awards on Aug. 28, you may have noticed that singer Alicia Keys decided to attend the show wearing no makeup. While many praised the "In Common" singer's look, other's on Twitter were quick to criticize and mock her.
"Alicia Keys girl, nobody cares that you're not wearing makeup anymore," wrote one Twitter user. "Alicia Keys and the 'no makeup movement' is annoying and imaginary," tweeted another.
While some believe that Keys, 35 is leading an "anti-makeup movement," Keys assures people that's not true. The singer took to Twitter clap back at the haters and posted a selfie. But Keys wasn't the only one to call out the haters. The singer's husband, Swizz Beatz, 37, also had a message for them but wasn't as nice as his wife.
"Somebody's sittin' home mad because somebody didn't wear makeup on their face. Not your face, but they didn't put makeup on their face because they just didn't feel like wearing makeup and they don't feel like wearing makeup," Swizz Beatz said. "But you mad because that person didn't put makeup to please you. Type of s--- is this? Cause you can do whatever you want to do. She ain't tell you I don't wear no makeup, she just said that she's not vibing with the makeup all the way, 100 percent like that. That's kind of her thing."
"But you mad at her cause she ain't put makeup on her face. I could see if she ain't want to put makeup on your face, but she ain't want to put makeup on her face and you mad," he continued. "You must be mad at a lot of s---. You better look in that mirror and get that a-- fixed because if you mad at somebody else putting makeup on their face, as their decision, you got a lot of work to do in life."
In May, Keys wrote an essay for Lena Dunaham's LennyLetter.com about her decision to go makeup free. "Every time I left the house, I would be worried if I didn't put on makeup: What if someone wanted a picture? What if they posted it?" she wrote. "These were the insecure, superficial, but honest thoughts I was thinking. And all of it, one way or another, was based too much on what other people thought of me."
Following a photoshoot for her song "In Common," Keys decided to stop wearing makeup and made her first appearance on the red carpet sans-makeup at the 2016 BET Awards.
© Copyright IBTimes 2023. All rights reserved.
FOLLOW MORE IBT NEWS ON THE BELOW CHANNELS