Alleged 'Alien Corpse' Appears in NASA's Mars Photo, UFO Expert Claims
KEY POINTS
UFO expert Scott Waring claimed to have spotted a dead alien on Mars
The photo with the alleged alien corpse was taken by NASA's Curiosity rover
Waring identified several physical features of the alleged alien body
A UFO expert claimed to have spotted the remains of a dead alien in a photo taken by NASA's current mission on Mars. According to the expert, the alleged alien could be about 2 meters tall.
In a recent blog post, Scott Waring of ET Data Base reported a new sighting on Mars. According to Waring, he came across an image of a humanoid corpse on the ground on Mars while browsing images on Gigapan.
Gigapan is a website that was established through a collaborative effort between NASA and Carnegie Mellon University. It features high-resolution panoramic photos of different locations, including Mars.
The photo that caught Waring's attention was a panoramic image taken by NASA's Curiosity rover on SOL 2790, which is equivalent to June 11. The image features a massive hill on Mars that's covered in rocks of different sizes.
While viewing the photo, Waring came across a strange-looking object near the side of the hill. After zooming in on the object, the UFO expert speculated that it was the body of an alien creature that died on Mars.
"It's not every day you find a humanoid body lying on the surface of an alien planet," Waring stated in a blog post. "The body remains mostly intact and is defiantly not a statue. The legs are boney and dried out. One leg is even broken off at the knee. The other leg is mostly intact with a foot at the end."
As Waring examined the image, he claimed to have been able to identify several physical features of the alleged alien body. These include the facial features and limbs of the alleged body.
Based on the size of the object, Waring estimated that the alien could be about 2 meters or 6.5 feet tall.
"The chest and lower stomach area are different from humans in that it's more reptilian-like," he stated. "The ribs seem to extend extremely low. The upper arms are less visible, but one arm can be seen behind the person's shoulder. The neck, ear, cheek, nose, eye and hair are all easily seen."
Although Waring used a photo taken by the Curiosity rover in his latest blog post, NASA has provided no information that could confirm his claims.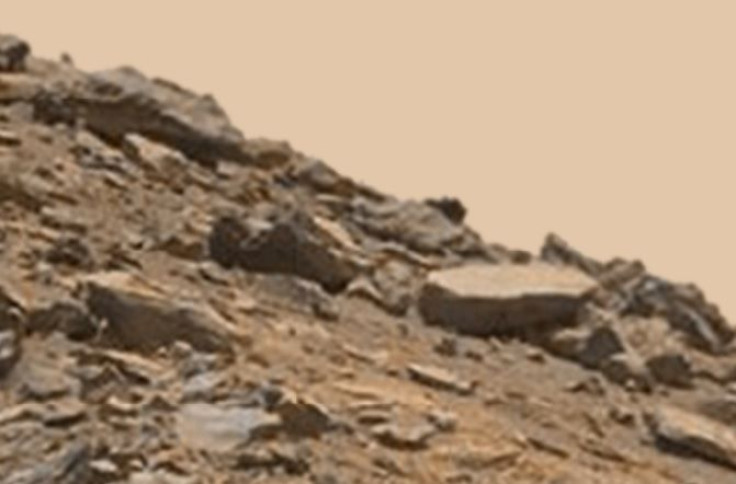 © Copyright IBTimes 2023. All rights reserved.