Amanda Knox Says She Was Sexually Harassed in Prison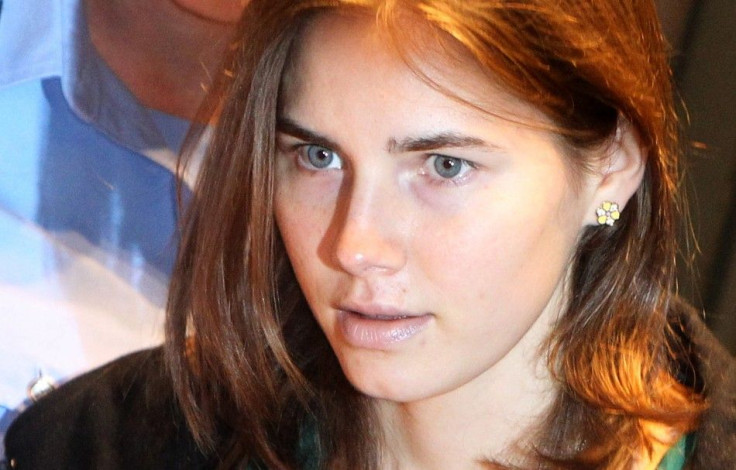 After spending four years behind bars in a Perugia, Italy prison, Amanda Knox is now saying that she was sexually harassed by a high-ranking Italian prison administrator, 48 Hours Mystery Correspondent Peter Van Sant reported on CBS' The Early Show.
Knox returned to Seattle, Wash. late Tuesday, after she was cleared in the 2007 murder of British student Meredith Kercher; an Italian appeals court overturned her guilty conviction.
A letter written by Knox provides details of the manipulation and sexual intimidation she says she endured while in prison, CBS News reported.
We learn about sexual harassment inside prison where an administrator would take her up to his office alone at night and say a number of inappropriate things to her and that left Amanda terrified, Van Sant sad in an advance of a report to air Saturday night's 48 Hours Mystery.
Interview With Knox's Father
In the special report, Knox's father, Curt, will tell viewers about his daughter's final moments of incarceration and her first days of freedom.
Van Sant asked, Does Amanda understand that her story grabbed the attention of the entire world, that literally millions of people came to care for her?
I think she's beginning to understand that, he replied. But I think the real first, you know, hit on that was, you know, that press conference when she came to Seattle. I think it really -- it really was something that hit her hard, you know, that so many people cared.
Curt Knox said of his daughter, She's almost kind of reborn in a way. I mean, living for four years inside a concrete and steel, you know, prison, and now being able to kind of just look around, smell the air and - and just do what she wants to do, hopefully when she wants to do it, it makes a huge difference.
On Thursday, Curt Knox also said that Knox will be reuniting with her former boyfriend, Raffaele Sollecito, who was also recently freed after being convicted of Kercher's murder.
Raffaele will probably visit Seattle and it will be very nice for them to actually see each other again, Curt said Thursday, adding that Amanda enjoyed her first day back in the United States.
Sollecito's father told reporters outside the Italian beach house where his son was recuperating after four years in prison in Perugia, that the invitation was extended by Chris Mellas, Knox's stepfather.
We didn't manage to speak to Amanda. Raffaele didn't manage even by telephone. After the court ruling, we went in different directions, but through my daughter I learned that Amanda's stepfather invited us to Seattle, Francesco Sollecito said. At this time, we have nothing planned.
In a phone call with the Italian news agency ANSA, Raffaele Sollecito briefly talked of his relationship with Knox.
Amanda? Maybe I'll see her again, but now I only want to be with my family, he said.
The freed 27-year-old is currently staying at his father's villa in a gated community in Bisceglie, outside Bari in southern Italy. Unlike the welcome home party Knox received when she returned to Seattle, only about 20 photographers, cameramen and reporters went to the Sollecito home, where, Raffaele's father said, he was readjusting to life.
He's like a baby growing up that has to learn to get used to life, Francesco Sollecito told reporters.
Since arriving in the U.S. late Tuesday, Knox, who spent four years in Capanne jail near Perugia, has been at a secret location. She is thought to be in hiding with her mother, Edda Mellas, sister Deanna, and stepsisters Ashley and Delaney. Also thought to be present were her stepfather Chris Mellas, and stepmother, Cassandra Knox.
Amanda needs some time to readjust, her father, Curt, said. She's overwhelmed. I can't begin to describe to you what it's been like. It will be nice to see what normal life is like again.
© Copyright IBTimes 2023. All rights reserved.