Amazon's 'Style Code Live' With Frankie J. Grande Is QVC For The Snapchat Set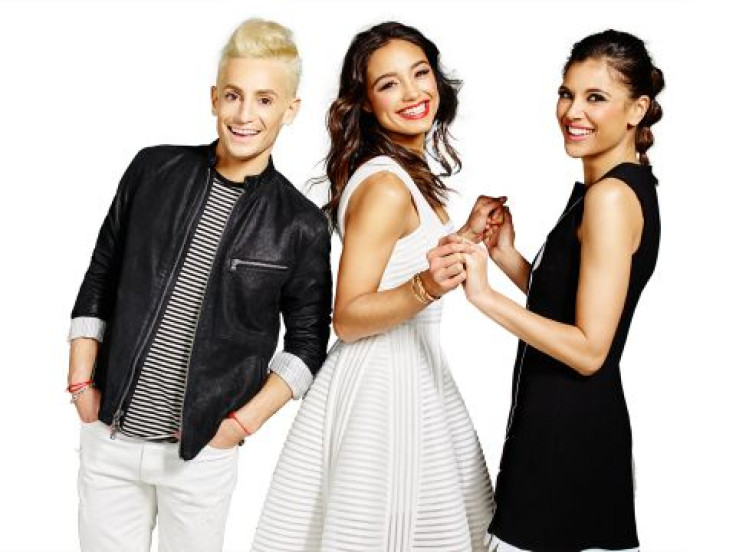 Is there a void in your life that can only be filled by electronic dance muzak and style tips doled out by Frankie Grande? Amazon's got you covered. Tuesday night, the online retail juggernaut debuted "Style Code Live," a live, daily half-hour series that will stream new episodes Monday through Thursday nights at 9 p.m.
Perhaps a little strangely, Amazon didn't even announce the impending arrival of "Style Code Live" until Tuesday morning, a little more than 12 hours before the first episode premiered.
There are any number of reasons to wait until the day you're going to premiere a show to inform the public the existence of said show. Maybe it's meant to be more of a beta test. Maybe the number of people who tune in isn't all that relevant to you right now. Maybe you're just not all that confident in it. Maybe you're just using it to prove to the NFL you can indeed be a live-streaming destination, so they should just award you the streaming rights to the Thursday Night Football package, rather than hand them over to Facebook or Verizon.
Regardless, the Amazon homepage was covered end-to-end with "Style Code" promotions by 8:45 p.m. Tuesday.
The first episode of "Style Code," hosted by "Big Brother" and Broadway star Frankie Grande, ABC News correspondent Rachel Smith and former "TRL" host Lyndsey Rodrigues, delivered exactly what it promised: 30 minutes (35, actually) of style tips from fashionistas, bordered by a carousel of links to products for sale on the very same website on which you happened to be watching "Style Code." How convenient.
In the spirit of "engagement," a concept that on the internet means providing a place for people to type-shout "DADDY" at celebrities, the show also has a live — and, in this case, fairly lively — chat streaming alongside the video window. As with all internet comment sections, the results were… mixed.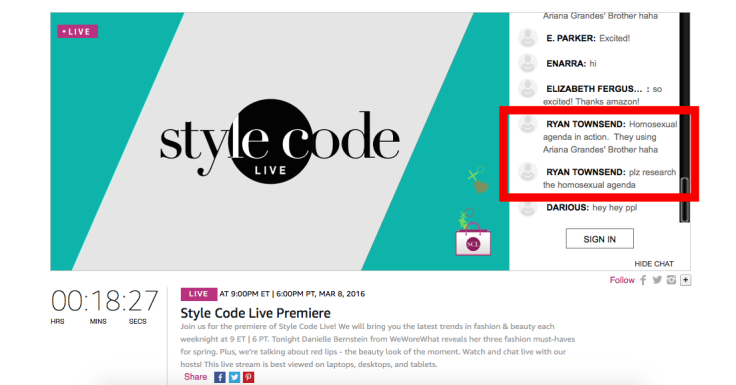 It's not insignificant that the big-box streaming service is dipping its toes into live-streaming. But let's be real: Amazon's first foray into live TV — yes, it still counts as "television," which just means images transmitted from afar — is basically just a 35-minute ad.
It's a well put-together 35-minute ad, sort of a QVC for the Snapchat set. (Yes, they're all over social media: Facebook, Instagram, Snapchat, Twitter, etc.) The use of Grande, in particular, is a cunning move; he has 1.4 million followers on Instagram and 1.1 million on Twitter, and so he naturally drew the lion's share of the attention in the live chat. Anecdotally, at least, he seems to be the big draw.
Throughout the 35 minutes — and just before the show — the hosts exhorted viewers to pull out their credit cards and get clicking on everything in the "style carousel." An Amazon rep confirmed that the show isn't ad-supported, and that there aren't currently any deals being made with product-makers to be featured on the show.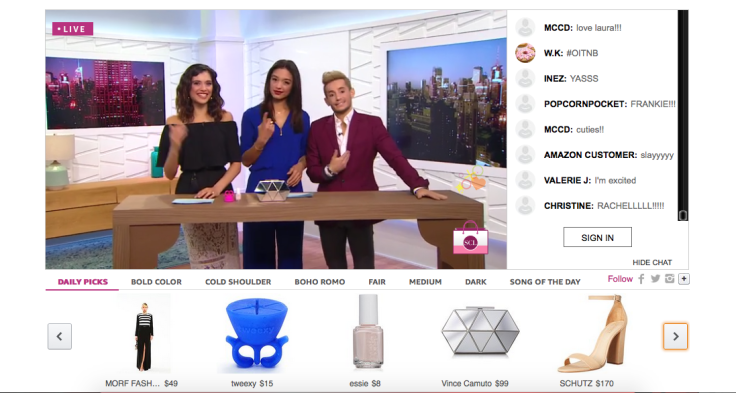 Amazon doesn't release numbers for any of its series, so we're not likely to see how many people tuned in to this first installment of the "Code." Like Amazon Prime series, the number of people who watched aren't so relevant; the purpose of the show is to increase the possibility of purchases, albeit in a more direct way than a scripted show like Prime's Emmy-winning "Transparent."
Aside from boosting sales, there's another reason for the existence of "Style Code" that has nothing to do with fashion. Industry observers say that the timing of "Style Code" is interesting, and not likely coincidental: Amazon is currently bidding for the streaming rights to a package of NFL games, along with Facebook and Verizon.
But while Amazon is building a profile as a provider of quality original video, because all its previous offerings have been on-demand, it isn't seen as a destination for live programming. It's not alone: Aside from sites like Twitch (which live streams people playing video games) and services like Periscope, common wisdom says the internet is a place for on-demand viewing, thanks to the success of streaming services like Hulu and Netflix and well-publicized hiccups for live-streamed events like the Grammys and the Super Bowl.
The hiccup-free premiere of "Style Code," whether the content appeals to you or not, is a decent first step in changing that on-demand mindset, though whether it's enough to convince the NFL remains to be seen. In the meantime, Amazon will settle for grabbing yet more slices of the online retail pie.
FOR FREE to continue reading
✔️ Unlock the full content of International Business Times UK for free
offer available for a limited time only
✔️ Easily manage your Newsletters subscriptions and save your favourite articles
✔️ No payment method required
Already have an account?
Log in
© Copyright IBTimes 2023. All rights reserved.