'American Horror Story' Season 4 Spoilers: Pepper From 'Asylum' Confirmed To Appear In 'Freak Show'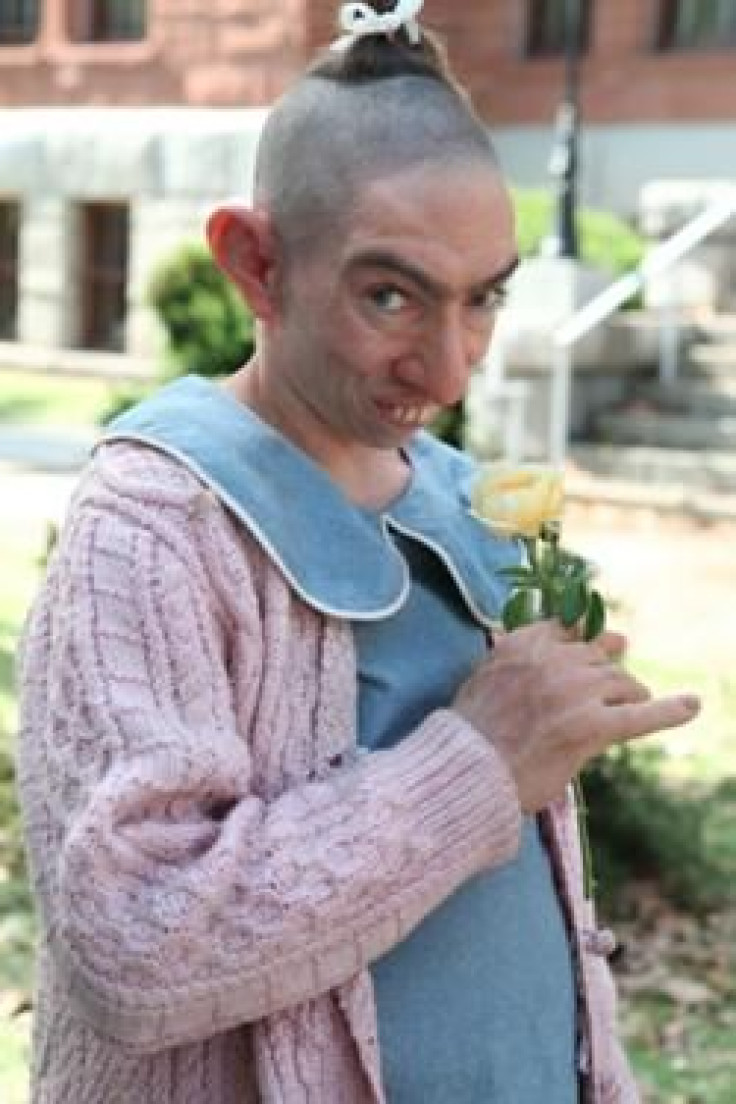 The rumors are true – for the first time ever "American Horror Story" will feature a crossover of characters between two seasons. It has been confirmed that Naomi Grossman's Pepper from Season 2, "Asylum," will be featured in Season 4, "Freak Show."
Series co-creator Ryan Murphy confirmed to Entertainment Weekly that Naomi Grossman, who played Pepper, a patient at Briarcliff during "American Horror Story: Asylum," will be reprising her role.
"She is in this [season]," Murphy told EW.
Rumors of Grossman's reprisal of Pepper sparked in late July when a call sheet for the "Freak Show" premiere episode was leaked online. The list included cast members Jessica Lange, Kathy Bates, Sarah Paulson, Evan Peters … and Naomi Grossman. While a cast member returning to the new installment of the mini-series is nothing new, an actor has never played the same character twice. "American Horror Story" has been set in telling a different story about different characters during a different time period. Grossman will be the first person to play the same character on the FX series.
Murphy revealed that Pepper will be one of the performers in the freak show managed by Elsa Mars (Jessica Lange). The character will be one of the many performers "rescued" by Elsa.
"What Elsa has done for 20 years is she goes around to hospitals and jails and rescues these 'freak' circus performers who are going to be shipped away to asylums and she signs the waivers and she becomes their guardians," explained Murphy.
"American Horror Story" viewers will remember that Pepper was a patient at the Briarcliff institution during "Asylum." The character suffered from microcephaly, a rare neurological condition where a person's head is significantly smaller than normal for their age or sex based on standardized charts. She was introduced in the Season 2 premiere, where it was revealed that she was institutionalized because she had drowned her sister's baby and cut off its ears. However Pepper didn't appear to be a dangerous person. "Asylum" later exposed that Pepper had been set up for the heinous crime.
"You still see me as a microcephalic," Pepper said to Dr. Arden after having her intelligence enhanced by aliens. "No one takes a pinhead seriously. When my sister's husband drowned her baby and sliced his ears off he told everyone I did it. They tied me up and paraded me in front of the judge. He took one look at the shape of my head and I was locked up for good. That's how it works for us freaks. We get blamed for everything."
"Asylum" was set in 1964. Since "Freak Show" takes place in 1952, the 12 year difference could explore Pepper's life prior to be framed and locked up at Briarcliff.
[Click HERE to see a first look photo of Pepper in "American Horror Story" Season 4.]
"American Horror Story: Freak Show" will premiere on FX on Wednesday, Oct. 8, at 10 p.m. EDT. Are you excited to see Pepper return? Tweet your thoughts to @AmandaTVScoop.
© Copyright IBTimes 2023. All rights reserved.
FOLLOW MORE IBT NEWS ON THE BELOW CHANNELS