'American Ninja Warrior' 2015 Results: Venice Qualifying Round Recap; Highlights From The Season 7 Premiere [VIDEOS]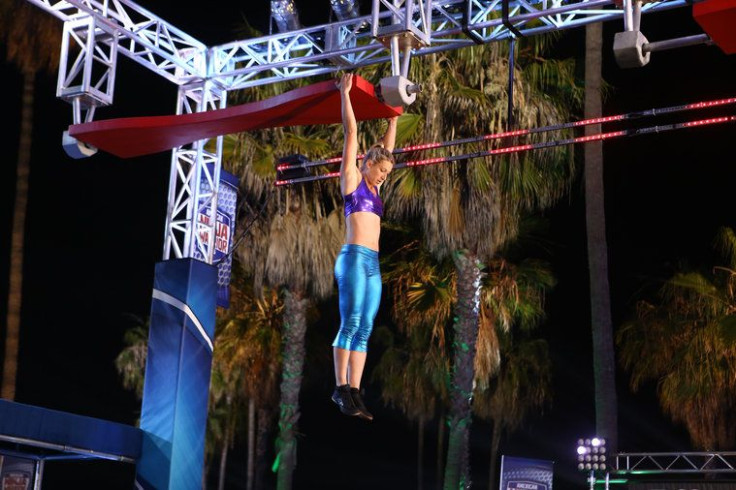 For the many aspiring athletes of "American Ninja Warrior," the journey to become the first contestant to complete the Las Vegas Finals Mt. Midoriyama course – unconquered in six seasons – and claim the $500 million prize began Monday with the Season 7 premiere of the NBC reality show. However, to earn a spot in Las Vegas, the athletes will first have to get through a city qualifying and city finals course. This year, the action kicked off with the Venice, California, qualifying round.
The road to Mt. Midoriyama would not be easy as contestants in Venice faced six treacherous obstacles in Season 7's first qualifying course – the quintuple steps, the mini silk glider, the tilting table, the spin cycle, the hourglass drop and, of course, the warped wall. The hourglass drop, requiring players to transfer between two hanging shelf platforms via a trampoline, proved to be the undoing of many contestants.
That included Jessie Graff. With Kacy Catanzaro – who in Season 6 became the first woman to complete a city finals course – joining hosts Matt Iseman and Akbar Gbajabiamila to commentate, Jessie Graff tried to follow in Catanzaro's footsteps in Venice. However, a poor jump off of the trampoline ended her run at the hourglass drop.
Watch Graff's Venice run below:
Graff did make it further than the episode's most notable contestant – Seattle Seahawks punter Jon Ryan. The NFL player showed up to take a stab at the Venice course, but made a quick exit after a misstep on the tilting table.
In the end, only seven athletes completed the course, a record low number for a qualifying round. Kevin Bull, Alan Connealy, Nicholas Coolridge, Alvaro Campos, Travis Brewer, Grant McCartney and Almas Merimanov all advanced to earn a spot in the city finals round.
The high watermark of the night was Season 6 veteran Kevin Bull's 56.4 second run, the fastest run of the night by more than 30 seconds.
Watch Kevin Bull's Venice run below:
Next week, the show will move to Kansas City where another batch of athletes will begin their quest for Las Vegas. "American Ninja Warrior" airs on NBC Mondays at 8 p.m. EDT. Meanwhile, Monday's Venice episode will premiere on Esquire Tuesday at 8 p.m. EDT.
Watch Nicholas Coolidge's Venice run below:
Watch Grant McCartney's Venice run below:
© Copyright IBTimes 2023. All rights reserved.