'America's Got Talent' Season 12 Spoilers: Smart Dog Mia Moore Can Read Cue Cards And Count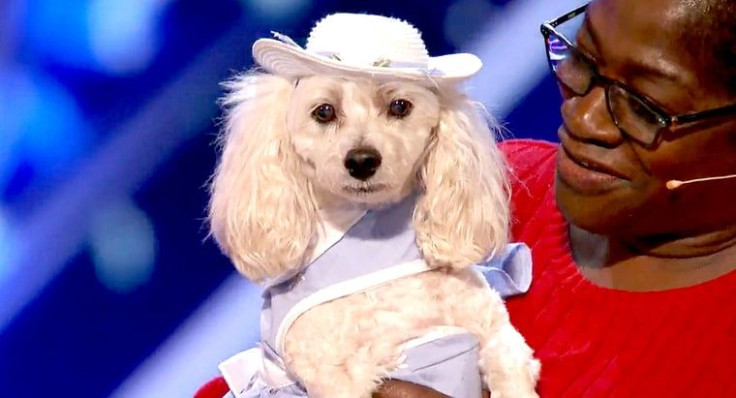 "America's Got Talent" Season 12 will introduce a talented pooch named Mia Moore on Tuesday night's episode.
In the sneak peek released by NBC, Mia's owner, Edna, introduces her as a fashionable pet that has more clothes than host Tyra Banks. Judge Simon Cowell asks Mia's owner what she would do, and she surprises everyone when she says that the dog can count, read numbers between one and 50 and read flashcards.
Read: Mind reader Colin Cloud shocks Simon Cowell, Howie Mandel in "America's Got Talent"
Edna starts their act by asking the dog to count to four. Initially, Mia appears to be nervous and does not follow her instructions. But after a few seconds, Mia barks four times. The owner asks the judges to give them a number, and Cowell gave said "60." Everyone seems worried that Mia won't be able to bark 60 times, but she does.
At one point, Banks also joins Mia and Edna on stage and brought flashcards with her. When Edna shows Mia a card that has the number 20 and word "twenty" on it, Mia barks 20 times and wows everyone. Banks also shared an adorable moment with Mia when she bent down to play with the cockapoo mix.
However, it is still unclear whether or not Cowell, Mel B, Heidi Klum and Howie Mandel will give Edna and Mia their yes to advance to the next round of competition. After all, hundreds of talented performers showcased their acts in front of all four judges.
Last week, Mel B gave her golden buzzer to 12-year-old ventriloquist Darci Lynne Farmer. Cowell, Mandel and Klum have yet to give their golden buzzer to one lucky contestant. In one of the teasers for "America's Got Talent" Season 12, Banks also hit the golden buzzer for one performer just like what ex-host Nick Cannon did in Season 11.
At that time, Cannon granted Dorthy Williams' wish of becoming famous. The 90-year-old strip tease dancer automatically advanced to the live shows, but didn't make it until the finals. Upon hitting the golden buzzer, Cannon declared that he will be breaking the rules of the competition. Williams, who was very grateful for the opportunity, told Cannon, "I want to prove that you're never too old to follow your dreams."
"America's Got Talent" Season 12 airs Tuesdays at 8 p.m. EST on NBC.
© Copyright IBTimes 2023. All rights reserved.