Amid Federal Corruption Probe, Andrew Cuomo Administration Purges State Government Emails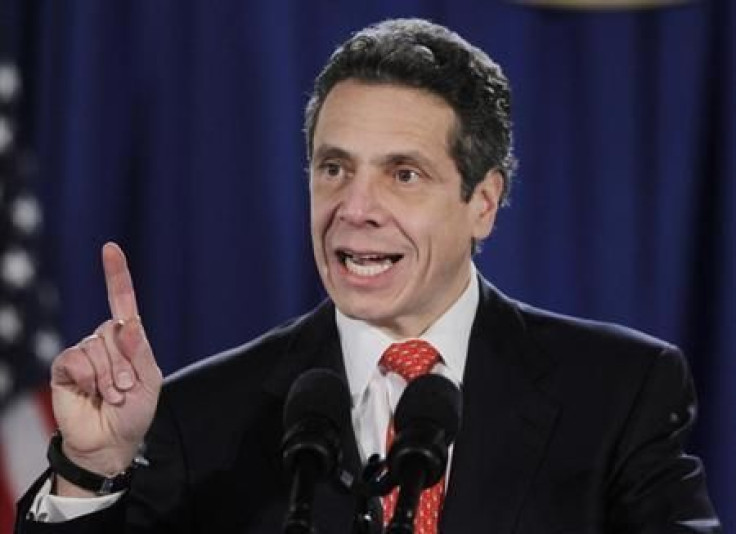 Earlier this month, New Yorkers watched an inferno tear through a warehouse full of old government records from the bygone paper era. Many probably felt relief in thinking that such records are now often digitized and therefore not at risk of being accidentally incinerated. Yet as Gov. Andrew Cuomo's administration is showing this week, many records are vulnerable to another form of destruction: deliberate deletion.
In a memo obtained by Capital New York, Cuomo officials announced that mass purging of email records is beginning across several state government agencies. The timing of the announcement, which followed through on a 2013 proposal, is worth noting: The large-scale destruction of state documents will be happening in the middle of a sprawling federal investigation of public corruption in Albany. That investigation has been looking at state legislators and the Cuomo administration.
Cuomo's move to purge state emails follows a similar move he made as state Attorney General. International Business Times confirmed that in 2007, he put in place a mass deletion policy for emails in the New York Attorney General's office that were more than 90 days old, making it difficult for the public to know how -- or whether -- his office investigated bank fraud in the lead-up to the financial crisis of 2008. In the Cuomo administration's announcement this week, the governor's chief information officer, Maggie Miller, justified the new email purge as a cost-saving measure aimed at "making government work better."
But former prosecutors and open-government advocates interviewed by IBTimes say the move seems designed to hide information.
"The government belongs to the people and the government has to be transparent," said Hal Hardin, a former judge and U.S. Attorney who famously investigated Gov. Ray Blanton of Tennessee. "Citizens ought to be able to know what our government is doing. The average email generated by a government owned by the people should be available to the people."
Melanie Sloan, a former Clinton Justice Department official, said the timing of the move raises significant legal questions.
"This is potentially obstruction of justice," she told IBTimes. "The only reason that the government destroys records is so no one can question what it is doing, and no one can unearth information about improper conduct. There's no reason for New York not to preserve this information."
Sloan said U.S. Attorney Preet Bharara, who is spearheading the Albany probe, could issue a letter to Cuomo ordering him to preserve all documents that could be relevant to the public corruption investigation. In May 2014, Bharara issued such a letter to state legislators. Bharara's office declined to comment when asked by IBTimes if it had now issued a similar directive to Cuomo.
John Kaehny, the head of a coalition of transparency group called Reinvent Albany, said the purge order may be designed to circumvent obstruction of justice statutes that are designed to prevent deliberate document destruction.
"[The policy] may mean that you could never be accused of obstructing justice or destroying evidence because you could claim that the machine automatically deleted it," he told IBTimes. "It creates a loophole and opportunity to destroy embarrassing emails."
The technological mechanics of the Cuomo administration's email purge remain murky. According to a document from New York's Office of Information Technology Services, the state's new Microsoft Office 365 system purges deleted mail after 90 days and makes sure that mail "cannot be recovered." The document says that all mail -- whether manually deleted or not -- "will be subject to the 90 day retention policy."
When Cuomo officials in 2013 announced the state government's move to the Microsoft Office system, they said agencies would be utilizing a cloud-based system, which raises the possibility that copies of government emails may continue to exist on offsite servers. That, however, doesn't necessarily mean they can be obtained, whether through the state's Freedom of Information Law or by criminal subpoena. Microsoft, for example, says "we require a court order or warrant before we will consider releasing content" and also says it does reserve the right to "reject U.S. subpoenas from government entities seeking content data."
While Cuomo officials have suggested that the purge policy is a technical necessity to consolidate email systems, researcher Dave Maass of the Electronic Frontier Foundation said, "There's no technological reason that New York can't maintain these records indefinitely."
Cuomo's new policy stands in contrast to the federal government's, which mandates that emails be retained for three to seven years. That federal policy change followed high-profile revelations that the Securities and Exchange Commission shredded documents related to financial investigations.
In the states, though, there's little uniformity. North Carolina appears to have some of the strongest legislation, according to a report by Stateline.org, mandating that no e-mail whatsoever be deleted for five years. The governor's office in Texas, on the other hand, auto-delete e-mails every seven days.
New York appears to be the only state that has mandated auto deletion for all of state government. In most states, public employees have ample discretion to delete emails, but there's no mandate for system-wide purge.
Trevor Timm, executive director of the Freedom of the Press Foundation, says beyond questions about legality, the public should be concerned about how the policy may preclude journalists from reporting on state government.
"This policy will allow the Cuomo administration, in many cases, to delete newsworthy emails faster than reporters can even request them," Timm said. "It looks like an attempt to avoid accountability."
© Copyright IBTimes 2023. All rights reserved.