Before Book Deal, Andrew Cuomo Backed Bills That Helped News Corporation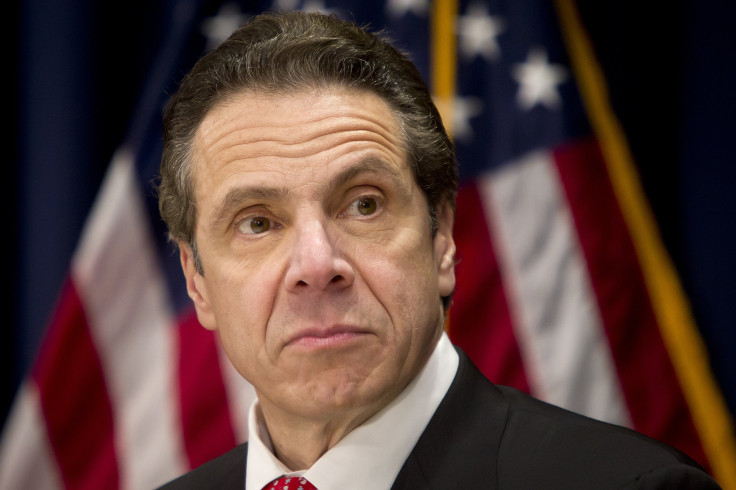 New York Gov. Andrew Cuomo likes to portray himself as a crusader against corruption in Albany, the state's capital, taking a hardline position against allowing state lawmakers to collect outside income that may be connected to pending legislation. He has championed a bill that would require lawmakers to disclose more of their outside income lest they write bills that benefit special interests in pursuit of private cash.
"We must prove once again that state government can be trusted, and that means passing tough new ethics laws and creating a system that deters, detects and punishes individuals who seek to abuse and corrupt," he said last week in a statement announcing ethics reform legislation. "We must bring sunlight to ethical shadows. New Yorkers deserve nothing less."
But the Democratic governor's strong words don't quite square with his own personal appetite for cash earned outside the confines of his state work. Cuomo has so far raked in more than $188,000 from HarperCollins, a News Corporation subsidiary. That is part of a book deal that could ultimately net him more than $700,000. With Albany's transactional politics now the subject of a federal probe, the context of that April 2013 book deal is particularly significant: An International Business Times review of New York state documents reveals that News Corporation gave Cuomo a book contract after Cuomo's administration backed a series of state initiatives that benefited the media giant.
One of the initiatives was a bill that created a special sales tax break for online-only publications that charge for subscriptions. News Corporation, which was one of the two companies that lobbied for the bill, was at the time investing tens of millions of dollars in such a publication. Another initiative was a special tax exemption that Cuomo's administration created for electronic books, which are sold by, among others, HarperCollins. State records list News Corporation as lobbying Cuomo's tax department in the months before the exemption was announced. And, while News Corporation lobbied the governor's office in 2012, Cuomo championed an expansion of controversial film and television tax credits that have benefited News Corporation's films, and that News Corporation had lobbied for in the past.
News Corporation did not respond to IBTimes' request for comment. Cuomo's office -- his calls for transparency notwithstanding -- declined IBTimes' request to release the text of the contract for the book, which has reportedly sold just 3,000 copies. The governor's office also declined to comment about the legislation he signed and the administrative tax change his officials enacted. The governor has previously rejected the notion that his book deal had anything to do with state business, saying book income is "an exception" because "I'm not allowed to represent anyone or any business matter." He has also scoffed at the idea of applying outside income restrictions on statewide elected officials like himself, challenging anyone to identify how those paying his book contract benefited from his policies.
"What activity are they doing that you would like to see curtailed? I don't think there is any activity," he said at a press conference last month. "What possible scenario are you talking about? Or is it just theoretical?"
Critics are troubled by the legislative goodies for News Corporation and the company's subsequent payout to Cuomo.
"We've seen a disturbing series of cash-for-policy transactions by the Cuomo administration that benefit the governor's billionaire political supporters to the detriment of the public, and this seems to be part of that pattern," Michael Kink, executive director of the Strong Economy for All Coalition, said. With Cuomo now trying to exempt himself from the ethics reforms he is proposing for legislators, Kink added: "It's clear to anyone in Albany that any effective new ethics reforms can't be limited to just the legislature -- they'll need to include the governor and his billionaire backers as well."
For years, News Corporation has had substantial public policy interests in New York. According to data compiled by watchdog group Good Jobs First, it has received roughly $31 million in tax breaks and subsidies from New York state and local governments over the last 15 years.
State records list News Corporation as lobbying Cuomo since his tenure as attorney general in the late 2000s. In the two years leading up to Cuomo's book deal with HarperCollins, those records list News Corporation lobbying on a state legislative proposal to create a tax exemption for electronic publications that charge access for content. The 2011 legislation expanded an existing exemption for print publications to cover online-only publications that have a pay wall.
At the time of its introduction, the bill was particularly significant to News Corporation because the company had just announced a multi-million dollar investment in a tablet newspaper called "The Daily" that had a pay wall. News Corporation reportedly dumped at least $30 million into the high-profile project, which was the first major mass-market electronic-only publication behind a pay wall.
With News Corporation lobbying the legislature and the governor's office, Cuomo signed the tax exemption bill into law on Sept. 23, 2011. The Daily operated from February 2011 until December 2012.
The authors of the tax legislation, Democratic Assemblyman Denny Farrell and Republican Sen. John DeFrancisco, declined IBTimes' request for comment.
While the tax bill was moving through the legislature, Cuomo's Department of Taxation also released an advisory opinion in August 2011 that exempted e-books from sales taxation. State records list News Corporation as lobbying the tax department in the first half of 2011. In 2013, a state tax commission found that the e-book exemption cost the state $35 million a year in revenue. The commission recommended that the e-book exemption be terminated.
State records show News Corporation continued lobbying the Cuomo administration in 2012. That year Cuomo signed legislation expanding the state's film and television tax credit program, making New York's one of the largest such programs in the nation.
The Cuomo administration has refused to release comprehensive data identifying the recipients of the credit, which now amounts to a $420 million annual tax expenditure. However, an agency press release and leaked documents from the Cuomo-run Empire State Development Corporation show that films produced by subsidiaries and related companies of News Corp. -- one of the six largest film producers in the country -- have benefited from the credit. (News Corp.'s entertainment properties were split off into 21st Century Fox in 2013. The Murdoch family controls both.)
"Media moguls have a vested interest in the expansion of state film tax credit programs," Robert Tannenwald, a film tax expert and former vice president at the Boston Federal Reserve, told IBTimes. "Films are no longer the big profit generators that they used to be, so to be competitive moguls demand that producers get subsidies for the films they produce."
In the lead-up to Cuomo's book deal, News Corporation also lobbied on state bills to ban noncompete clauses for broadcast industry employees and to strengthen negotiating rights for smaller channels against large cable companies. Neither initiative was enacted by lawmakers in Albany. Other state records list News Corporation's education subsidiary as having lobbied Cuomo's office before and after the book deal was signed. Those records list that subsidiary lobbying on issues including student data privacy, the Common Core curriculum and requests for contractor proposals from the state education department.
While Cuomo has begun collecting payouts from HarperCollins, News Corporation continues to lobby his administration. The most recent state records from late 2014 list the company as lobbying members of the Cuomo-appointed Public Service Commission, which oversees New York's telecommunications policy.
© Copyright IBTimes 2023. All rights reserved.