Angelina Jolie Cries During Film Premiere in Bosnia [VIDEO]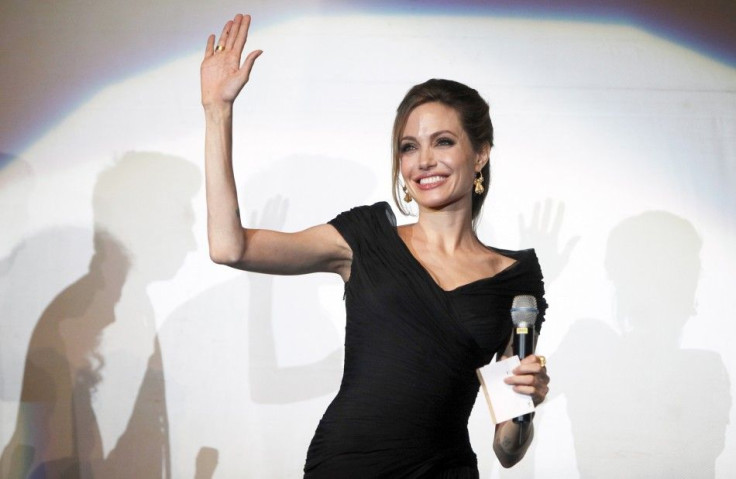 A-list actress turned director, Angelina Jolie became extremely emotional during the Tuesday (February 14th) premiere of her film, 'In The land of Blood and Honey'. According to MTV.com, the star was met with cheers after showing the film to a packed house in Bosnia, where the story is set. The audience's reaction caused Jolie to burst into tears. Her partner, Brad Pitt, was by her side as she wept.
The humanitarian also wrote the political drama, which is set in 1990 and centers on a romance between a Serbian soldier and a Bosnian woman. It is a shocking and poignant account of war, death, violence, and rape. Roughly 100,000 lost their lives in what is considered by the Hague tribunal as genocide. The star seemed caught off guard by the standing ovation she received but was thrilled that Bosnians approved of her work. The film has been a passion project for Jolie and this no doubt played a part in her to break down. She tearfully told the crowd:
To see you receiving it so well means the world to me. I feel so deep for all of you in this country.
She also revealed that her film should serve as a wake-up call and cited the current situation in Syria as evidence that global intervention is needed. 'In the Land of Blood and Honey' has been banned in Republika Srpska (an entity of Bosnia and Herzegovina) since Bosnian Serb officials dispute the accuracy of events portrayed in the film. For the Oscar winner, this is an indicator of political unrest. She told the corwd:
If anything, it has proven what is happening in the country. It has reminded people of the complications of the region, of the way people view each other. And also many people have risen up like these people who are doing private screenings in their homes.
© Copyright IBTimes 2023. All rights reserved.