Angelina Jolie Pitt In Cambodia To Prepare For Film, Meets Prime Minister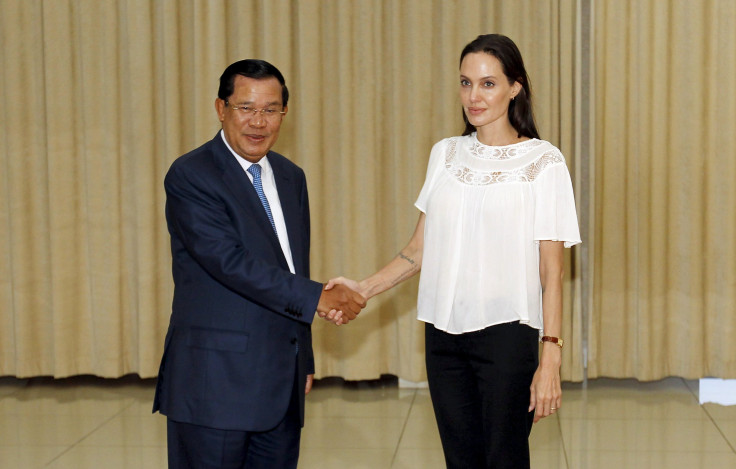 Angelina Jolie Pitt met Cambodian Prime Minister Hun Sen Thursday as she prepared to shoot a film in the country. Jolie Pitt was seen exchanging a handshake with Hun Sen at the Peace Palace in Phnom Penh.
For her meeting with the prime minister, the actress was dressed in skinny black pants and a loose white top. Jolie Pitt, 40, is in Cambodia to shoot for her upcoming film, "First They Killed My Father," an adaptation of the memoir "First They Killed My Father: A Daughter of Cambodia Remembers," by author and human-rights activist Loung Ung. The film tells the story from the perspective of a 5-year-old child, who witnessed the ugliness of war.
In her memoir, Ung, 45 talks about her growing up during the barbarous Khmer Rouge regime of the 1970s. She met with the actress last week when the two scouted for locations, People magazine reported, adding that the film will have an "all-Cambodian cast and be shot entirely in the Asian nation."
"The intent of this project is not to revisit the horrors of the war but to bring to the screen characters that people around the world will empathize with, and to help other people to learn about Cambodia," Jolie Pitt told the Associated Press earlier. She is also hoping that the film will help her eldest son, Maddox, understand his birth country to a deeper level.
"Maddox will be on set every day after school and involved behind the scenes," she told AP, adding that it is crucial for him to understand who he is. "He is my son but he is also a son of Cambodia. This is the time for our family to understand all that that means to him and to us," added the actress.
The actress is directing the movie for Netflix, alongside Cambodian director and producer Rithy Panh. Cambodia holds a special place in her life as it is the birth country of her 14-year-old son Maddox.
© Copyright IBTimes 2023. All rights reserved.
FOLLOW MORE IBT NEWS ON THE BELOW CHANNELS