Angelina Jolie Pitt, Daughter Shiloh, Meet With Syrian Refugees In Lebanon [VIDEO]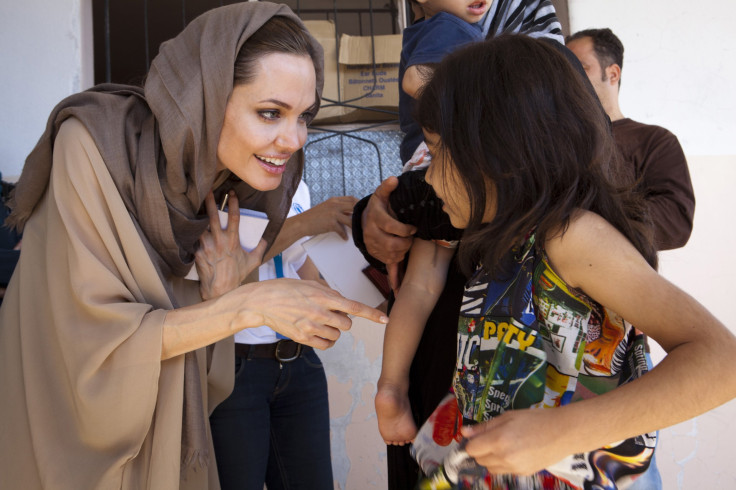 Little did Angelina Jolie Pitt know that when she took 9-year-old daughter Shiloh to meet a Syrian refugee family, the girl would have an emotional reunion with one of the families. In a new video released by the United Nations Human Rights Council (UNHRC), Jolie Pitt is greeted warmly by a refugee girl, who greets the actress with a hug and a kiss.
Shiloh looks surprised as she sees her mother reunite emotionally with the family. "Shiloh is very aware that I hold refugee families in high regard and has been asking to come on missions and meet them for many years," the 40-year-old actress told People. The "Salt" actress fulfilled her daughter's wish when she took her too meet a Syrian refugee family to honor World Refugee Day in June.
"When I met Hala in 2014, they had arrived in Lebanon as refugees," Jolie Pitt continued. "One year later, I'm back with my daughter Shiloh to see how life has been."
Hala and her family seemed very happy to see Jolie Pitt. The actress asked the young girl about her life and if she has "been drawing." Hala and her brother then reminisce about their time in Syria when they "started to hear the bombs dropping." The family lost their mother in the tragedy and had no better option than to flee to Lebanon.
Jolie Pitt shares in the video that refugees are not allowed to "legally work in a host country." "Families like [Hala's], living in Lebanon without parents, on half food rations and paying $100 a month to live in a tent -- they know," Jolie Pitt says in the video.
Jolie Pitt has worked for UNHRC since 2001 and pledged to visit the refugees next year too, along with her daughter. See the video below:
Source: YouTube.com/Video Hot - hot 2
© Copyright IBTimes 2022. All rights reserved.
FOLLOW MORE IBT NEWS ON THE BELOW CHANNELS