Angelina Jolie Pleads For Refugees, Continues Humanitarian Work Amid Custody Battle
In the midst of her ongoing divorce and custody battle with actor Brad Pitt, actress Angelina Jolie has not forgotten her humanitarian duties, which include acting as the special envoy to United Nations High Commissioner for Refugees (UNHCR).
At the end of August, Jolie wrote an opinion piece for CNN, revealing first hand, her experience of interacting with refugees and understanding "global refugee crisis is a major challenge for our generation."
"Refugee families endure innumerable forms of mental and physical anguish, including the pain of being unable to provide their children with food when they are hungry or medicine when they are ill or injured. But I have also seen how much it weighs on refugee parents when they are unable to send their children to school, knowing that with each passing year, their life prospects are shrinking and their vulnerability is growing," she wrote.
In the piece, she directed people's attention to a UNHCR report which showed the number of children not receiving proper education was on the rise.
"We often talk about refugees as a single mass of people, a burden. We do not see the intricate mosaic of individual men, women and children with their diverse backgrounds and immense human potential," she wrote.
"There are millions of young refugees with the energy and desire and commitment to study and work, who want to contribute to the societies that host them and ultimately help rebuild their home countries. There are millions of displaced parents who will make every sacrifice imaginable to help their children go to school," she added.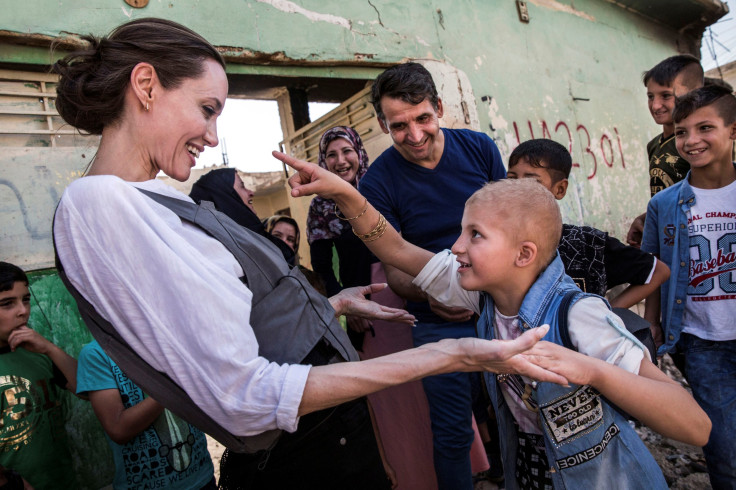 The heartfelt article also mentioned a number of refugees Jolie had met in her trips to Syria and Mosul, all whom shared their own stories of hardship and perseverance with her.
"No one dreams of being a refugee; they dream of living up to their potential," Jolie wrote and highlighted the importance of developed countries doing their bit to help the less fortunate countries rebuild after war.
"If we help refugees get an education, they themselves will take on the harder task of rebuilding the countries whose future peace and security is so important to our own. It is the wise as well as morally right course of action," she wrote in conclusion.
The turmoil in Jolie's personal life, what with her ongoing fight for her kids in court, against her estranged husband, has not affected the "Maleficent" actress' sense of duty as a humanitarian, and she proved it once more through her powerfully penned opinion piece.
Although certain unreliable tabloids have tried claiming Jolie was using her humanitarian work to boost her image in the custody battle, where she has been portrayed as a "crazy and manipulative" woman who is "out for blood," there was evidence to back the baseless rumor.
© Copyright IBTimes 2022. All rights reserved.
FOLLOW MORE IBT NEWS ON THE BELOW CHANNELS