Ann Coulter: Soccer Fans Are Leading America Into Moral Decay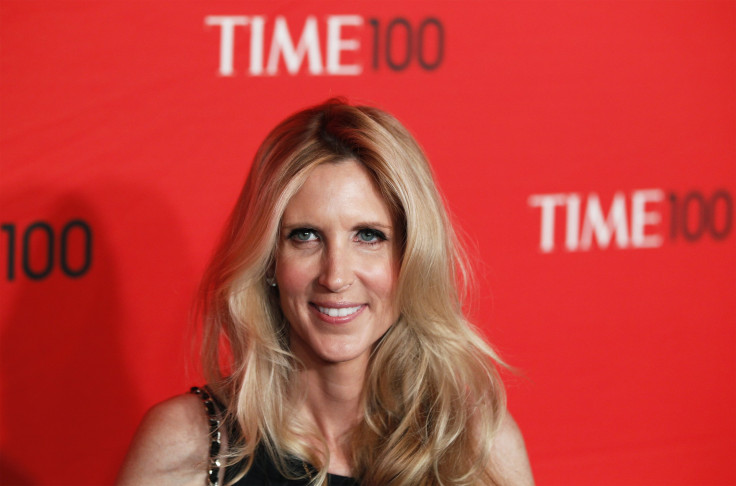 Ann Coulter, the conservative columnist and frequent TV commentator, said soccer is destroying the United States of America. Her statement made waves on the day where Americans jubilantly discovered their 2014 World Cup team would advance to the next round, even after a loss to Germany.
[Scroll down for poll at the bottom]
In an "America's Favorite National Pastime: Hating Soccer" column on Wednesday, Coulter argued, among other things, people are only watching soccer because of Sen. Edward Kennedy's 1965 immigration law.
"I promise you: No American whose great-grandfather was born here is watching soccer," she wrote. "One can only hope that, in addition to learning English, these new Americans will drop their soccer fetish with time."
She referred to the game as boring several times in her column, despite the report that the U.S. vs. Germany game peaked at 1.7 million viewers.
She called soccer a liberal sport where there is no standout. "Do they even have MVPs in soccer? Everyone just runs up and down the field and, every once in a while, a ball accidentally goes in," she wrote. (Coulter clearly never heard of Clint Dempsey.)
Coulter, 52, also said soccer isn't a "real sport." According to her, a true sport requires individual achievement and "the prospect of either personal humiliation or major injury."
The journalist added she's held off writing about soccer for a decade "so as not to offend anyone," but miraculously doesn't care now. Or, she just knows it's the perfect time to write about it because excitement over soccer in the U.S. is arguably at its highest.
Last but not least, forget the political gridlock in Washington, war or drugs or gun violence. The major issue with the nation is soccer, she says. "Any growing interest in soccer can only be a sign of the nation's moral decay."
Twitter is known for not having the friendliest users and on Thursday some of the harshest critics came out to respond to Coulter's column, while others simply told her to quiet down.
Follow me on Twitter @mariamzzarella
© Copyright IBTimes 2022. All rights reserved.
FOLLOW MORE IBT NEWS ON THE BELOW CHANNELS