Apple (AAPL) Sells 3M New iPads In Opening Weekend, But iPad Mini Figures Left Unclear
Tim Cook insists the company is "practically sold out of iPad minis," but doesn't specify their sales figures.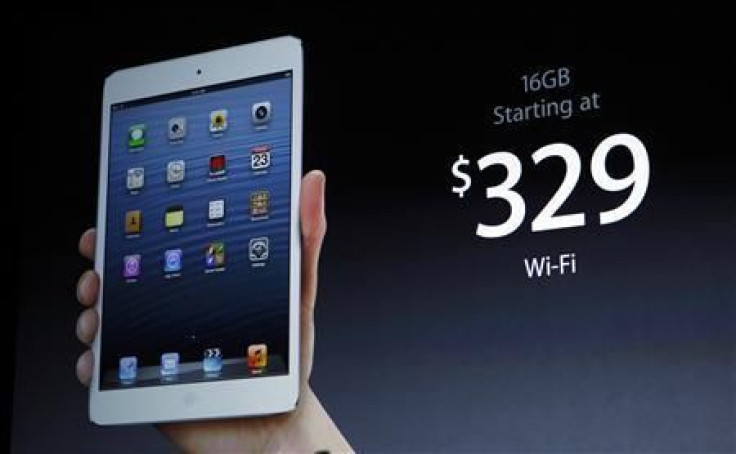 Apple (Nasdaq: AAPL) sold 3 million units of its newest iPad models this past weekend, the Cupertino, California-based company announced in a press release Monday.
The sales figures reflect the first round of commercial activity for its newly minted iPad Mini, which was first released on Nov. 2 following a highly anticipated announcement late last month.
While Apple wasn't shy about its new sales figures, it did not go into detail about how, exactly, sales broke down between the latest iPad model (widely known as the iPad "4") and the iPad Mini beyond insisting that demand for the new devices far exceeded their expectations.
"Customers around the world love the new iPad mini and fourth generation iPad," Apple CEO Tim Cook said in the company's statement. "We set a new launch weekend record and practically sold out of iPad minis. We're working hard to build more quickly to meet the incredible demand."
The company said that it doubled the first weekend total of 1.5 million Wi-Fi-only models sold for the iPad 3 in March of this year. As a point of comparison, Apple sold three million third-generation iPads in total during its launch weekend.
But many analysts were particularly curious to see how the iPad Mini fared next to its larger tablet brethren. Compared to the overwhelmingly positive response to the company's latest smartphone, the iPhone 5, the iPad Mini surprised mini both for its relative lack of new features and its higher than expected price point of $329. Prior to the device's reveal, many analysts had expected Apple to set a maximum price point of $299 for the iPad Mini in order to remain competitive with rival 7-inch tablets.
An Apple representative told AllThingsD that the three million figure in Monday's announcement only included sales of the two brand-new iPad models, but the company once again declined to specify what percentage of these sales were attributed to the iPad Mini.
Apple has never broken down sales of iPads or iPhones by model in its quarterly earnings reports, but the company has previously specified the sales for its latest model whenever a new iPad has been launched. Suddenly obscuring this information raises questions about the device's immediate success compared to that of its predecessors.
Skepticism or not, investors did not seem concerned with the latest sales figures. Apple stock opened six points above its closing price last week, jumping 1.5 percent in the first fifteen minutes of trading Monday morning and rising as high as $587.77 per share.
© Copyright IBTimes 2023. All rights reserved.