Apple iPad '4,' iPad Mini Pre-Order Stock Sells Out; First Deliveries Currently En Route Leading To Release Date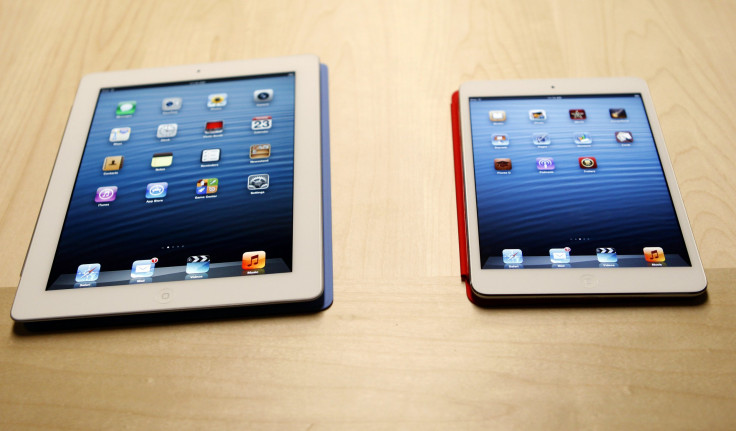 The iPad was a hot product before Oct. 23, but after Apple's scheduled media event in San Jose, Calif. that day, the world's most popular tablet has gotten even hotter with the introduction of the fourth-generation iPad with Retina Display and the all-new 8-inch iPad Mini.

Apple opened up pre-orders for both of its new tablets on Oct. 26, and as of Tuesday, the company's website says both the iPad Mini and iPad "4" have sold out of its initial pre-order stock.
With pre-orders sold out and shipping estimates for the iPad 4 and iPad Mini pushed back one and two weeks, respectively, Apple will still have plenty of the new iDevices in stock when they officially go on sale this Friday, Nov. 2. Apple will begin selling the iPad 4 and the iPad Mini in its Apple retail stores starting at 8 a.m. local time for any customers still hoping to own a new iPad on Day 1.
While the Wi-Fi only iPad 4 and iPad Mini will ship on time, those customers that ordered the cellular-capable models of these tablets will not receive their orders until later this month. Apple's site currently lists the earliest US delivery dates for those models beginning on Nov. 21.
Even though pre-orders for the white iPad Mini reportedly sold out within a few hours after being posted online, Apple is still shipping accessories for its new mini tablet on schedule. In fact, many customers have already reported receiving their new iPad Mini Smart Covers this week, even though some worried that Hurricane Sandy would affect shipments, especially on the eastern seaboard.
Apple's official website shows iPad Mini orders are still "Preparing for Shipment," but customers who have already pre-ordered their Minis will find that their packages are actually en route. All pre-orders come with a serial number, which allows customers to track their orders via UPS; similarly, customers can use their phone numbers to track their pacakges via FedEx.
About The iPad 4

The new iPad "4" has all the same basic features and specs as the third-generation iPad, but this fourth-generation model is significantly faster than its predecessor in every way. The iPad 4 is essentially an iPad 3 on steroids.

Thanks to the all-new A6X chip, the iPad 4 has double the chip speed and graphics performance of its predecessor, and the new custom-built Apple chip also powers enhanced features in the new tablet, including picture stabilization and face detection when snapping photos or shooting videos. Furthermore, the A6X chip makes the iPad 4 extremely efficient to give tablet owners the typical 10 hours of "all-day" battery life.

If double the chip speed and double the graphics wasn't enough of an improvement, Apple has also increased the speed at which the tablet connects to Wi-Fi and cellular networks.

Apple gave the fourth-generation iPad a big boost to Wi-Fi -- Schiller said iPad owners will experience "ultrafast" Wi-Fi that doubles the connection speed of the older model -- and for LTE customers, Apple has expanded the number of LTE frequencies supported by the iPad to include carriers in Europe, Australia and even here in the U.S., such as Sprint-Nextel.

The only physical difference iPad 4 owners will notice on the outside is Apple's new 8-pin Lightning connector, which replaces the traditional 30-pin dock connector. Customers may be irked that they must buy new cables for their iPad accessories, but the new Lightning connector is clearly Apple's dock choice for the next decade, installing the port into the iPhone 5, iPad Mini and its family of new iPods.

Apple starts selling the new iPad 4 at $499 for Wi-Fi only and $629 for LTE-capable models.

About The iPad Mini

The iPad Mini is powered by Apple's dual-core A5 chip, features the same 1024 x 768 resolution of the iPad 2 (which means no Retina Display), weighs just 0.68 pounds -- as light as a notepad -- and measures just 7.2 mm thick -- roughly the thinness of a pencil.

Besides the difference in size, the iPad Mini can do most things the iPad 4 can do. It still runs on iOS 6, Apple's latest mobile operating system, and is compatible with the new Lightning dock connector. However, even though Apple sells "cellular" models of the iPad Mini, this new smaller tablet does not support the high-speed LTE network.

Apple starts selling Wi-Fi versions of the iPad Mini at $329, while "cellular" models start at $459.

Both tablets go on sale this Friday, Nov. 2.
© Copyright IBTimes 2023. All rights reserved.