Apple Music Is Now Available On Android, Hits Google Play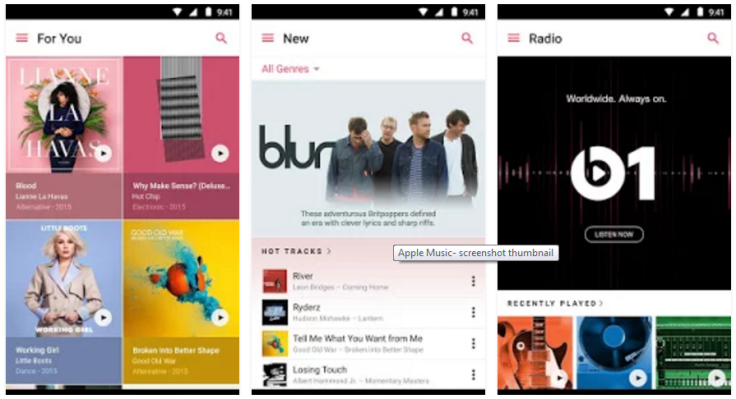 Nearly five months after the world's richest company and biggest music retailer launched a streaming music service for iPhones, that service has come to Android. Apple Music was spotted in the Google Play Store Tuesday, marking the first time that the service, which last month announced it had 6.5 million paying subscribers, has made itself available to Android users.
The Android version of the service will cost $9.99 per month after a three-month free trial, and it will look and feel exactly like the Apple Music that shipped as part of an iOS update in June, though with a handful of exceptions. Apple Music's family plan membership, which enables up to six people to use a single membership that costs just $14.99, is only available to people using Mac or iOS. It is also limited to people with relatively new phones; Apple Music for Android requires Android 4.3 or higher, which means people with Android smartphones that are more than two years old are out of luck.
When Apple first announced Apple Music several months ago, it made clear that its streaming music service would be made available on Android as well, much as iTunes, which began as a Mac-only application, ultimately became something that was available to users too.
Ever since Apple launched the iTunes Music Store in 2003, it has grown into one of the largest retailers of music in the world. At one time, it sold 90 percent of the world's digital music, and it has grown into a vital commercial partner for the recorded music industry, despite the fact that music sales have never been a meaningful source of revenue for the device maker. Apple Music is not expected to be a meaningful source of revenue, either.
Instead, Apple used the appeal of being able to seamlessly purchase music (and, later, movies, TV shows and apps) that would be sent straight to the devices people consumed them on as a way to lock people into its device ecosystem.
Moving Apple Music onto Android phones, which hold a slight advantage in market share in the U.S. smartphone market, could be seen as a way to lure people into that same ecosystem. It could also be regarded as a concession to the major labels it needed to win over in order to launch Apple Music in the first place. Prior to the streaming music service's launch, many artists and labels fretted over what would happen when the world's largest purveyor of digital music began to offer streams -- which pay rightsholders just fractions of cents -- rather than downloads.
Apple's move could also be seen as a way to keep pace with Spotify, the market leader in on-demand streaming music. Since launching in Sweden eight years ago, the streaming service has attracted some 75 million monthly active users, 20 million of whom pay a monthly subscription fee. It says it is on pace to reach 100 million monthly active users by the end of 2015. Apple has not commented on its motivations.
© Copyright IBTimes 2023. All rights reserved.