Apple New iPad vs Acer Iconia Tab A700: Will Quad-Core Tablet Have an Upper Hand?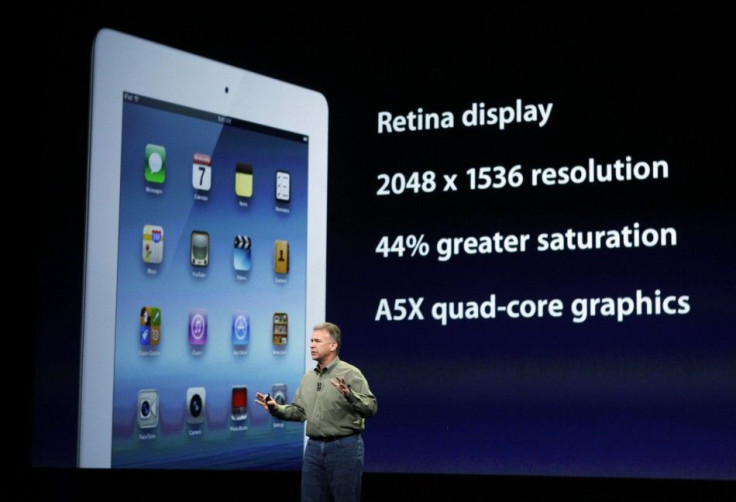 After months of speculations, Apple's New iPad was officially announced last week, and since the new gadget has come up with only a slick of updates to iPad 2, it has been compared to all sorts of rival tablets in the market. However, it appears quad-core tablets are giving a big fight to the New iPad and one of them is the mysterious Acer Iconia Tab A700, which was flaunted by the manufacturers at the CES event this year.
Has Acer Iconia Tab A700 got anything better to offer, in comparison with the New iPad? Take a look at the specifications of both the devices:
Operating System
Apple's New iPad is an iOS-powered tablet, which is the successor to the second generation iPad and has got iOS 5.1 to boast a support to all the high-end specifications in place of the prio iOS 5.
On the other hand, the Acer Iconia Tab A700 is an Android-powered tablet - running on the latest 4.0 Ice Cream Sandwich OS with custom user interface. Expect couple of widgets to be pre-loaded on it and then some apps as well such as AcerCloud Docs. This tablet will also feature the Acer cloud-based media solution that will connect the tablet to the user's personal cloud storage and allow streaming media anytime over a working Internet connection.
Processor
Under the slim body design, Acer Iconia Tab A700 holds a quad-core capable Nvidia Tegra 3 processor, previously code-named as Project Kal-El. This new Tegra 3 processor is claimed to be three times faster than the Tegra 2 processor. Further, as far as the new iPad is concerned, it is powered by a dual-core Apple A5X custom-designed, high-performance, low-power system-on-a-chip with quad-core graphics.
Display
Acer Iconia Tab A700 tablet has a 10.1-inch touchscreen display that supports (WUXGA) 1920 x 1200 pixel resolution at 224 pixel density, which means it can support 1080p HD video resolutions natively where 1920 x 1080 pixels of resolution usually found in the full HD supporting computer monitors with 16:10 aspect ratio.
Talking about the New iPad, the device still comes with the 9.7-inch screen display as that of its predecessor iPad 2. However, a major addition which had led the device far ahead against its rival tablets is the LED backlit Retina display which comes power packed with 2048 x 1536 pixels of resolution at 264 pixel density with 44 percent increased color saturation and an astounding 3.1 million pixels. According to the Apple execs, this is four times the number of pixels in iPad 2 and a million more than an HDTV.
Camera
The New iPad features has got another major enhancement, and it is the new 5 megapixel rear facing iSight , which features the same lens technology as Apple's iPhone 4S, and is capable of recording full 1080p HD video up to 30 frames per second with audio. It also includes all special features like autofocus, tap to focus, and tap to set exposure with the help of iOS 5.1, which has brought software stabilization to the camera. Further, the rear camera comes with f/2.4 aperture and five-element lens to capture light efficiently and produce a sharp image.
In the interim, Acer Iconia Tab A700 also boasts a 5 megapixel camera with built-in LED flash and an additional front facing HD shooter to make video calls. Further, also at the bottom, there is a marking of Dolby Mobile which hints a better audio experience for audio and video recording.
Connectivity and Network
Acer Iconia Tab A700 tablet has Wi-Fi 802.11 b/g/n, Wi-Fi hotspot with 3G Connectivity, Bluetooth version 3.0 with A2DP Stereo and Full USB Port. In comparison with that, the third generation iPad has introduced 4G LTE connectivity from the leading LTE providers, including AT&T, Verizon, Bell, Rogers, and Telus. At the same time, to benefit other networks it offers the 21 Mbps HSPA+, 42 Mbps DC-HSDPA, and world-ready 3G bands. Further, it has a 4.0 + EDR Bluetooth version.
Memory
As always, Apple's New iPad has been released in three variants 16GB, 32GB and 64GB and also has a 1GB RAM. However, it does not support an external microSD card slot. On the other side, Acer Iconia Tab A700 tablet will also come in 16GB, 32GB and 64GB models with 1GB RAM and added it will feature a microSD card slot for expansion up to 32GB.
Dimensions and Weight
The New iPad has dimensions of 241.2 x 185.7 x 9.4 mm and weighs about 652 grams (Wi-Fi Only) and 662 Grams (Wi-Fi + 4G). When it comes to Acer Iconia Tab A700 tablet's form factor it measures just 9.8 mm thick and weighs approximately 650 grams.
Battery
The new Acer Iconia Tab A700 comes with a 9800mAh Battery, which means it would last up to 10 hours approximately. However, for the new iPad, the company claims to support a sufficient battery life of nine hours and without LTE it would run up to 10 hours.
Pricing
As far as pricing is concerned, the New iPad's variants are quoted expensively with the following price tags -- 16 GB: $499, 32 GB: $599 and 64 GB: $699. And in the case of 4G LTE, the buyers will have to shell out $629, $729 and $829 respectively for the 16, 32, and 64 GB variants.
On the other hand, Acer has not released any price quotes for Iconia Tab A700 and also has not yet confirmed and market availability dates. Meanwhile, the company has only hinted a vague second quarter time frame for availability. The A700 is perhaps Acer's biggest push into the Android tablet market till date, and there are many geeky eyes that are waiting for it eagerly.
© Copyright IBTimes 2022. All rights reserved.
FOLLOW MORE IBT NEWS ON THE BELOW CHANNELS