Apple Watch Preorder Estimates Point To Robust Sales, Exceeding First iPad And iPhone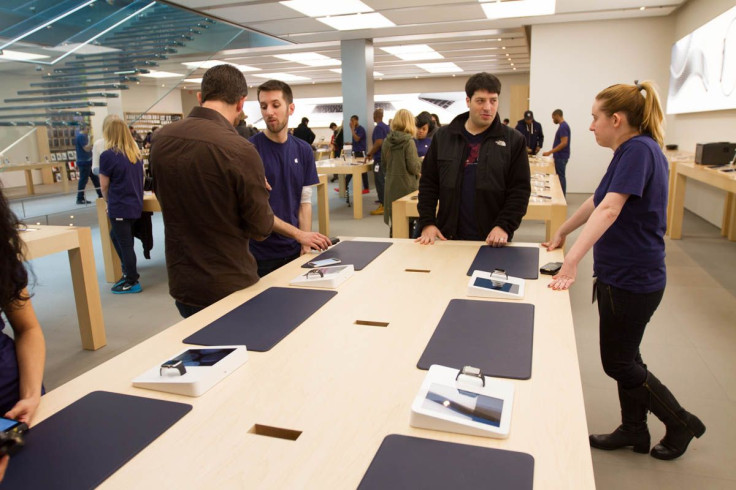 Scenes at Apple Inc. stores on Friday in New York and Shanghai were uncharacteristically sedate for Apple's latest new, new thing. An appointment system meant no lines and surprisingly thin crowds turning up to try on the Apple Watch.
But that doesn't mean people weren't buying online and on their phones. Apple hasn't released any numbers, but conclusions extrapolated from multiple data points are saying Apple Watch just had a bigger first day than the iPad in 2010 or iPhone in 2007 -- combined.
Market research firm Slice intelligence estimated that 957,000 were ordered on Friday, a number derived from a sample of 9,080 e-receipts gathered from a panel and pool of over 2 million online shoppers. If that data is correct, Apple managed to surpass the 720,000 Android Wear devices shipped in 2014 in just one day, according to figures from Canalys.
Compared with Apple's previous launches, the Apple Watch has already surpassed U.S. first-day sales of the original iPhone and iPad combined, which respectively came in at 270,000 and 300,000 units, according to company filings and press statements.
Shoppers purchased an average 1.3 watches, spending $503.83 per watch. When broken down by model, Apple Watch Sport customers spent $382.83 per watch, and those ordering the stainless steel Watch spent $707.04.
To put that in perspective, even at the lowest end, preorders for Apple's smartwatch came in at over double the global average smartwatch selling price of $189 in 2014, according to independent research firm Smartwatch Group.
"If you take the Slice numbers as Gospel, it would imply 2.1 million worldwide," Piper Jaffray analyst Gene Munster told Fortune. "We've dialed that back to 1.5 million." Asymco's Horace Dediu placed his estimates closer to 2 million.
In an informal poll conducted by Cowen and Co. Managing Director Timothy Arcuri, Apple employees indicated that between 85 and 90 percent of customers trying on the watch have preordered it as well, reports Apple Insider. This led the firm to an estimate of 1 million Apple Watch sales when it officially ships on April 24.
Whether those preorders will turn into first-day sales is still the question, especially since shipment times have been pushed back as far as June and July for some models. Apple hasn't said whether it's demand causing the delays or manufacturing constraints, but some analysts believe it may be both.
"If demand was weak, they would be able to ship earlier," said Adam Sarhan, CEO of Sarhan Capital. "If supply was ample, they would be able to ship earlier. Both sides of the equation come into play."
Munster said that because Apple's shipping time estimates have remained consistent, it implies that supply is the main limiting factor. Increasing lead times would indicate demand exceeding supply. "Apple's initial Watch supply for April 24th sold out within the first 10 to 30 minutes of pre-orders," he wrote.
Of the 38 Apple Watch models available in the U.S. online store, most models are currently seeing shipping times as far ahead as June, with some even pushing into July. The only exception to this is the 38-millimeter Watch with stainless steel link bracelet, which shows shipping estimates of around four to six weeks.
Whether Apple will officially announce Apple Watch preorders and sales is also in question, since the company isn't breaking down the smartwatch into its own category in its quarterly financial disclosures. For now, performance figures will be grouped in Apple's "other products" category, which also includes its iPods and Apple TVs.
"To be straight, I am not very anxious in reporting a lot of numbers on Apple Watch because our competitors are looking for it," Apple CEO Tim Cook said during an October earnings call. "So aggregating it is helpful from that point of view as well."
While the Watch hasn't officially started shipping, analysts are predicting 2015 Apple Watch shipments to be anywhere between 8 million and 30 million units, with the consensus hovering between 10 million and 15 million.
© Copyright IBTimes 2023. All rights reserved.