Apple Watch Rumors: 10 iWatch Concept Designs Showcase Potential Features And Specs [PHOTOS]
Wearable technology is heating up in 2013. Just as Google announced that it's seeking applicants for its "Glass Explorer" product testing program, reports surfaced that its biggest technology rival, Apple, is reportedly working on a different piece of wearable tech -- one that can fit around your wrist.
On Feb. 10, Nick Bilton from the New York Times wrote that Apple is "experimenting with wristwatch-like devices made of curved glass," citing people familiar with the company's "explorations."
"Such a watch would operate on Apple's iOS platform, two people said, and stand apart from competitors based on the company's understanding of how such glass can curve around the human body," Bilton said.
Companies have written about Apple's plans to release a Bluetooth-enabled smart watch for some time now: Late last year, Chinese tech site Tech.163 said Apple would release an Intel-powered iWatch with a 1.5-inch OLED screen in the "first half of next year," while Bloomberg News more recently reported that Apple has a team of roughly 100 product designers working on its latest portable device.
"The team, which has grown in the past year, includes managers, members of the marketing group, and software and hardware engineers who previously worked on the iPhone and iPad, said the people, who asked not to be named because the plans are private," Bloomberg reported. "The team's size suggests Apple is beyond the experimentation phase in its development, said the people."
The iWatch: What Will It Look Like?
But what does the iWatch look like? What features might it include, what specs might it boast if and when Apple decides to release the device? Will it run iOS? If it does, will applications be organized differently?
Many designers and product engineers have been wondering the same thing. Apple would not release a watch unless it was esthetically pleasing in both its outside features and inner workings, so artists have taken to a number of design tools to mock up what they believe Apple might release as its "iWatch." The slideshow at the top of our page showcases some of the potential features Apple could choose for a final design.
Some have said the iWatch will feature an OLED screen, which is possible since Apple just hired LG's OLED expert earlier this month, but it's unlikely considering that Apple CEO Tim Cook lambasted the technology in a more recent conference call, calling the color saturation on those displays "awful."
If not OLED, Apple may utilize new panels called "Touch On Displays" currently in production at one of its suppliers, Innolux Corp. -- or, more likely, Apple could implement Sharp's high-quality IGZO technology for the tiny iWatch screen, which could be a good test run for the technology since Apple has explored the idea of implementing it in other, larger-screen devices like the iPhone or iPad.
The iWatch screen will likely be supplied by Corning, which makes the ultra-rugged Gorilla Glass for the iPhone and most other smartphones currently on the market. Corning has been developing a new thin, flexible glass for more than a decade, but it said recently that it had finally overcome the engineering challenges of that technology with its new Willow Glass, which can bend effortlessly without breaking -- which would be perfect for a curved watch.
"Corning Willow Glass will help enable thin, light and cost-efficient applications including today's slim displays and the smart surfaces of the future," Corning said on its website. "It will support thinner backplanes and color filters for both Organic Light Emitting Diodes (OLED) and liquid crystal displays (LCD) in high performance, portable devices such as smart phones, tablets and notebook computers. This new, ultra-slim flexible glass will also help develop conformable (curved) displays for immersive viewing or mounting on nonflat surfaces."
But besides the glass, an iWatch obviously needs several other components to function properly. The battery is important to power both the watch and its display, but adding a small cellular antenna could allow the iWatch to be used potentially for stand-alone calls and data. Apple has already patented a "microstrip cellular antenna," which could possibly be integrated into a wristwatch-size iWatch.
However, one of the main issues that Apple will face in building its iWatch will be the wrist strap. Many luxury watchmakers opt for an all-metal enclosure, and, considering Apple is also a "luxury" brand, it may pursue using some form of lightweight metal -- possibly liquid metal?-- to help create the strap. However, if Apple wants the iWatch to appeal to less-affluent markets, it may consider investing in inexpensive, interchangeable leather watchstraps as it did with its sixth-generation iPod Nano.
When Will Apple Release The iWatch?
Many are expecting the iWatch to debut in early-to-mid-2013, likely because so many companies are catching on to the "wearable technology" trend. Besides Google Glass, Olympus announced plans to deliver its pair of smart eyeglasses in 2013, which can share information between the glasses and a smartphone using Bluetooth.
Nobody knows what the final design will look like, or what types of features it will include -- Siri, Apple Maps and a built-in pedometer and NFC chip are all on the menu -- but Apple clearly has the technology to make this happen. We know the Cupertino, Calif.-based company has spent the better part of two years patenting technologies we haven't yet seen in a final Apple product, and the iWatch is the perfect opportunity to introduce many of these experimental technologies.
According to Forrester analyst Sarah Rotman Epps, Apple has already invested a considerable amount of effort to hire and build partners in the wearable technology space.
"This makes Apple potentially the biggest player of the wearables market in a sort of invisible way," Epps told the New York Times. "Over the long term, wearable computing is inevitable for Apple; devices are diversifying, and the human body is a rich canvas for the computer. But I'm not sure how close we are to a new piece of Apple hardware that is worn on the body."
The potential for an Apple-made wristwatch is boundless. Between Bluetooth and Apple's iCloud infrastructure, an iWatch wouldn't need a lot of storage to be a powerful device. By relaying back and forth to your phone wirelessly, the iWatch could essentially do what most of today's fitness bands could do -- namely, measure your pulse and body activity, which could possibly be used to power the device -- but with Apple's App Store and iOS ecosystem, it could do so much more.
Check out our slideshow at the top of the page and let us know what you want to see in an Apple iWatch in the comments section below.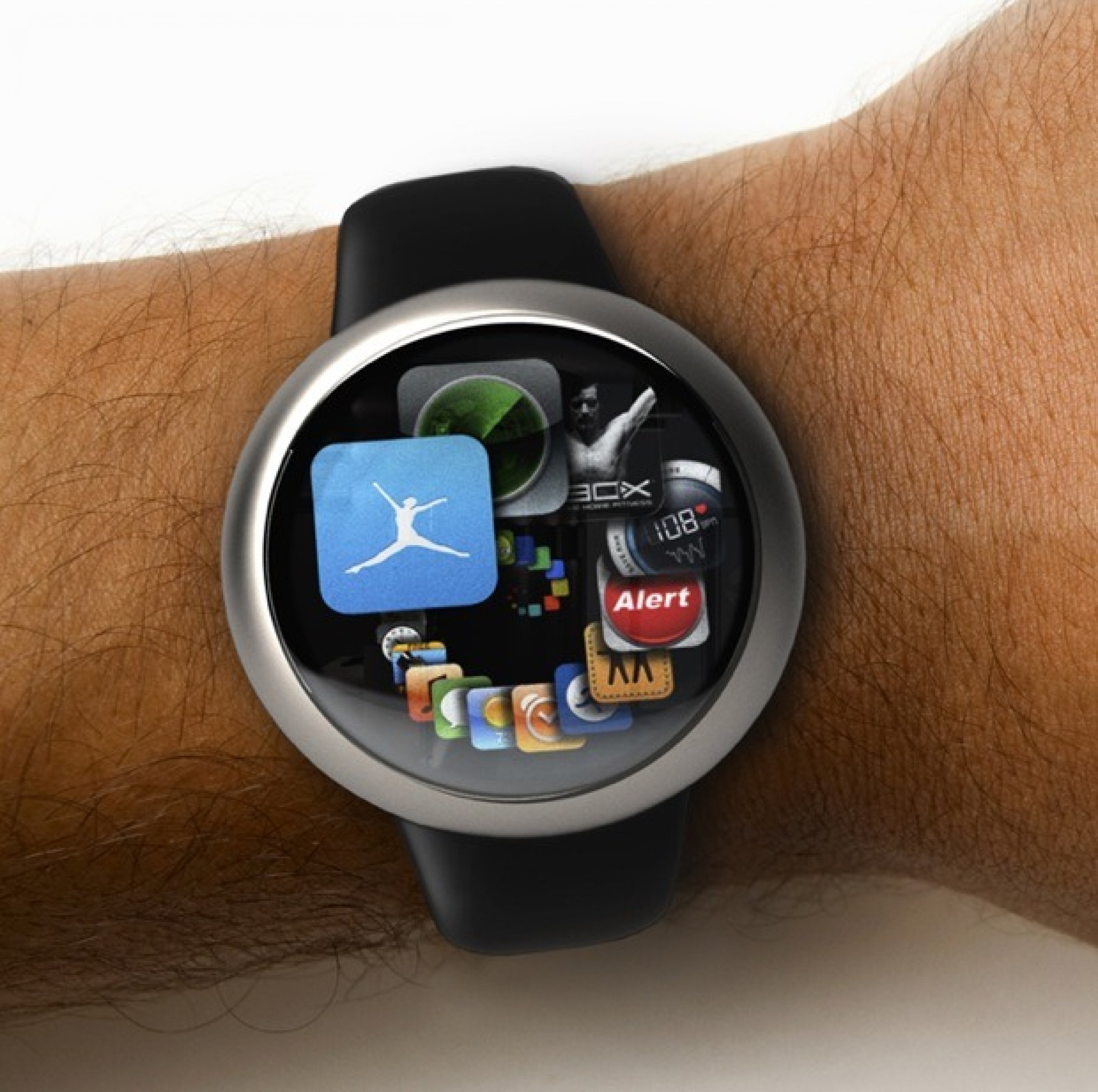 FOR FREE to continue reading
✔️ Unlock the full content of International Business Times UK for free
offer available for a limited time only
✔️ Easily manage your Newsletters subscriptions and save your favourite articles
✔️ No payment method required
Already have an account?
Log in
© Copyright IBTimes 2023. All rights reserved.