Apple Watch Rumors Heat Up: Why The iWatch Will Be More Important Than The iPhone 5 Successor In 2013
Analysis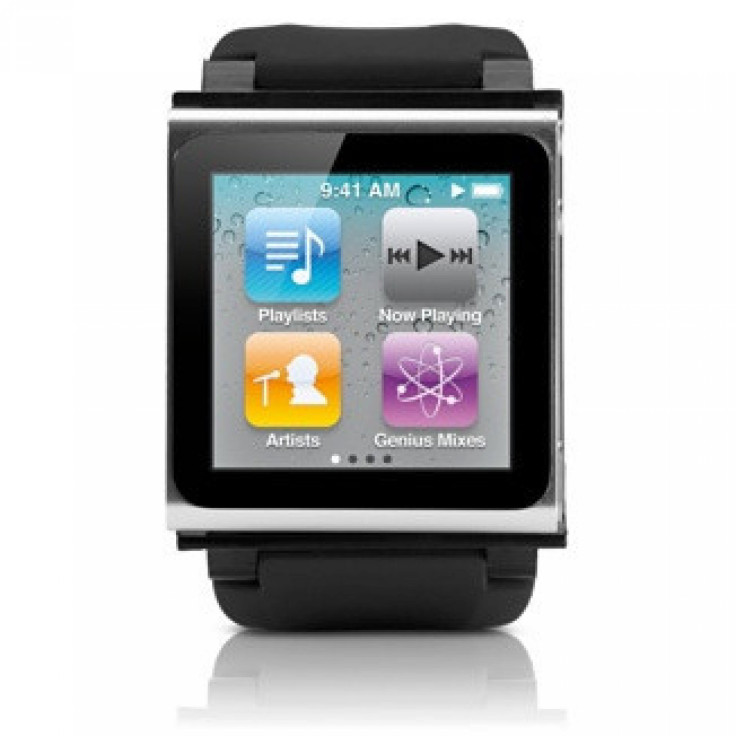 Most Apple fans are laser-focused on the next iPhone, the next iPad and even that rumored TV set hinted by co-founder Steve Jobs shortly before his death. But while so many consumers and companies are focused on making displays bigger, a small one that can fit around your wrist may make the biggest impact in 2013.
On Sunday, Nick Bilton from the New York Times said Apple has been "experimenting with wristwatch-like devices made of curved glass," citing people familiar with the company's "explorations."
"Such a watch would operate on Apple's iOS platform, two people said, and stand apart from competitors based on the company's understanding of how such glass can curve around the human body," Bilton said.
Companies have been exploring techno-centric wristwatches for some time, but it wasn't until the Pebble E-Paper Watch debuted on Kickstarter last April that people realized there was such a tremendous market for such a device.
The Pebble Watch works with your iPhone or Android smartphone and is completely customizable -- users can download new watchfaces or even sports and fitness apps to track their workouts in real time, but by linking the phone over Bluetooth, Pebble users could also control their music and receive notifications from their calendar, phone, texting apps and even Facebook or Twitter directly on the watch's tiny display.
The Pebble E-Paper Watch, which truly helped put Kickstarter on the map in 2012, raised $10,266,845 from 68,929 backers, selling out all of its "backing tiers," which incentivize customers with different rewards depending on their donation. Pebble showed that people are clearly interested in accessing their phone information on their wrists, in the same way famous cultural icons like Dick Tracy and James Bond could use their watches as computers, mapping devices or two-way radios.
Apple likely saw the Pebble Watch and thought it could do one better.
The iWatch: What Will It Look Like?
Late last year, Chinese tech site Tech.163 reported on Apple's plans to release a Bluetooth-enabled smart watch in the "first half of next year," which would feature Intel chips and a 1.5-inch OLED screen. (Even though Apple just hired LG's OLED expert on Friday, in a more recent conference call, CEO Tim Cook called the color saturation on OLED displays "awful.")
If not OLED, Apple may use new Touch On Display panels currently being developed by supplier Innolux Corp., or the company could implement Sharp's high-quality IGZO technology for the tiny iWatch screen, which would be a good test run should Apple want to use IGZO in other, larger-screen devices like the iPhone or iPad.
Corning, which makes the ultra-rugged Gorilla Glass for iPhone and many other available smartphones, has been working on thin, flexible glass for more than a decade but said recently it had finally solved this difficult engineering challenge with its new Willow Glass, which is glass that can effortlessly bend without breaking.
"Corning Willow Glass will help enable thin, light and cost-efficient applications including today's slim displays and the smart surfaces of the future," Corning said on its website. "It will support thinner backplanes and color filters for both Organic Light Emitting Diodes (OLED) and liquid crystal displays (LCD) in high performance, portable devices such as smart phones, tablets and notebook computers. This new, ultra-slim flexible glass will also help develop conformable (curved) displays for immersive viewing or mounting on nonflat surfaces."
But besides the glass, an iWatch would need several other components to function. Obviously, a watch and its display need a battery, and a small cellular antenna wouldn't be a bad choice -- this would allow the iWatch to be potentially used for standalone calls and data. Apple has already patented a "microstrip cellular antenna," which could possibly be integrated into a wristwatch-size iWatch.
However, one of the main issues Apple will face in building its iWatch will be the wrist strap. Many watchmakers opt for an all-metal enclosure, and, considering Apple's luxury brand, it may pursue using some form of lightweight metal to help create the strap. However, if Apple wants the iWatch to appeal to lower-income markets, it may consider investing in inexpensive, interchangeable leather watchstraps as it did with its sixth-generation iPod Nano.
When Will Apple Release The iWatch?
Many are expecting the iWatch to make its debut in early- to mid-2013, likely because so many companies are already catching onto the "wearable technology" trend. Google is working hard on its Google Glass eyeglasses, which will release to developers this year, and even Olympus announced its plans last year to deliver its pair of smart eyeglasses, which shares information between the glasses and a smartphone over Bluetooth.
Apple has a lot of money to invest into new projects -- possibly for a redesigned TV experience or even an Apple-designed car -- but building smart TVs or smart glasses would not fit Apple's "Think Different" mantra, considering the number of new competitors creating those products.
Meanwhile, the only wrist-centric technology besides the Pebble E-Paper Watch has been the growing number of wearable fitness bands, namely the Nike FuelBand and Jawbone Up, which can relate information from your body to your iPhone. Even Cook, the chief executive at Apple, has been spotted wearing Nike's Fuelband from time to time.
According to Bloomberg, Apple is serious about the iWatch and has already hired a team of about 100 product designers, according to two people close to Apple, to help build this new portable device.
"The team, which has grown in the past year, includes managers, members of the marketing group and software and hardware engineers who previously worked on the iPhone and iPad, said the people, who asked not to be named because the plans are private," Bloomberg said. "The team's size suggests Apple is beyond the experimentation phase in its development, said the people."
Nobody knows what the final design will look like, or what types of features it will include -- Siri, Apple Maps and a built-in pedometer and NFC chip are all on the menu -- but Apple clearly has the technology to make this happen. The Cupertino, Calif., company has spent the better part of two years patenting technologies we haven't seen in a final Apple product, but the iWatch is the perfect opportunity to introduce many of these experimental technologies.
According to Forrester analyst Sarah Rotman Epps, Apple has already invested a considerable amount of effort to hire and build partners in the wearable technology space.
"This makes Apple potentially the biggest player of the wearables market in a sort of invisible way," Epps told the New York Times. "Over the long term, wearable computing is inevitable for Apple; devices are diversifying, and the human body is a rich canvas for the computer. But I'm not sure how close we are to a new piece of Apple hardware that is worn on the body."
The potential for an Apple-made wristwatch is boundless. Between Bluetooth and Apple's iCloud infrastructure, an iWatch wouldn't need a lot of storage to be a powerful device. By relaying back and forth to your phone wirelessly, the iWatch could essentially do what most of today's fitness bands could do -- namely, measuring your pulse and body activity, possibly even using it to power the device -- but with Apple's App Store and iOS ecosystem, it could do so much more.
With NFC, the iWatch could use stored information in your iPhone or iPad to connect or share with others. Apple has many patents centered around Near-Field Communication, or NFC, technology, but while many consumers are still upset the functionality hasn't arrived in an iPhone yet, it makes much more sense to use NFC in a small, portable device that stays attached to your wrist, rather than implement kinetic sensors into a phone.
By appealing to high-tech aficionados with a sophisticated luxury product that far outfunctions anything else you could wrap around your wrist, the iWatch could be the most successful iOS device Apple has ever created. We will be interested to learn more about the possible features and specs of the iWatch, but, while nothing is ever certain in the world of Apple, this device is almost certainly coming. Apple completely redesigned the iPod Nano in October, retiring the touchscreen iPod nano, as well as its popular family of add-ons that turned that particular square-shaped iPod into a wristwatch.
© Copyright IBTimes 2023. All rights reserved.