Apple 'Wonderlust': iPhone 15, iPhone 15 Plus Prices Cheaper Than Predecessors In UK, Germany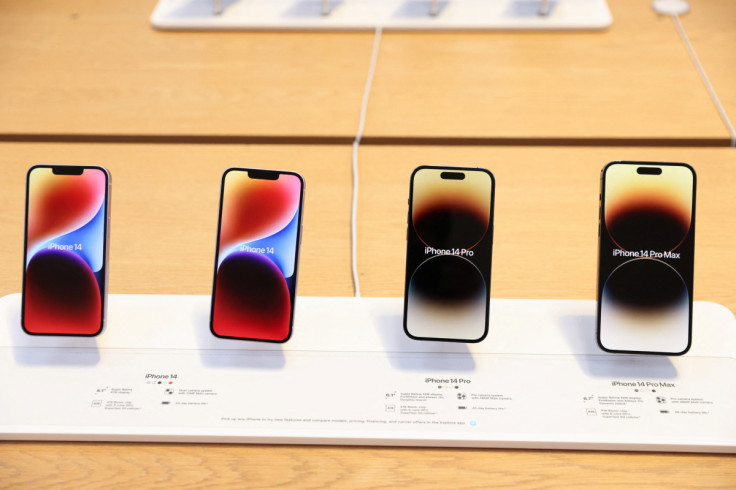 KEY POINTS
The iPhone 15 starts at $995 in the United Kingdom and $1,019 in Germany
The new iPhone series is the first to drop Apple's Lightning charger
Apple's sales were down for the third consecutive quarter
Apple featured several new products, including the next-generation iPhone series, at its September keynote event, "Wonderlust," held Tuesday. A major takeaway from the new smartphone series was the iPhone 15 and iPhone 15 Plus starting prices in the U.K. and Germany, which are lower than their predecessors.
In the U.K., iPhone 15 starts at ₤799 ($995) and iPhone 15 Plus at ₤899 ($1,120), compared to the starting prices of ₤849 ($1,057) and ₤949 ($1,182) for iPhone 14 and iPhone 14 Plus, respectively.
Similarly, in Germany, Apple's iPhone 15 starts at €949 ($1,019) and iPhone 15 Plus at €1,099 ($1,180), compared to its predecessors' starting prices of €999 ($1,073) and €1,149 ($1,234) for iPhone 14 and iPhone 14 Plus, respectively.
Apple's iPhone 15 pricing against competitors
Even with Apple marking down the price tag of its iPhone 15 and iPhone 15 Plus in Britain and Germany, the base devices of the new series are still more expensive than some competitors.
South Korean tech giant Samsung's Galaxy S23, released in February, now starts at $699.99 (previously $799), while Google's Pixel 7 had a starting price of $599 (now $499) when it was released in October last year.
Pricing retained in other countries
Some observers noted that another huge surprise from the "Wonderlust" event was that the prices of the new iPhone series' base devices did not go up in other countries, as it reflected the global phone slump that affected demand for Apple's popular smartphones.
In its third quarter 2023 financial report, Apple's overall sales slumped for the third consecutive quarter. In particular, iPhone sales were down approximately 2% year-over-year, even with $39.7 billion in quarterly revenue.
Despite the sales decline, Apple appears optimistic about the potential interest in its new iPhone series due to improved features. "iPhone 15 and iPhone 15 Plus represent a huge leap forward with exciting camera innovations that inspire creativity, the intuitive Dynamic Island, and features like Roadside Assistance via satellite that make a real difference in users lives," Kaiann Drance, Apple's vice president of Worldwide iPhone Product Marketing, was quoted as saying in a press release.
Specifications
The base phones of the iPhone 15 series will be available in five colors: black, blue, green, yellow and pink. Both devices run on the second-generation Ultra Wideband chip – which allows the phones to connect to other devices running on the same chip up to three times farther in range – and is also integrated into Apple's new Watch series.
A huge upgrade that early reviews have praised is the camera system. The iPhone 15's main camera sensor features 48 megapixels, which is significantly higher than the 12-megapixel sensor on the iPhone 14.
End of an era: Apple bends to EU charger law
Early reviews pointed to a notable change in the new series aside from prices: the shift to a USB-C charging cord. The development marks the end of the Lightning charging cable's 11-year run.
The shift came a year after the European Union voted to approve legislation for a "single charger for all mobile phones and tablets" that the bloc said would be beneficial not just for consumers but for the environment too.
Apple has had legal run-ins with the EU, including the American tech titan's alleged "abuse" of its dominant position in markets for e-wallets on iOS devices and a tax dispute. Apple has also been designated a gatekeeper – companies that the bloc identifies as those that provide "an important gateway between businesses and consumers in relation to core platforms" – that will be subjected to the EU's sweeping Digital Markets Act (DMA).
Availability
The devices will be available for pre-order starting Sept. 15. They will be available for sale in stores starting Sept. 22.
© Copyright IBTimes 2023. All rights reserved.