Apple's Tim Cook Vows To Support 2019 Novel Coronavirus Relief Groups In China
KEY POINTS
Apple CEO Tim Cook to donate coronavirus support outfits
Coronavirus death increases to 56
The virus spreads to various countries
Apple CEO Tim Cook took to Twitter to announce that his company will donate to 2019 novel coronavirus (2019-nCoV) relief support groups in China. The deadly Coronavirus has already claimed 56 lives and infected 2000 people.
"As people in China and around the world celebrate the Lunar New Year, we send our love and support to the many impacted by the Coronavirus. Apple will be donating to groups on the ground helping support all of those affected," Cook tweeted on Saturday, Jan. 25.
The number of pneumonia cases due to the new 2019-nCoV has skyrocketed in China as researchers struggle to find the potential damage this virus can do. Measures are being taken to contain the spread by cordoning off cities like Wuhan, which is the epicenter of 2019-nCoV.
The origin of 2019-nCoV is believed to be the Huanan Seafood Wholesale market in Wuhan. The market is known for its seafood as well as exotic animals like bats and snakes.
Earlier, the Chinese researchers stated that it is likely that the virus came from snakes. But this claim was refuted by Peter Daszak, president of EcoHealth Alliance.
"This work is really interesting, but when we compare the genetic sequence of this new virus with all other known coronaviruses, all of its closest relatives have origins in mammals, specifically bats. Therefore, without further details on testing of animals in the markets, it looks like we are no closer to knowing this virus' natural reservoir," Daszak said.
The Coronavirus started from an animal-to-human form but later human-to-human spread began. The Chinese officials confirmed that health workers were infected confirming the highly contagious nature of this virus.
The 2019-nCoV causes pneumonia-like symptoms in patients. Moreover, the common symptoms of a patient infected with Coronavirus are dry cough, high fever, breathing difficulties and muscle pain. Some patients even reported headaches, coughing up blood and mucus and diarrhea.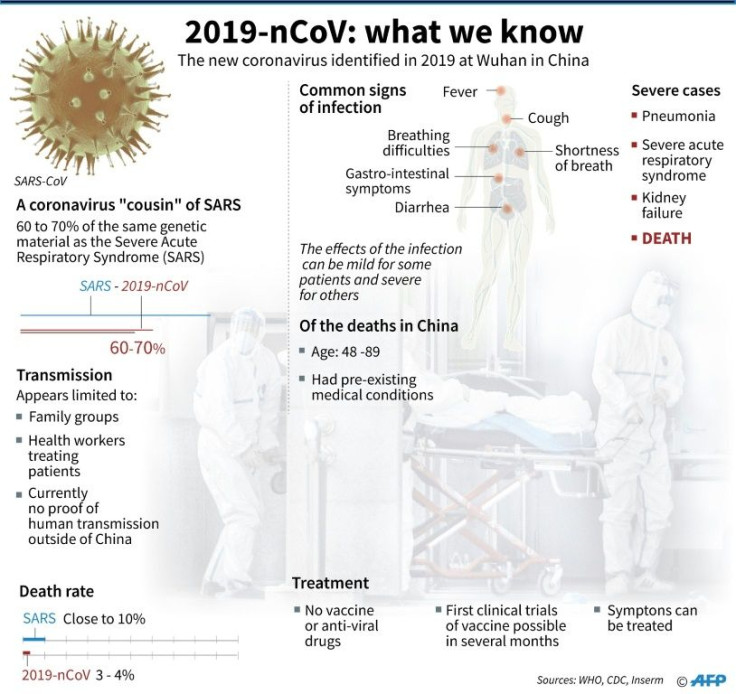 © Copyright IBTimes 2023. All rights reserved.