Are Eye Bags Giving You A Hard Time?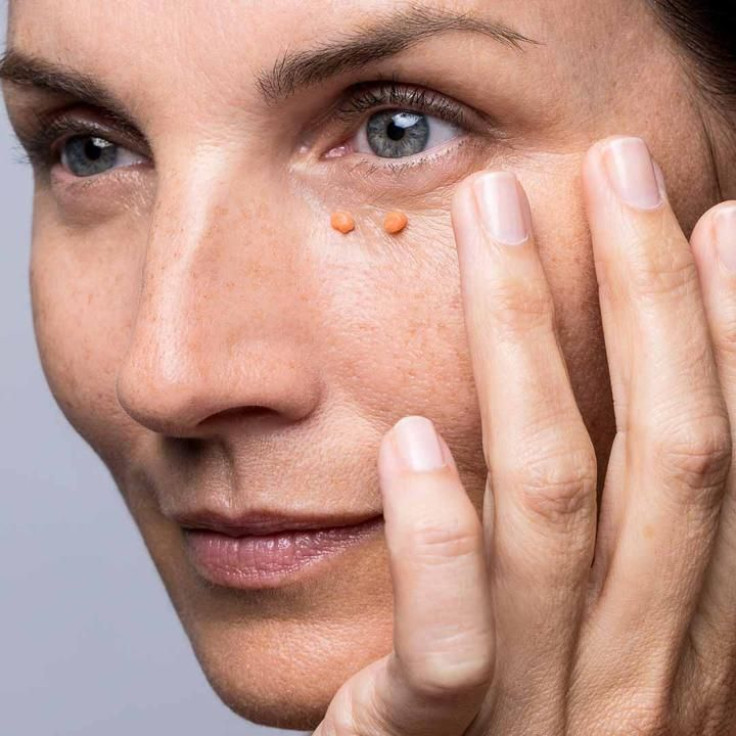 Waking up with puffy eyes can be bothersome and take a toll on your self-confidence. Usually, the issue can easily be solved : a good hydration paired with some cold compresses are all it takes to lighten the under eye.
Sometimes however, bags under eyes can be really tenacious and simply refuse to disappear. This can be due to a number of reasons, with the most common ones being the following:
- Allergies : The stuffiness and inflammation associated with allergies may at times worsen under-eye puffiness.
- Sun exposure : Failing to apply sunscreen can lead to puffiness. This is especially true for the skin around the eyes. Being particularly thin and vulnerable, even the slightest sun exposure can make the tissue swell.
- High-salt diet : The overconsumption of salty foods causes water retention, which in turn produces swelling.
- Aging : With age, the skin's production of collagen decreases. This protein is responsible for the skin's elasticity and youthful appearance. When it becomes scarce, it results in the appearance of bags under the eyes.
- Genetics : Most often, puffiness is an inherited trait. People are not necessarily born with it, but they can develop it later in life. A predisposition to other conditions like thyroid disease may also lead to dark circles under the eyes.
In this case, many known tips and tricks for revitalizing puffy eyes may prove fruitless. And while all seems doomed to failure and gloom, softening the appearance of dark marks under eyes might be less unachievable than you think !
Discover Dr Brandt needles no more, NO MORE BAGGAGE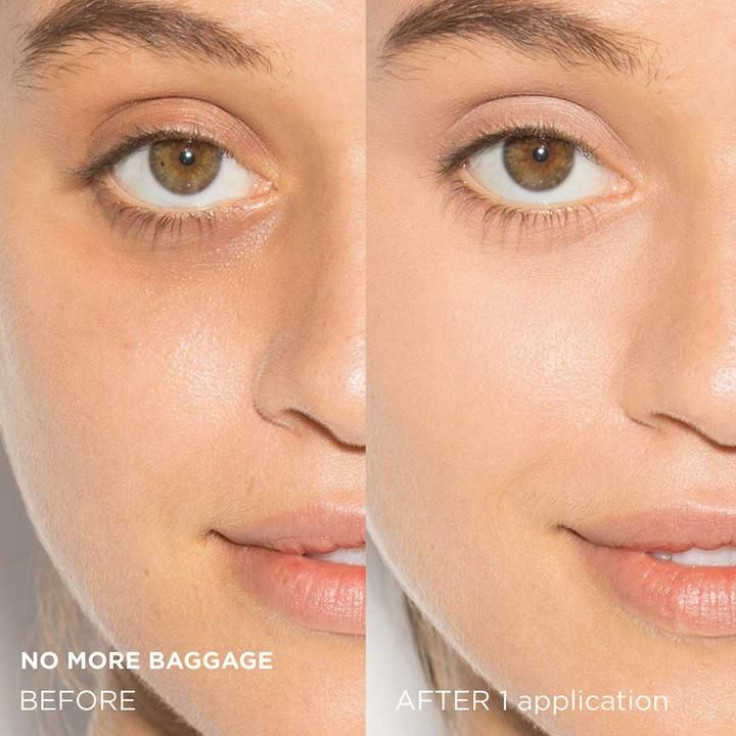 With its light-weight gel texture, Dr Brandt eye gel cream simultaneously provides gentle hydration to the delicate under eye area while depuffing under-eye bags.
A must-have on every skincare shelf, this lift cream is developed with new-age Filmatrix Technology : made of algae and a South American shrub extract, it creates an invisible skin-like layer that instantly firms tissue for a visually sleeker finish in just minutes.
The combination of peptides, caffeine, antioxidant botanical extracts as well as japanese knotweed in this Dr Brandt gel cream moisturizer provides wonderful skin tightening effects and smoothes the bags under eyes.
Let's break down all the ingredients to find out more about their individual properties:
- Peptides : Peptides are one of the most efficient ways to rectify under-eye bags and dark circles. These tiny proteins smooth and heal the skin by boosting collagen production, known for its rejuvenating effect.
- Caffeine : Being the ultimate vasoconstrictor, caffeine has shrinking effects on the blood vessels circling the eye area. By penetrating the skin and narrowing the blood vessels, it does a wonderful job of reducing swelling. Because caffeine is also anti-inflammatory, it assists in brightening and tightening the skin.
- Botanical extracts : A powerhouse of antioxidants, botanical extracts fight free radicals and minimize damage caused by sun exposure. This results in smoother skin, with fewer wrinkles and reduced hyperpigmentation.
- Japanese knotweed : This miraculous ingredient contains trans-resveratrol, which promotes cell regeneration during the night and prevents premature aging of the skin. Kiss dark circles and puffiness goodbye as you watch your skin regain its natural radiance !
Hypoallergenic, Dr Brandt gel cream is suitable for all skin types and can be integrated into your morning as well as evening skincare routine. Simply apply it after your usual eye moisturizer by warming a small amount between your fingers and gently patting on bags and dark circles.
Indulge yourself with this deeply hydrating Dr Brandt gel cream for dry skin that nourishes the under eye area and brightens dark circles.
Healthy practices to naturally depuff under-eye bags
Alongside your daily dose of Dr Brandt needles no more, NO MORE BAGGAGE lift cream, there are several healthy practices you can implement to ensure that puffiness truly stands no chance.
Below are some of the best natural remedies to get rid of dark circles and restore a vibrant, well-rested appearance:
- Stock up on tea bags: Much like Dr Brandt gel cream , tea bags contain a key ingredient: caffeine. The latter is not only packed with antioxidants, but it also has powerful anti-inflammatory properties, both of which increase blood flow and reduce aging.
Before applying, be sure to refrigerate the tea bags (preferably green tea), then place them on your under-eye area for 15 to 20 minutes.
- Use cucumber slices: However cliché it may sound, cucumbers are one of the best natural remedies for reducing dark marks under eyes. Thanks to their skin-lightening and cooling properties, they effectively reduce swelling and promote a fresh and healthy look under the eyes.
Cut a cucumber into a few slices, let them cool, then place them on your eyelids for 15 minutes. If need be, you can repeat this several times a day.
- Concoct a blend of essential oils: Essential oils can prove to be a valuable ally to get rid of bags under eyes. With their anti-inflammatory properties, eucalyptus, thyme, tea tree and clove oils remain the most effective.
To apply, add a few drops of your favorite essential oils to a carrier oil (like coconut or sweet almond oil). Blend well and gently rub the mixture under your eyes before going to bed.
- Don't forget aloe vera gel: Aloe vera gel is an amazing source of vitamins and antioxidants, making it a top-notch moisturizer. It also has incredible cooling effects, known to tone the skin and reduce puffiness.
You can either buy an aloe vera leaf and extract the gel yourself, or opt for a store-bought version. Just make sure it doesn't contain alcohol or other harsh chemicals that can dehydrate your skin.
Simply apply the gel to the eye area and leave it on for 10 minutes or wait until it is completely absorbed into the skin. You can repeat this process throughout the day to maintain that glowing look.