Are Halloween Contact Lenses Safe? 5 Reasons To Avoid Over-The-Counter Eye Products For Your Costume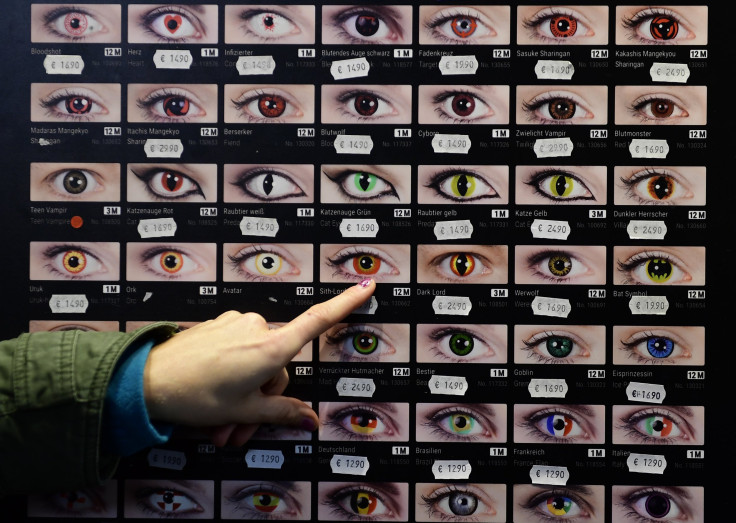 Having the perfect eye color might take your Halloween costume to the next level, but it could also land you in the hospital. As Monday's spooky holiday approaches, eye experts have begun warning revelers to be extremely careful when wearing colored contact lenses.
"Every year, consumers are harmed by lenses purchased from questionable sources," Andrea P. Thau, president of the American Optometric Association, said in a Monday news release. "Many consumers consider these lenses a fashion or costume accessory when, in reality, decorative lenses are also classified as medical devices and still pose the same potential safety and health issues as corrective contact lenses, and require a prescription."
Here are five reasons you should probably avoid over-the-counter Halloween contact lenses this year:
1. The possible side effects are serious. The United States Food and Drug Administration writes on its website that decorative lenses can lead to corneal abrasions, itchiness and blindness.
2. You don't know what's in them. Decorative lenses may be widely available and cheap. But if they're not coming from a doctor or a reputable company, it's hard to know what you're actually putting in your eyes.
Ann Warn, who works at the Dean McGee Eye Institute in Lawton, Oklahoma, told KWSO that researchers have found the contacts are often made of materials from outside the U.S. "A lot of them had chlorine in them, which is very toxic to the surface of the eye," she added.
3. They might have been sold illegally. The FDA writes that, because contact lenses have medical purposes, they can't be sold over the counter. Translation: Don't shop for contact lenses at Halloween stores or souvenir shops, because they're breaking the law.
"You'd never buy a new hip at a flea market, and you should never buy a medical device like contact lenses at one either," Ben Casella, the president of the Georgia Optometric Association, said in a news release.
4. Contact wearers' anecdotes are scary. Last year, 17-year-old Leah Carpenter's story went viral after the Michigan girl wore zombie contact lenses that scratched her cornea. She only had the lenses in for four hours, but that was long enough to leave her partially blind, USA Today reported.
5. There are safe ways to get them. If you must wear decorative lenses this Halloween, the American Optometric Association recommends you see a doctor for an eye exam and fitting. Get a prescription for contacts, and make sure you buy from a federally approved vendor who asks for your paperwork. After use, clean them appropriately.
© Copyright IBTimes 2023. All rights reserved.