Are You Santa Claus? A Look At Professional Kris Kringles And How They Prepare For Christmas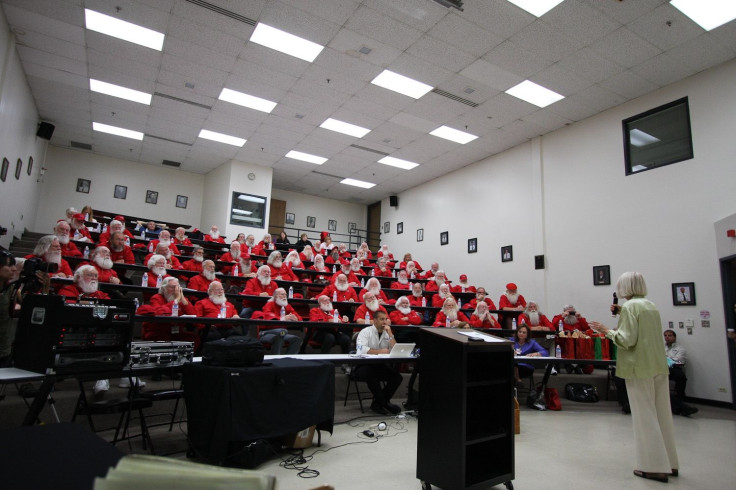 It's the most wonderful time of the year. It's a time when malls, parades, shopping centers and other holiday events call on Santa Claus to come entertain children and hear what they want for Christmas. With actors who embody Santa in such high demand, many may wonder exactly where those who play Jolly Old St. Nick come from, and how they're always around when needed.
It turns out there is much more to being Santa Claus than looking the part. Sure, it's almost impossible to be taken seriously as a professional Santa Claus actor without a natural beard and plump belly. However, those looking to hire a professional care much more about the size of the actor's heart than about the size of their belly full of jelly.
Wade Burleigh, 59, has been working as a professional Santa actor for nine years. For him, the journey began when other people began to notice his resemblance to good old Kris Kringle.
"I went for several years having a full beard that was turning white over time. Eventually, I had children out and around the community just saying, 'Look, look, there's Santa Claus,'" he said. "So I just kind of learned to go with it, but never considered doing it professionally."
What finally made Burleigh, and many other Santas, choose to take on the role was simply the opportunity to do something nice for kids. Burleigh said that when you have a heart for the job and the look to match, Santa just calls upon you.
Ironically, it wasn't a child who solidified his calling as Santa Claus, but an older couple celebrating their 50th wedding anniversary. The husband revealed he had an inoperable brain tumor and that his goal was to live long enough to celebrate this anniversary with the woman he loved. After they took a picture, Burleigh said he felt compelled to ask them about their relationship. He specifically asked them to reminisce about their first Christmas together, with their first child and so on. By the end of their story, he looked outside the Santa set to where the couple's children were standing and saw them with tears in their eyes.
"That's when I knew for sure that I had the heart for it. To be Santa," Burleigh said.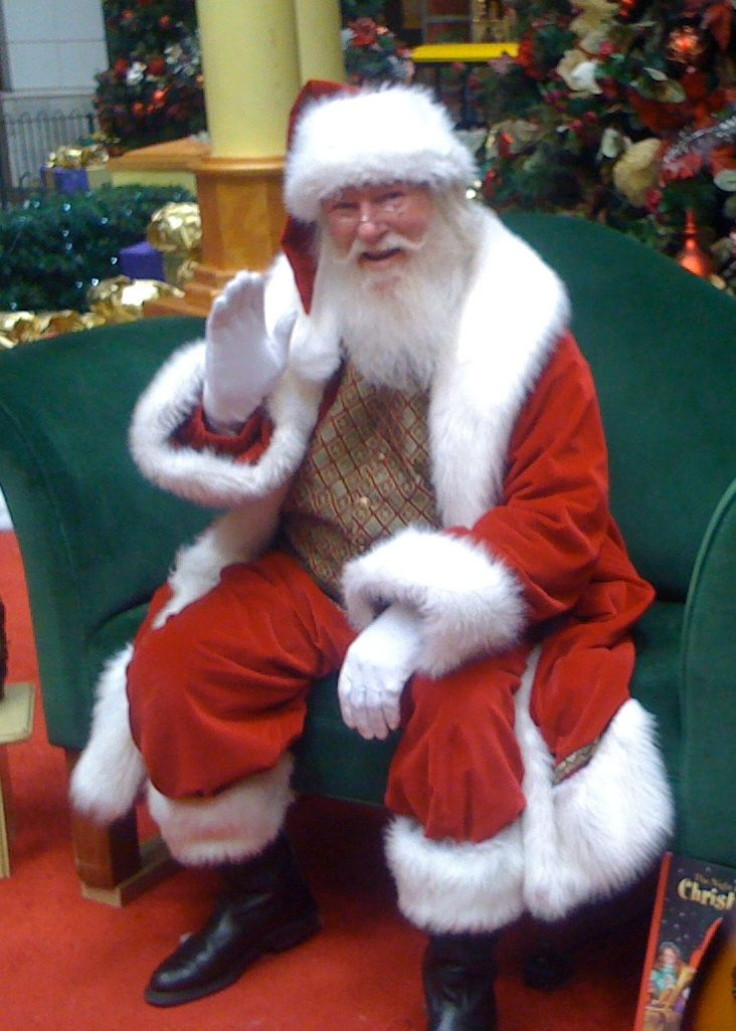 Burleigh's story, while capable of tugging on the heartstrings like reindeer on a sleigh, is not unique. He is employed through the Noerr Programs Corp., a company that supplies more than 430 well-trained Santa Claus actors to more than 287 malls, shopping centers and charitable nonprofit events all over the U.S., including Puerto Rico. They believe each Santa is called to the role -- and when this elite Santa supplier says such an actor is "well trained," it means it.
"Each summer we hold a 'Santa University.' It's a four-day intensive training session, and we cover every single aspect you can think of when it comes to being the consummate Santa," said Ruth Rosenquist, public-relations director for the Noerr Programs and self-proclaimed Santa Wrangler. "We hold it in Arvada, Colorado, at the Noerr Pole, which is what we call our headquarters. We get about 70 Santas attending every year."
Rosenquist said one of her favorite things to do is to go to the local airport before the event and see dozens of Santas in plain clothes from all parts of the country converging on one location before the annual "Santa University."
The university trains Santas in everything from how to sit with a child on one's lap to what to say if a child asks for something intangible for Christmas and how to handle the physicality of sitting in a chair and keeping up the illusion for eight to 12 hours a day.
"They taught us smaller things like how to stay hydrated," Burleigh said. "You sit in a hot costume sweating for a few hours and you're going to get dehydrated, so they taught us to always make sure we have water. However, if your body isn't used to consuming that much water, you'll quickly find yourself in need of ... um ... a 'Santa break.' So, they taught us, two weeks before the gig begins, start drinking all the water you can."
To be considered for the Noerr Programs, all potential actors are put under intense scrutiny.
"These men are working with children, and they represent us, our clients and most of all Santa," Rosenquist said. "So, it's important that they have the right nuance."
Each actor goes through an intense background check and multi-interview process. It begins with a resume. On those resumes, Noerr staffers are not necessarily looking for previous Santa experience. Actors vary in professions, including schoolteachers, toy makers, children's counselors, people with special-needs experience and more. At Santa University, they're given brief lessons in American sign language and Spanish, but anyone able to speak multiple languages out of the box is a plus.
While putting on Santa's coat isn't necessarily about the money, Santa actors aren't really allowed to work for free. As for salary, the resume matters a great deal.
"It varies widely," Rosenquist said about the money in being Santa. "It's all predicated on how much experience they have, the market they're going into, how long they've been with us, things like that."
Still, the true currency of paying Santa Claus doesn't seem to be in dollars.
"The goal is to bring a magical experience to kids," Burleigh said. "It takes someone who can be themselves and still have the heart of Santa Claus. That's what it's all about at the end of the day."
FOR FREE to continue reading
✔️ Unlock the full content of International Business Times UK for free
offer available for a limited time only
✔️ Easily manage your Newsletters subscriptions and save your favourite articles
✔️ No payment method required
Already have an account?
Log in
© Copyright IBTimes 2023. All rights reserved.