Armed Man Who Tried To Enter FBI's Cincinnati Office Allegedly A Trump Loyalist
KEY POINTS
FBI Cincinnati office's suspected invader Ricky Shiffer was killed
Authorities had failed to get him to surrender through non-lethal tactics
Shiffer's social media activity showed he was a Trump supporter
An armed suspect, who brandished an AR-15 rifle and fired a nail gun at the FBI office in Cincinnati, was shot dead Thursday afternoon after a long standoff with authorities.
The man has been identified as Ricky Shiffer, who was present during the Capitol Hill attack of 2021.
Shiffer, also happened to be signed up to Donald Trump's Truth Social platform where he posted a message, as he carried on the incursion at the FBI office: "Well, I thought I had a way through bullet proof glass, and I didn't. If you don't hear from me, it is true I tried attacking the F.B.I., and it'll mean either I was taken off the internet, the F.B.I. got me, or they sent the regular cops while," he wrote on Truth Social at 9.29 am ET.
The suspect had managed to evade the police for six hours. Within this time, investigators began screening his background for ties to extremist groups, including the ones that breached Capitol Hill on Jan. 6, 2021, confirmed two law enforcement officers, reported the New York Times.
The 42-year-old invader had seemingly appeared in a Facebook video one day before the Capitol Hill attack. He was seen attending a pro-Trump rally at Black Lives Matter Plaza in Washington, the report stated, further adding a Twitter user named Ricky Shiffer had confirmed to be at the Capitol on Jan. 6, but it was unclear if he entered the building.
"I was there," the message posted by the account on a photo of rioters scaling the Capitol walls read. "We watched as your goons did that," he wrote, seemingly placing the blame for the devastation on Trump's detractors, the New York Times report further mentioned. "When I told the ones trying to break back in that Trump tweeted be peaceful, one of them said, 'F--k Trump.'"
In another post, the same Twitter account wrote a positive message about the Trump-favored far-right nationalist group Proud Boys. "Save ammunition, get in touch with the Proud Boys and learn how they did it in the Revolutionary War, because submitting to tyranny while lawfully protesting was never the American way," the message read.
A construction electrician from Columbus by profession, Shiffer had made it abundantly clear his loyalties lied with Trump.
After the FBI raid at Mar-a-Lago, he invited the former president's supporters to "not tolerate this one." He had also wrote another tweet, asking Trump supporters to "kill" federal agents if they interfered with the protests.
"I'm having trouble getting information, but Viva Frei said patriots are heading to Palm Beach (where Mar A Lago is). I recommend going, and being Florida, I think the feds won't break it up. IF they do, kill them," he wrote on Aug. 9, according to USA Today.
Viva Frei is a right-wing YouTube personality.
Another post from the same day from his account read, "People, this is it. I hope a call to arms comes from someone better qualified, but if not, this is your call to arms from me. Leave work tomorrow as soon as the gun shop/Army-Navy store/pawn shop opens, get whatever you need to be ready for combat. We must not tolerate this one."
Both his Truth Social and Twitter accounts were suspended by Thursday evening.
According to the FBI, Shiffer had attempted to breach the Visitor Screening Facility at 9.15 am ET Thursday. Following an alarm, and a response by FBI special agents, he fled north on I-71. Ohio State Highway Patrol, and local law enforcement partners joined the FBI in Wilmington for a six-hour standoff where they failed to get him to surrender through non-lethal tactics.
At 6.41 pm, FBI Director Christopher Wray shared a statement regarding this breach. "Unfounded attacks on the integrity of the FBI erode respect for the rule of law and are a grave disservice to the men and women who sacrifice so much to protect others."
Late in the evening, FBI Cincinnati Division issued an updated statement, and news of the suspect's death.
"On August 11, 2022 at approximately 9:15 am ET, an armed male subject attempted to breach the Visitor Screening Facility at the FBI Cincinnati Field Office," the statement said.
"At approximately 3:45 pm, the subject was shot and is deceased. The FBI is now reviewing this agent-involved shooting," the statement concluded.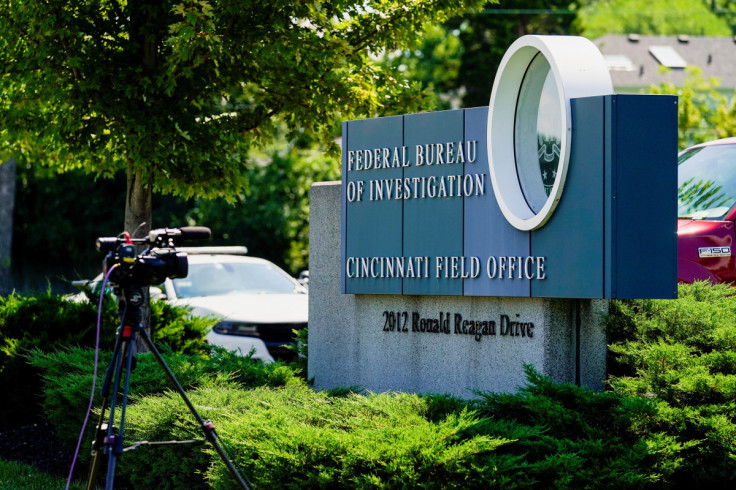 © Copyright IBTimes 2023. All rights reserved.