Arsenal Premier League Prediction 2013-2014: Can The Gunners Mount A Serious Title Challenge This Season? Will New Transfers Arrive To Breathe Fresh Life Into The Emirates?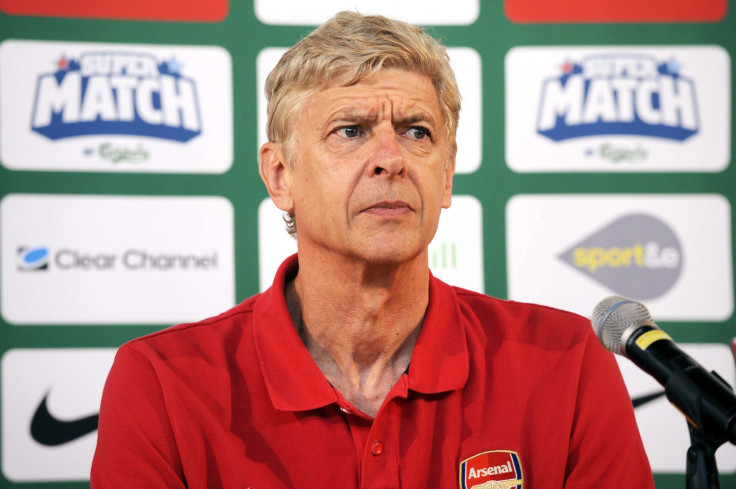 After eight years without a trophy, this was supposed to be the season that Arsenal returned to the big time and fulfilled the potential of the enviable infrastructure that now surrounds the club. Proclamations that the Gunners were now able to compete at the top end of the transfer market after years of trading below a side of their ambitions and expectations were eagerly forthcoming from the Emirates at the start of the summer.
Just how much of those statements were mere bluster cannot be evaluated until the close of the transfer window in three weeks' time. And in many ways the same can be said for predicting Arsenal's fortunes in the coming season, which is now less than a week away. At this point, with just the potential of France Under-20 striker Yaya Sanogo being added to the squad, Arsenal fans have just cause for anxiety.
If the window were to close now then it would be difficult to make a case for Arsenal achieving anything other than what has been their staple in recent campaigns of a battle to the wire to maintain their, admittedly impressive, streak of Champions League qualification. Truth be told, with Arsenal's neighbors and recent closest challengers Tottenham having strengthened impressively in the close season, earning a top four spot could be a serious struggle.
To his credit, Arsene Wenger appears to have identified the areas of his team that need strengthening but he is also playing a dangerous game with the money at his disposal. Rarely, if ever, has there been a summer in which so many of the world's top forwards have been available. Arsenal could certainly have had Gonzalo Higuain, but the Argentinian eventually moved to Napoli. While his fee was certainly excessive, Arsenal's refusal to pay it will only be justified if a suitable alternative is secured.
To that end, Wenger has seemingly put all his eggs into Luis Suarez's basket. It is a deal, though, that has proved to be fraught with as much difficulty as was always going to be the case. With no one else now out there approaching the Uruguayan's game-changing quality, it is vital that Arsenal secure Suarez, even if that means Wenger going against all of his economics-degree-honed aversion to not paying more than what he sees as the player's true value.
Suarez would instantly change the whole narrative surrounding Arsenal. Signing a world-class performer in his prime for blockbuster money would send out a message to their rivals, their current squad and future targets that they are a club with serious pretensions. He is also good enough to make Arsenal a threat to a top three that currently appears some distance ahead: Manchester City, Chelsea and Manchester United.
Realizing the need to recruit a genuine holding midfielder, it does appear that Arsenal are on the verge of securing the signing of Luiz Gustavo. Quite why the Bayern Munich man wasn't targeted as soon as a move failed for Bayer Leverkusen's Lars Bender at the beginning of July is another question. But the Brazil international would give the Gunners a much needed reliable presence as an anchorman and allow the considerable talents of Jack Wilshere and Santi Cazorla to prosper going forward. For all Mikel Arteta's tidiness on the ball, the Spaniard simply doesn't have the physical gifts when it comes to competing against the very best midfields.
Luiz Gustavo can also slot in at the back and that could be necessary with Thomas Vermaelen's current injury. As a whole, though, Arsenal's defense, with the partnership of Per Mertesacker and Laurent Koscielny, looks stronger than it has in some time. Still, the organization of the back line, which appears to have been neglected in recent seasons, must improve. Ideally Wenger might want to bring in an experienced goalkeeper like Julio Cesar, but between Wojciech Szczesny and Lukasz Fabianski such a move may be avoidable.
What is beyond doubt is that, with new managers installed at all three clubs that finished above them in the Premier League last season, Arsenal have a golden chance to make a real challenge in the coming campaign. So far Arsenal have not set about capitalizing on that flux as their procrastinating has already left them playing catch up on both Chelsea and Manchester City, which have made several astute signings and also made them early in the window.
All is still retrievable if Suarez and one or two other astute signings arrive. But, if that does not happen, then Arsenal could well find themselves out of the Champions League club and with Wenger, in the final year of his contract, bringing his long and once glorious reign to an end.
© Copyright IBTimes 2023. All rights reserved.