Arsenal Transfer News: Sami Khedira, Adrien Rabiot In Latest Rumors; Vermaelen To Barca Or United?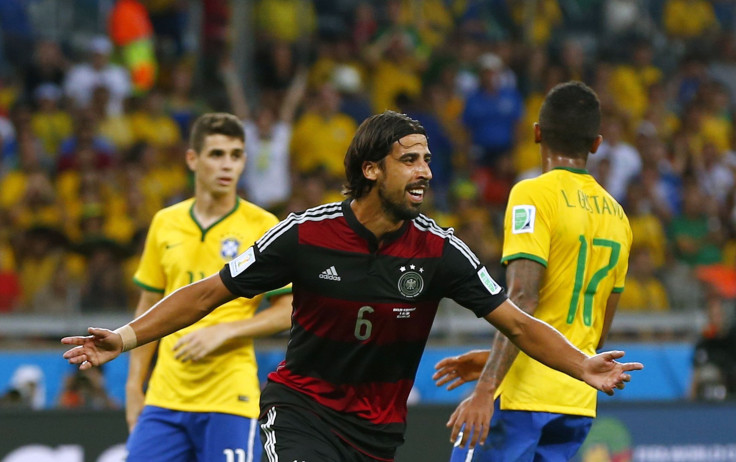 Ahead of Sunday's Community Shield clash with Manchester City, Arsenal manager Arsene Wenger is still tinkering with his roster and scouring Europe for another top player to strengthen the midfield.
Having already secured the backline with Calum Chambers and Matheiu Debuchy, while creating depth in net with David Ospina, and landing a budding scorer in Alexis Sanchez, midfield is the one area Wenger and the Gunners have yet to address this summer.
That could very well change, and at a discount price, with Arsenal reportedly the favorites to land Real Madrid midfielder Sami Khedira. The Gunners could land the 27-year-old German for a below-market fee with Los Blancos hoping to get something in return before his contract is up next summer, The Independent reports. Though he played a pivotal role in Germany's World Cup victory last month, Khedira will find playing time scarce at the Bernabeu this coming term due to the arrivals of Toni Kroos and James Rodriguez. A deal could be struck in the neighborhood of £24 million, roughly £6 million less than Khedira's perceived market value, but his wage demands could muck up the transfer.
Khedira was apparently seeking a £150,000-per-week wage, £20,000 more than what Sanchez and Mesut Ozil make, according to Independent, but the player could pull back on his demands. A switch to Arsenal grants Khedira his first pass into the Premier League, and he still has the opportunity to play for another Champions League qualifier.
However no deal for Khedira is imminent, and Wenger is leaving his options open. According to Daily Star, Arsenal are nearing an £8 million fee for Paris Saint-Germain midfielder Adrien Rabiot. The 19-year-old has reportedly rejected the Red and Blues overtures for a new contract, and his youth career suggests Rabiot is a bit of a nomad. Having never stayed with any one club for more than four years, Rabiot bounced between French squads Cretell, Alfortville and Pau, and spent 2008 with Manchester City; all before finally landing at Parc des Princes in 2010. Radiot eventually made the first team two years later, and has totaled two goals in 31 appearances, but he spent last term on loan with Toulouse.
Strictly based on his age and potential, Rabiot might be a more long-term solution for Wenger. He could grow alongside Aaron Ramsey and Jack Wilshere, and provide some depth behind Mathieu Flamini, 30, and Tomas Rosicky, 33, should Arsenal believe he's capable of a utility-type role.
In terms of the backline, Wenger finally put an end to the Thomas Vermaelen transfer saga, with Daily Star reporting a £15 million deal with Spanish giants Barcelona. Manchester United and the Catalans have long been the favorites to sign the Belgian star, but the Gunners were always more inclined to do business with the latter rather than facing Vermaelen during the EPL term. The finishing touches, and Vermaelen's arrival in Spain, could happen this weekend. The Gunners say goodbye to their captain after five years, during which he tallied 15 goals in 150 appearances in all competitions. Injuries and the fitness and excellent play from Laurent Koscielny and Per Mestesacker last term, though, made Vermaelen expendable.
© Copyright IBTimes 2023. All rights reserved.