AVN Awards 2015: At The Oscars Of Adult Video, A Mix Of Clichés And Surprises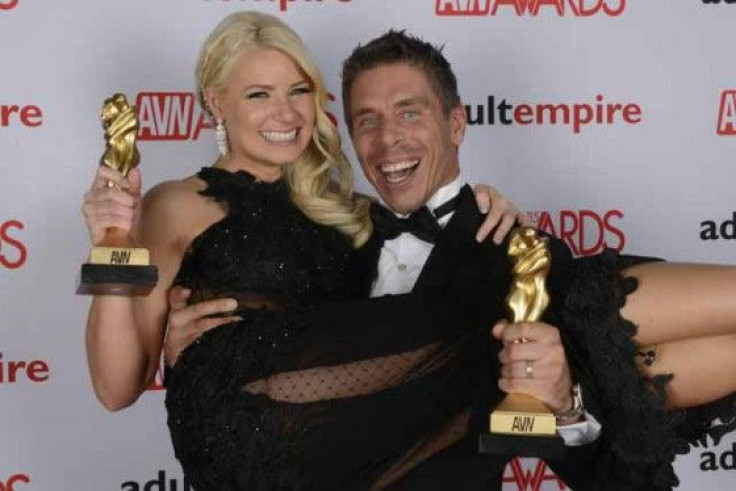 LAS VEGAS -- The Adult Video News Awards, the Oscars for the adult video industry, is an overdose of porn clichés: A giant sex toy-branded blimp circled the ballroom Saturday night at the Hard Rock Hotel, which was filled with men sporting spiked hair and goatees. They were wearing sunglasses at night and mingling with women whose dresses had the same amount of fabric as bathing suits, straining against silicone-inflated chests. Ron Jeremy, an old-school porn star who actually still sports a porn mustache, rubbed elbows with a vacant-seeming "Teen Mom," Farrah Abraham, who debuted as a porn star in 2013 and was an AVN awards show presenter.
But here's a surprise: The Best Non-Feature Film award went to a female director, Mason, for "Allie," although she was a no-show at the ceremony. Mason also won Director of the Year -- this in the same year the Oscars snubbed Ava DuVernay of a nomination, in spite of nominating her film "Selma."
The evening also was filled with surprisingly entertaining repartee between presenters, funny pre-filmed skits and an overall sense of irony about the event.
The adult video industry isn't exactly known for restraint. So it makes sense that, in addition to the usual best actress, actor, director and film categories, there was a dizzying array of not-safe-for-work categories -- almost 100, in fact.
The awards show is structured like the Oscars, with an "In Memoriam" segment at the beginning and industry insiders as hosts. This year's hosts were porn stars Alexis Texas and Tommy Pistol, whose training as a standup comedian came into play not only in his snappy intros, but also in funny, "SNL"-level prerecorded skits such as "Vince Delgado, Location Scout." In that skit, Vince jokes about adding "class" to porn scenes, "by developing relationships with some of the Valley's most semi-prominent homeowners, because let's face it: Nothing says class like scissoring in an orthodontist's house that hasn't been updated since f------g 1997."
Standup comedian Danielle Stewart also starred in a skit that compared the sexual health of porn stars, who must get tested for STDs every two weeks, with that of so-called "civilians," or those outside the biz. "You guys get tested every 14 days," she said, addressing the performer portion of the audience. "And civilians get tested once every -- not at all."
One significant way the AVN awards differs from the Oscars is in the brevity of the acceptance speeches. Most winners thanked agents and other performers in less than 30 seconds before leaving the stage. A couple gave nods to their mothers.
Best Female Performer of the Year (distinct from Best Female Actress) was Anikka Albrite, whose husband, Mick Blue, won Best Male Performer of the Year. Albrite said that not only was her mother supportive of her career, she was even in the audience that night.
So much for those clichés.
© Copyright IBTimes 2022. All rights reserved.
FOLLOW MORE IBT NEWS ON THE BELOW CHANNELS