Baltimore Police Freddie Gray New Trial Date: Will William Porter Get A Plea Deal In Exchange For Testimony Against Other Officers?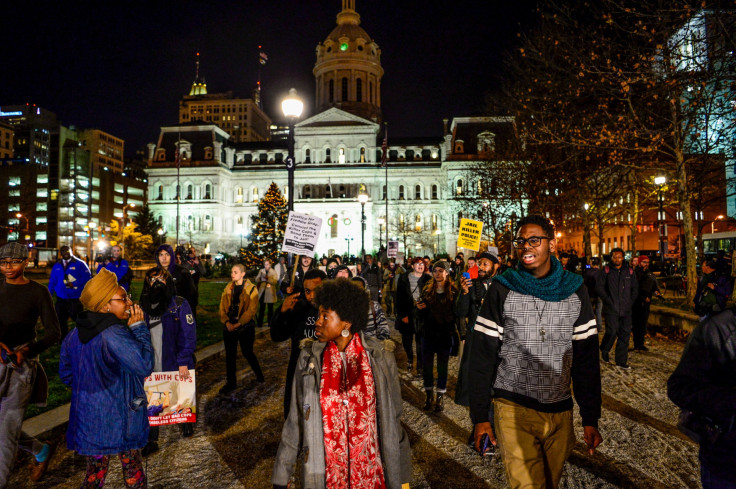 UPDATE: 11:58 a.m. EST -- No new trial date was set Thursday for one of the six Baltimore police officers charged in the death of Freddie Gray after prosecutors and defense attorneys met with Baltimore Circuit Court Judge Barry Williams, local media reported. The news comes one day after the case against William Porter ended in a mistrial when the jury announced it was unable to reach a unanimous verdict. Thursday's meeting took about 30 minutes behind closed doors, leaving the future of Porter's case unclear.
The jury charged with deciding Porter's fate had been deliberating the officer's charges of second-degree assault, involuntary manslaughter, reckless endangerment and misconduct in office since Monday afternoon. The attorneys in the case could not comment on the case because of a gag order, according to WBAL-TV.
Original Story:
After a judge declared a mistrial in the trial of the first Baltimore police officer charged in the death of Freddie Gray, a new trial date was scheduled to be discussed Thursday. Prosecutors and defense attorneys for the officer, William Porter, were set to meet in private with Baltimore City Circuit Judge Barry Williams to discuss the new trial date, Reuters reported.
After the jury couldn't reach a verdict Wednesday on any of the charges against Porter, the jurors were dismissed and a mistrial declared. The hung jury announcement prompted mostly peaceful protests, contrasting the violent riots that raged through Baltimore following the April death of Gray while he was in police custody. Potter faced charges of involuntary manslaughter, second-degree assault, reckless endangerment and misconduct in office.
Gray died after suffering a severe spinal cord injury while being transported in a police van following his arrest, CNN reported. Prosecutors said during Porter's trial he should have called for medical assistance sooner than was called for.
Gray's death ignited protests that quickly erupted into rioting in April, when some businesses were looted and set on fire. Many who took to the streets protested what they believed to be the peak of police brutality, and many, including Gray's family, have called for peace.
Some legal analysts have said the deadlocked jury will present difficult questions for prosecutors. One professor said prosecutors could offer Porter a plea deal in exchange for testimony against the other officers charged in the case, the Baltimore Sun reported.
"The decision as to whether they actually will go through with a second trial is weeks away," University of Maryland law professor David Gray told the Sun.
Lawyers in the case have been told by Williams not to talk to reporters about the case. Porter has maintained his innocence throughout the case.
© Copyright IBTimes 2023. All rights reserved.