Barcelona Transfer News: Bale, Scott To Camp Nou? Villa, Fabregas Back To Premier League?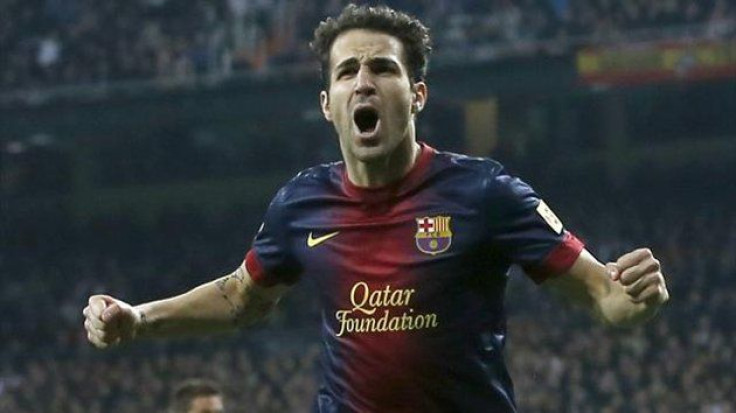 Barcelona capped their La Liga title with a 4-1 season finale victory over Malaga Saturday, and equaled the 100 point record set by Real Madrid a year ago.
Catalans president Sandro Rosell now enters the summer transfer period not only looking to maintain, but even improve next year's squad.
Rosell already made the splash signing of maybe the decade when he pried Neymar from Santos and Brazil, but the Catalans may have plans to bolster their attack even more.
According to The Sun, the Catalans are one of five teams set to offer a stunning £80 million for Tottenham midfielder Gareth Bale. Almost singlehandedly, the Welshman kept the Spur in the hunt for Champions League until their final match of the season. Timely and heroic goals have lifted Bale to the top of the list of teams like Real Madrid, Paris Saint-Germain, Manchester United, Manchester City, and Chelsea.
However Rosell may be feigning interest in Bale to force their Spanish counterparts Madrid to up their bid to a monumental £100 million. The 23-year-old who netted 30 goals in all competitions this season has three years left on his current contract, but Tottenham's failure to compete for the UCL could force them to part with one of the most promising young players in the world.
Barcelona has also set their sights even younger and further into the future with 15-year-old Chelsea youth camp midfielder Kyle Scott, according to the Daily Mail. He has yet to sign official papers with the Blues, but interest from the Nou Camp as well as Madrid and Serie A's Juventus could change that shortly.
To make room for Bale Barcelona may have to ship out two Spanish compatriots in David Villa and Cesc Fabregas.
According to the Daily Mirror, Villa favors a move to the EPL, and preferably a club in competition for Champions League. The 31-year-old believes continuous play against the world's elite players will help him make Spain's next World Cup squad. Of the teams showing interest, only Arsenal can fulfill all of Villa's requirements.
Though he'd rather stay with the Catalans, Neymar and possibly Bale's arrival makes 26-year-old Fabregas a redundancy.
Fabregas will reportedly meet with manager Tito Vilanova about his future, but most signs point to return to his EPL days. His old club Arsenal, along with City, United, and Chelsea are all interested, according to the Daily Mirror. The Gunners may hold the edge with £25 million buy-back clause.
Fabregas did see his playing time jump this season compared to his first at Nou Camp. In 30 La Liga appearances he totaled 11 goals and 11 assists.
© Copyright IBTimes 2023. All rights reserved.