Barron Trump Revelation: POTUS' Son Runs, Plays 'Hide And Seek' With Ivanka's Kids
KEY POINTS
Barron Trump is close to his nieces and nephews
Barron Trump runs and plays with his nephews and nieces at the Oval Office
Barron Trump for president
Barron Trump is reportedly very close to his nieces and nephews since they are all close in age.
During an interview with Fox & Friends, Ivanka Trump revealed that her half-brother always has playdates with her children at the Oval Office.
"Now with Barron there, they have so much fun together and they are so young. They're really just kids. So, they are just enjoying it. They spend a lot of time in the Oval Office with their grandfather, which is a lot of fun for them," she said.
Ivanka and her husband, Jared Kushner, have three kids together. According to the first daughter, she enjoys hearing her kids, Joseph and Arabella laughing hysterically while playing with their uncle Barron.
"Hearing their laughter chasing after Barron or poor Joseph, his tears because Barron and Arabella don't wait for him and he's three and a half. They'll send him on random chases and distract him and send him off in different directions. They traumatize Joseph a little bit," Ivanka shared.
During Donald Trump's inauguration four years ago, Barron made headlines for keeping his nephew, Theodore entertained. The 13-year-old successfully made Theodore laugh during the outing, and Melania and Ivanka were both pleased to see how great he is with his nephew.
Meanwhile, some Trump supporters couldn't also help but hope for Barron to run for president when he's older.
"Trump all the way until Barron Trump runs for president," Twitter user @augustyn_jamie said.
"Barron Trump 2048 make liberals cry forever!!!" Twitter user @mebon_bon said.
"Four more years, eight more years, 16 more years. Just in time for us to vote for the next one, President Barron Trump," Twitter user @agentm0m said.
"I'll be 95 before Barron Trump is elected president," Twitter user @ajohebert said.
"Trump 2020 till 2024, Mike Pence for eight years, Ivanka Trump for eight years, Donald Trump Jr. for eight years, Eric Trump for eight years then Barron Trump for eight years as our president," Twitter user @JohnTibbs65 said.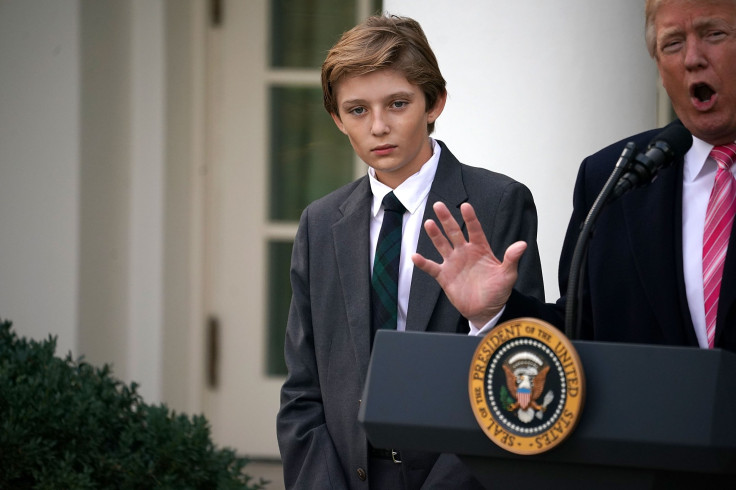 © Copyright IBTimes 2023. All rights reserved.