'Bates Motel' Season 4 Spoilers: Episode 5 Synopsis Released Online; What Will Happen In 'Refraction'? [VIDEO]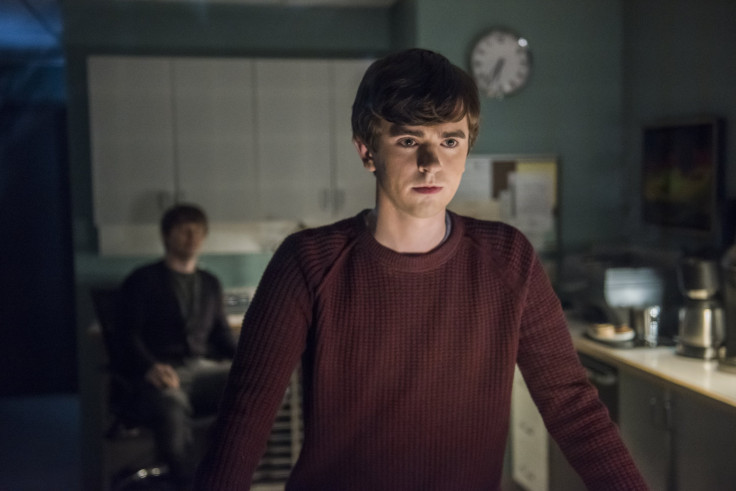 "Bates Motel" viewers were left on the edge of their seats last week when Norman (Freddie Highmore) finally confessed to Dr. Gregg Edwards (Damon Gupton) that he might be crazy. It appeared to be a turning point for him, but fans of the A&E "Psycho" prequel are going to have to wait a little bit longer to find out what happens next.
Episode 5, titled "Refraction," will not be airing this Monday. The series is taking a week off and will return on Monday, April 11. But don't worry — the short hiatus is going to be worth it.
The synopsis for episode 5 teases that Norman will try to "confide" in Edwards. Unfortunately, that won't be an easy thing for him. Despite admitting last week that he blacked out and is willing to do anything in order to get help, Norman's still worried he'll "reveal too much" to the Pineview doctor.
Based on the promo video, Edwards seems to be doing everything in his power to help Norman open up. A clip shows Norman scared and hiding under his bed. It could potentially be a flashback to the days when his father was alive. Fans will remember that he was an abusive man, which is why Norman snapped and killed him in the first place. However, Norman doesn't remember it that way because he blacked out.
Another clip shows him looking healthy and relaxed. But that might change thanks to Dylan (Max Thieriot). He visits his half brother to tell him something important — more than likely that he's involved in a relationship with Emma (Olivia Cooke). Will Norman take the news OK? Or will it cause him to spiral out of control again? Yet another snippet from episode 5 shows him inquiring about checking himself out of the facility.
Meanwhile, things won't be going any better for Norma (Vera Farmiga) and Romero (Nestor Carbonell). The sheriff will "uncover a crime that will threaten his new life." Norma will be dealing with her own issues after returning home to find that her house was broken into. She'll hire someone to fix her window, but it appears as if they won't be enough. The end of the promo video shows her pointing a gun at an unknown person. Could it be Romero's former flame, Rebecca (Jaime Ray Newman)?
Although a new episode will not be airing this Monday, "Bates Motel" fans can still catch a sneak peek at the upcoming installment. At 9:58 p.m. EDT, a "first look" at episode 5 will air on A&E.
© Copyright IBTimes 2022. All rights reserved.
FOLLOW MORE IBT NEWS ON THE BELOW CHANNELS