Ben Affleck Takes New Girlfriend Lindsay Shookus To BFF Matt Damon's Party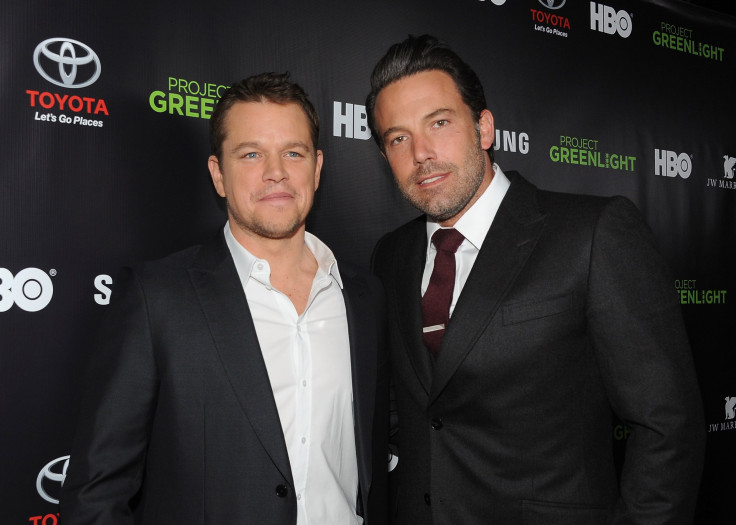 Ben Affleck is slowly introducing his new girlfriend to his pals.
On Saturday, Affleck took Lindsay Shookus to best friend Matt Damon's house for a fight night party for the Mayweather-McGregor bout. The couple reportedly enjoyed their weekend together.
"Ben likes introducing Lindsay to friends," a source told People. "They mingled together, but also separately. Lindsay seemed very comfortable around Ben's friends."
Affleck and Shookus were spotted having breakfast together at Snug Harbor in Santa Monica, California before they headed to attend Damon's fight night party. Last weekend, the pair was also spotted dining at the Greenwich Village restaurant Mas Farmhouse. Ben "had a fun weekend with Lindsay," an eyewitness told the publication.
Affleck and Shookus' romance was confirmed in July. The two have been romantically linked to each other in the past years. The pair reportedly reconnected when he was in London for work.
Affleck and Shookus had been allegedly secretly dating back in 2014 when they were still married to their ex-spouses. The pair first met in 2013 when the "Argo" star hosted "Saturday Night Live," which she produced.
A month after his last appearance, the pair was reportedly spotted flirting at "The Heat" premiere afterparty in New York. They were chatting and laughing together at the event. They also left together, along with other friends and headed to Mandarin Oriental Hotel bar.
Another source also claimed that Affleck had been visiting Shookus on the "SNL" set if he had the chance. "Whenever [Affleck] was on Fallon, he would go visit [Shookus] at 'SNL,'" an insider told People. "They were both married at the time, but there was definitely a flirtation."
Due to Affleck and Shookus' past, his ex-wife, Jennifer Garner was reportedly not happy about their new romance. "It's not an easy situation for Jen. She knew it would happen soon. Ben just can't be alone" a source said.
"It would have been easier for Jen if Ben would have just dated someone that Jen wasn't familiar with," a source close to Garner added. "Of course there are issues given it was a major affair, but Jen is her own woman and is completely fine. Nothing is new for her here. She's in mama-bear mode . . . putting the kids' happiness first."
© Copyright IBTimes 2023. All rights reserved.