Ben Affleck Trolled By Matt Damon For Losing Batman Role To Robert Pattinson In Hilarious Video
KEY POINTS
Ben Affleck and Matt Damon partnered with Omaze for a charity contest
The event will benefit the Eastern Congo Initiative and Water.org
Damon and Affleck poked fun at each other in a new video promoting the charity contest
Ben Affleck was teased by longtime pal Matt Damon for losing his role as Batman when they teamed up for a hilarious video to promote their charity project.
In a video posted on Affleck's Instagram, the "Justice League" star and Damon announced a new charity contest to benefit the Eastern Congo Initiative and Water.org. The two Oscar-winning actors partnered with non-profit fundraising charity Omaze for the contest, the winner of which will get two tickets to Los Angeles and the opportunity to hang out with Affleck and Damon.
But when Damon starts explaining what fans can expect from the contest, Affleck interrupts his friend to tell him to "spice it up" and to "sell it."
When Damon tried again, the "Argo" star comments that he was acting weird and suggests that he should tell everyone to "come see Jason Bourne and Batman."
Damon then jokingly asks if Robert Pattinson was coming, referring to the "Twilight" star's casting as Affleck's Batman successor.
Affleck quickly replies, "No, Jeremy Renner will be there though," making reference to the actor who took over from Damon in "The Bourne Legacy."
"Jeremy Renner did not play Jason Bourne. He expanded the Bourne Universe," Damon quipped, adding, "Pattinson took your job."
Affleck was initially set to direct and star in a solo "Batman" film, but he gave up the director's chair in 2017 and was replaced with Matt Reeves. Last year, he announced that he had officially stepped down from the role of the Caped Crusader.
As for his successor, Affleck appeared confident that Pattinson is a good fit for the role when he was asked to comment about the "Tenet" star taking over as Batman.
"I think Robert's a great actor, he's going to do great," Affleck told Jake Hamilton while promoting his movie "The Way Back" in February.
Affleck also briefly explained why he decided to step down from the franchise, revealing that he had lost his passion for it.
"The movie deserves to be made by someone whose dying to do it and can't wait, and that wasn't me at the time, so I moved on," he said.
Meanwhile, Affleck and Damon have a solid friendship and have known each other for decades. They've been close friends even before they made it big in Hollywood and lived together after deciding to leave school and try their luck as actors. The two even had joint bank accounts.
"If one kid had enough for a candy bar, then the candy bar was bought and split in half — that's just the way it's been," Damon said of his friendship with Affleck.
Damon and Affleck will reunite on the big screen in "The Last Duel," which they also co-wrote.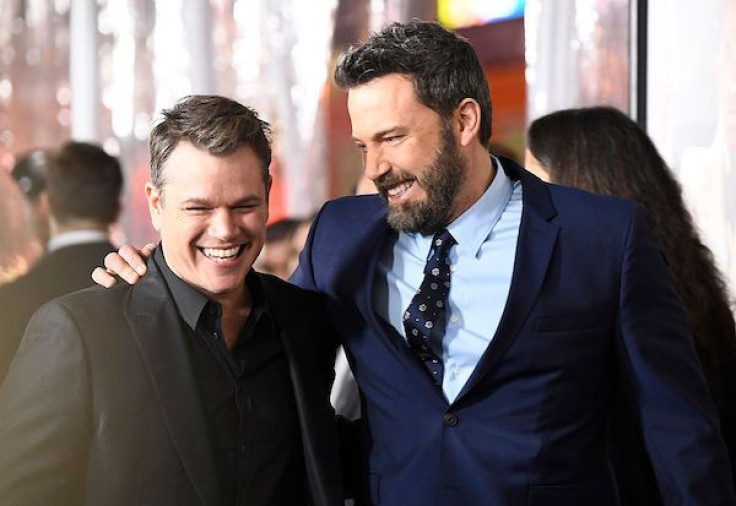 © Copyright IBTimes 2023. All rights reserved.