Ben Carson Endorses Donald Trump: 'He Is Actually A Very Intelligent Man'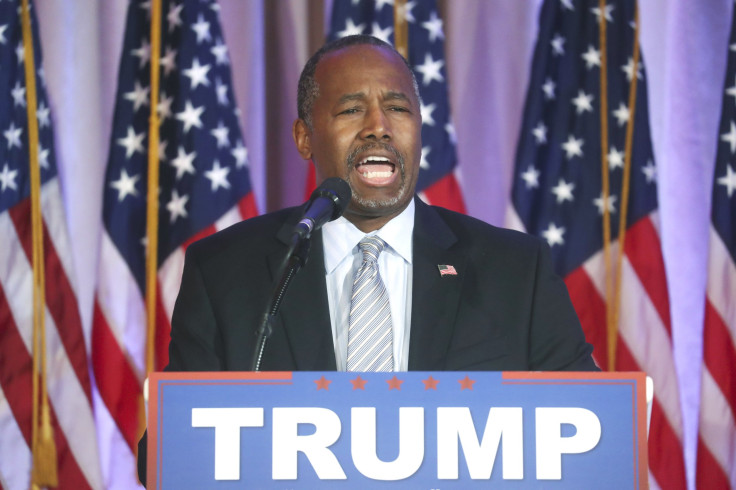 On the campaign trail a few months back, Republican front-runner Donald Trump repeatedly pointed to then-rival Ben Carson's memoir comment that he once had a "pathological... disease," saying it was probably incurable and possibly disqualifying. But the two have clearly made amends since then. Carson endorsed Trump's candidacy for the presidency Friday in West Palm Beach, Florida, saying that they had "buried the hatchet" and praising Trump's intellect.
"First of all, I've come to know Mr. Trump over the last few years. He is actually a very intelligent man who cares about America," said the retired neurosurgeon, who dropped out of the race earlier this week.
Carson echoed a message that Trump has been pushing lately. The billionaire businessman has been making calls for unity, saying that his campaign is about the people — not political fractions or operatives — and that the GOP should embrace that.
"What I have been seeing recently is political operatives and parties once again trying to assert themselves and trying to thwart the will of the people," Carson said, seeming to refer to recent efforts from establishment Republicans to stop Trump's momentum. "I find that is an extraordinarily dangerous place to be right now. I want the political process to play out in the way that it should play out."
Carson, like Trump, was viewed as a political outsider during his presidential candidacy and attracted support from voters fed up with leadership in Washington, D.C. The endorsement could prove to be a boost for Trump as he faces off against Texas Sen. Ted Cruz and Florida Sen. Marco Cruz in important primary contests across the nation next week.
The Texan has tried to portray himself as an outsider, as well, but stands in contrast to Trump when it comes to campaign finance because he has more traditional funding apparatus. "I think Mr. Trump is willing to do what needs to be done to break the stranglehold of special interests," Carson said during a question and answer session Friday when asked why he didn't support Cruz.
Carson's endorsement may do more to help Trump fight off Rubio in the upcoming Florida primary Tuesday. A recent poll of Florida residents indicated that Carson is leading by a wide margin in the race for Rubio's soon-to-be-open Senate seat. Roughly 56 percent of likely voters would choose Carson if he ran in the primary to replace Rubio, beating Republican Florida Rep. David Jolly by 38 points. Trump leads Rubio in that state's polling by 14.7 percent and the Sunshine State is widely seen as the senator's last chance to remain viable in the 2016 race.
Carson, a well-known African-American hero heralded for thriving in medicine and politics after an impoverished childhood, may also help boost Trump's overall likeability in the race. When running for president, he frequently ranked as one of the best-liked of the presidential candidates in the 2016 field. He led the way in a January poll with 62 percent of respondents saying they had a favorable view of the neurosurgeon. That was ahead of Cruz (60 percent), Rubio (58 percent) and Trump (57 percent).
Carson is also popular among Christians. While Trump has heavily courted white evangelical Republican voters nationally, Cruz, the son of a pastor, has won a handful of southern states by playing to that demographic. A NBC News/Survey Monkey weekly online tracking poll in January found Trump had 37 percent of the evangelical vote, Cruz had 20 percent and Carson had 11 percent.
The endorsement is the second from a former 2016 presidential candidate to go to Trump. New Jersey Gov. Chris Christie endorsed Trump about a week ago, the day after a heated debate in Texas when Florida Sen. Marco Rubio repeatedly taunted the businessman.
Carson dropped his presidential bid one week ago after performing poorly in all of the early nominating states, winning in none of the contests through Super Tuesday. Still, his campaign was not without its bright spots and seemed like a serious threat to Trump late last year when he rose in the polls and even eclipsed the real estate mogul in some.
Trump leads in polls of all five of the coming primaries this Tuesday and has won in the majority of the states that have voted thus far in the nominating season.
© Copyright IBTimes 2023. All rights reserved.