Ben Carson Talks Lucifer, Hillary Clinton And Donald Trump In RNC Speech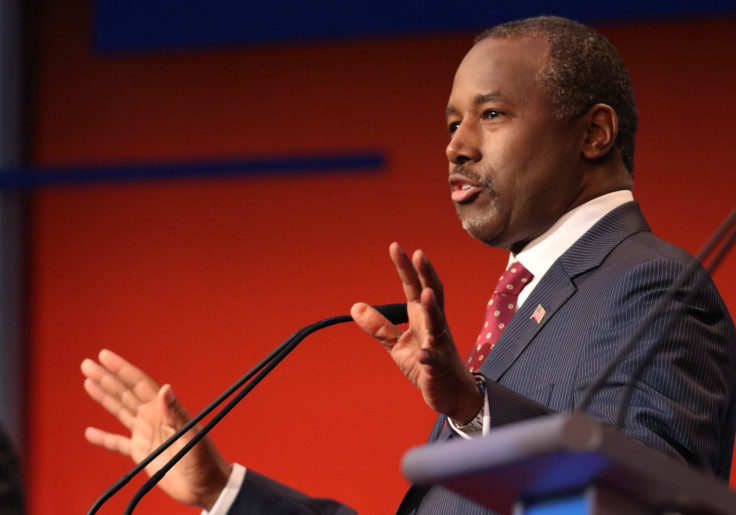 Former presidential candidate Dr. Ben Carson took the stage of the Republican National Convention Tuesday night and came out swinging against Hillary Clinton and what he called her practice of "deception." But before talking about how he thought Donald Trump could lead the country forward and -- unexpectedly -- the topic of Lucifer, the retired neurosurgeon said he needed to make one thing clear.
"I'm not politically correct, and I hate political correctness," he proclaimed. "It's time for us to stand up and shout out about what we believe in."
Harkening back to his own work in medicine, Carson said "the brain gives us the ability ... to reason," but Clinton — and even some Republicans, he lamented — "are not using their brain" to think clearly.
Voting Clinton into office is something "American may never recover from," he said. "That's what we have to be thinking about."
Carson did spend some time talking about why he thinks Trump is the best option to the best the next president. But even then he kept coming back to Clinton.
American voters must also think about "What would Hillary Clinton do if she was in fact president," Carson said before concluding she would have a "deleterious effect" for years to come because of a president's ability to appoint judges on both a federal level as well as the Supreme Court.
"We the people have the necessary obligation to fight this," Carson concluded.
In a strange moment, Carson spoke at length about how one of Clinton's friends believes in — and likes — Lucifer, another name for the devil. "The secular progressive agenda is antithetical to the principles of the founding of this nation," he said.
With Day 2 of the Republican National Convention carrying the theme of "Make America Work Again, Carson was expected to talk about ways he thinks Trump can positively impact America's economy. He didn't, but before that he still found other ways to make headlines Tuesday.
Coming off the RNC opening day that yielded accusations of plagiarism against Trump's wife, Melania Trump, Carson put a unique spin on the allegations, Politico reported.
"If Melania's speech is similar to Michelle Obama's speech, that should make us all very happy because we should be saying, whether we're Democrats or Republicans, we share the same values," he told the media in Cleveland at a breakfast for Florida delegates. "If we happen to share values, we should celebrate that, not try to make it into a controversy."
Carson, who went on to say he didn't think Melania Trump plagiarized, has been a surrogate for the Trump campaign since almost immediately following the suspension of his own presidential campaign in early March. He endorsed Trump one week later.
At the same event Tuesday, Carson went on to discuss transgender people, solidifying his opinion about the LGBT community.
"For thousands of years, mankind has known what a man is and what a woman is," Carson said unprompted but to a round of applause. "And now all of a sudden we don't know anymore. Now, is that the height of absurdity? Because today you feel like a woman, even though everything about you genetically says that you're a man or vice versa?"
He then went on to compare changing ones gender to changing ones ethnicity or ancestry.
"Wouldn't that be the same as if you woke up tomorrow morning after seeing a movie about Afghanistan or reading some books and said, 'You know what? I'm Afghanistan." Carson said. "I know I don't look that way. My ancestors came from Sweden, or something, I don't know. But I really am. And if you say I'm not, (then) you're racist.'"
Aside from addressing the Florida delegation, Carson has been biding his time in Ohio stumping for Trump and courting other delegates, including a group from Nevada.
ABC Breaking News
Correction, July 19, 2016, 11:33 p.m. EDT: A previous version of this article incorrectly identified the profession of Dr. Ben Carson. He is a retired neurosurgeon. The text of this article has been corrected to reflect this fact.
© Copyright IBTimes 2023. All rights reserved.