Berkeley University Campus Calm after Occupy Arrests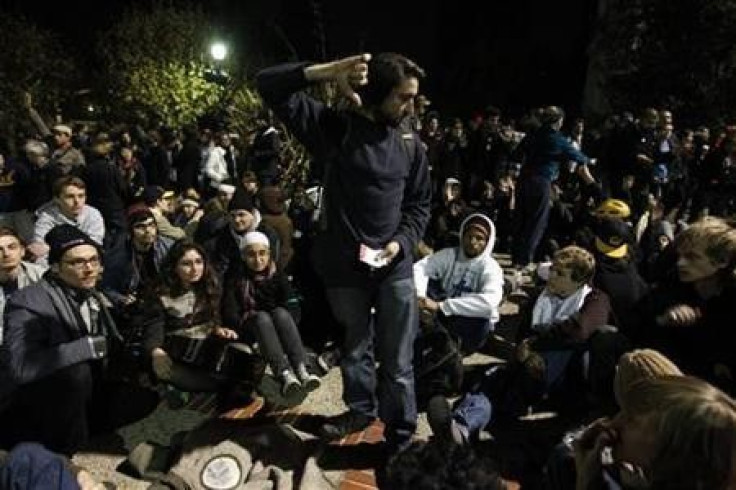 All but two of 39 Occupy Wall Street movement protesters arrested at the University of California, Berkeley were cited and released, a police spokeswoman said on Thursday.
Teach-ins prevailed over run-ins with police a day after the arrests on the campus famous for its student protests.
After protesters set up tents for an Occupy Cal camp on Wednesday, campus police moved in to take them down, creating a scene on the university's Sproul Plaza reminiscent of stand-offs between police and protesters there in the 1960s, when the Berkeley campus gained notoriety for its Free Speech Movement and, more broadly, anti-establishment sentiment.
Protesters put up tents in defiance of Chancellor Robert Birgeneau, who on Wednesday said that while the university shares many principles with Occupy activists, they would not be allowed to set up camps on campus or take over any buildings.
Occupy protesters in nearby Oakland have been camped out in its downtown for several weeks and have launched demonstrations that led to violence between some protesters and police, vandalism of some businesses, a brief closure of the Port of Oakland and the temporary occupation of an empty building.
Berkeley's campus police moved swiftly on Wednesday to prevent a similar camp from taking hold and made the 39 arrests while a crowd estimated by local media at about 1,000 watched.
Captain Margo Bennett said most of those arrested were cited for resisting, delaying or obstructing officers and failure to disperse from an unlawful assembly. Two protesters, however, were arrested for battery of police officers.
All protesters with the exception of the two arrested on battery charges were by Thursday morning, Bennett said, with 32 students and one faculty member among those arrested.
A single arrest of an individual trying to set up a tent was made on Thursday morning and that person has also been released, Bennett said, noting that Sproul Plaza was fairly quiet.
Right now we have a couple teach-ins going, Bennett said. There's probably 50 to 75 people just milling around. No tents are up.
The reclaim UC website, meanwhile, said that 95 percent of the Occupy Cal general assembly had voted to organize and call for a strike and day of action on Tuesday, November 15, in all sectors of higher education. We will strike in opposition to the cuts to public education, university privatization, and the indebting of our generation.
© Copyright Thomson Reuters 2023. All rights reserved.