Bernie Sanders John Lewis Controversy: Supporters Attack Civil Rights Leader On Twitter As Democrats Battle For Black Vote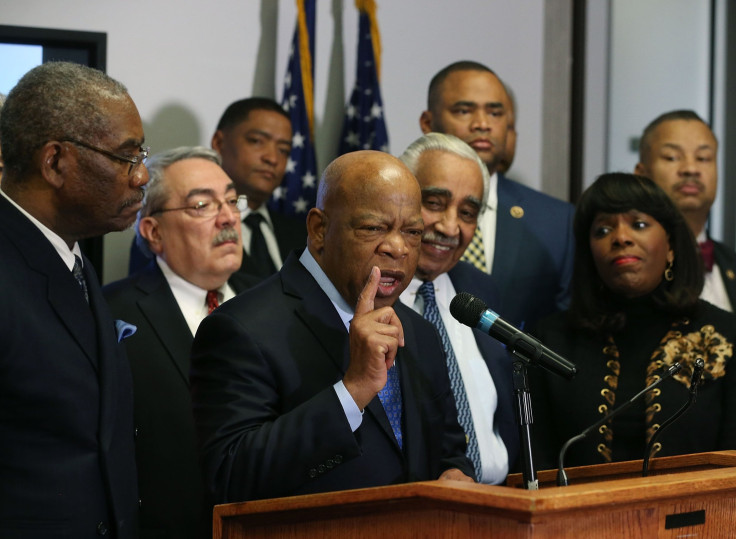 The battle over black voters is on between the Democratic U.S. presidential candidates. Supporters of Vermont Sen. Bernie Sanders criticized Rep. John Lewis of Georgia, who backs Hillary Clinton, on social media Thursday after the civil-rights leader questioned Sanders' record on fighting for racial justice.
After Sanders beat Clinton by double-digit percentage points in the New Hampshire primary election Tuesday, both Democratic candidates have been working this week to court African-American voters as they head toward the more-diverse nomination contests in Nevada and South Carolina this month.
Clinton received the endorsement Thursday of the Congressional Black Caucus' political action committee, which could provide a big boost, particularly in South Carolina, where a large proportion of black voters are expected to turn out for the Democratic primary. During a press conference announcing the endorsement, Lewis, the preeminent voice of the civil-rights movement in Congress, praised Clinton and criticized Sanders.
"I never saw [Sanders], I never met him. I was chair of the Student Nonviolent Coordinating Committee for three years, 1963 to 1966," Lewis said at the press conference. "I was involved in the sit-ins, the freedom rides, the March on Washington, the march from Selma to Montgomery. I directed the board of education project for six years. I met Hillary Clinton. I met President [Bill] Clinton."
Sanders has frequently talked on the campaign trail about his work as an organizer with the Student Nonviolent Coordinating Committee and about attending the March on Washington in 1963. Meanwhile, Clinton has emphasized her experience working for the Children's Defense Fund and investigating schools in the South that were discriminating against black families.
After Lewis' comments, Sanders' supporters were not happy. Some painted the Congressional Black Caucus' PAC, which made the Clinton endorsement, as part of the establishment Sanders is taking on, pointing out it has often taken donations from lobbyists. Others criticized Lewis on Facebook and Twitter, calling him everything from a "sellout" to a "house n----" over his remarks about Sanders.
Some commenters argued people could choose to support Sanders or be wary of Clinton without criticizing Lewis, who many see as a hero of the civil-rights era. Despite both Democratic candidates saying they want to fight for black voters this election cycle, they have mixed histories in supporting policies and legislation that increased policing and incarceration rates.
Meanwhile, Sanders met with the Rev. Al Sharpton in the Harlem neighborhood of the Manhattan borough of New York Wednesday morning. Sharpton was joined by Ben Jealous, former president of the National Association for the Advancement of Colored People, and Bill Perkins, a New York state senator: All three have backed Sanders.
While Clinton has historically been very popular among African-Americans, Sanders is hoping to convert minority voters and steal some of her support in South Carolina and the Southern states that will vote Super Tuesday (March 1). Before then, though, it looks like the Democratic candidates are in for a tough fight over the crucial demographic group.
© Copyright IBTimes 2023. All rights reserved.
FOLLOW MORE IBT NEWS ON THE BELOW CHANNELS