Bernie Sanders Urges Democratic Leaders To Welcome His Supporters, Amid Concerns About Violence At Convention In Philadelphia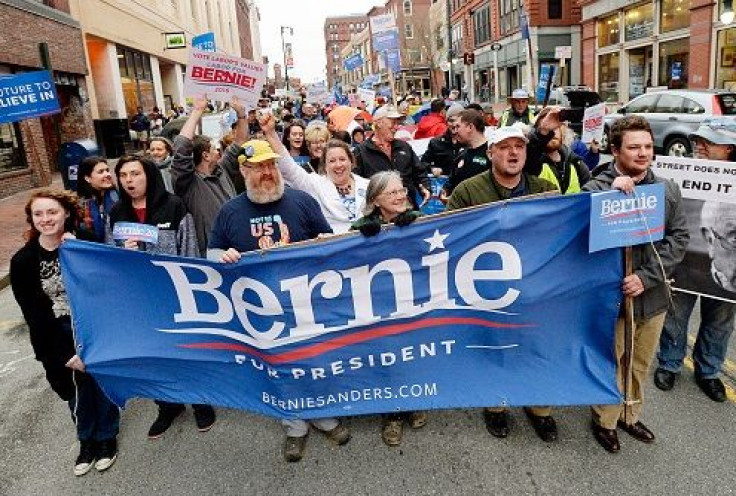 Presidential candidate Bernie Sanders is calling on state and national Democratic Party leaders to respect the will of millions of his supporters by opening the doors to people "prepared to fight for real economic and social change."
But there's growing concern that Sanders supporters who have shown up at rallies for Republican presumptive candidate Donald Trump might redirect their anger to the Democratic establishment during this summer's party convention — especially if Sanders' rival, Hillary Clinton, is the party's nominee.
The comments come after party leaders in Nevada accused Sanders supporters of condoning violence, a reference to unrest fomented by the senator's backers at the Nevada Democratic State convention Saturday night, as well as protests in Chicago and Orange County, California. In the latter, people brandishing signs and T-shirts in support of the Vermont senator clashed with Trump supporters.
The Sanders campaign responded to the accusations but did not apologize or ask his supporters to remain peaceful.
Bernie Sanders | InsideGov
"Within the last few days, there have been a number of criticisms made against my campaign organization. Party leaders in Nevada, for example, claim that the Sanders campaign has a 'penchant for violence.' That is nonsense," Sanders said in a statement Tuesday. "Our campaign of course believes in nonviolent change, and it goes without saying that I condemn any and all forms of violence, including the personal harassment of individuals."
"The Democratic Party has a choice," Sanders' statement read. "It can open its doors and welcome into the party people who are prepared to fight for real economic and social change — people who are willing to take on Wall Street, corporate greed and a fossil fuel industry which is destroying this planet. Or the party can choose to maintain its status quo structure, remain dependent on big-money campaign contributions and be a party with limited participation and limited energy."
The Nevada Democratic party was not mollified, issuing a statement that said "the Sanders campaign is continuing to be dishonest about what happened Saturday and is failing to adequately denounce the threats of violence of his supporters."
With virtually no chance of a Sanders victory over Clinton and with the Democratic National Convention in Philadelphia set for July 25-28, the big question is whether Sanders' highly motivated backers will disrupt Clinton's coronation as the party's nominee.
Last week, former Pennsylvania Gov. Ed Rendell — a former chairman of the Democratic National Committee — issued a warning to Sanders supporters not to wreak havoc during the convention. Protests in one form or another seem likely, given that Sanders has railed against what he calls unfair party rules governing the allocation of superdelegates, which he says favor establishment politicians.
"His supporters have to behave and not cause trouble," Rendell said during a radio appearance last week. "I think they will, and I think Sen. Sanders will send them a strong message."
Accusations that male Sanders supporters are "mysogynist" online bullies aside, this election season's most overt acts of civil disobedience have revolved around events involving Trump, where leftists have clashed with the Republican candidate's loyalists.
© Copyright IBTimes 2023. All rights reserved.