Best Super Bowl Halftime Performances: 9 Of The Most Memorable Shows From Beyoncé To Janet Jackson [VIDEOS]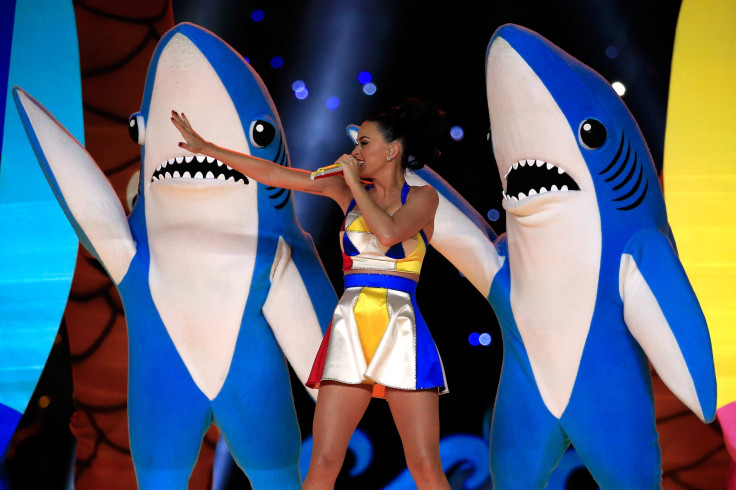 Super Bowl Sunday is always one of the biggest nights in sports and television. The big game not only brings together sports fans, but music lovers who gather to see some of the best artists around play the Super Bowl halftime show. The Super Bowl turns 50 this year and there have been many outstanding halftime performances throughout the years, from Michael Jackson, U2 and Katy Perry.
Before Coldplay tries to make their own case for best Super Bowl halftime show performance on Feb. 7, here are nine of the most memorable musical moments at America's greatest game.
1. U2
At Super Bowl XXXVI in New Orleans, U2 was able to take one of the toughest moments in American history and give people something to cheer about again on Feb. 3, 2002. While it wasn't the most flashy Super Bowl halftime show, U2 did what was right and paid tribute to all of those who had lost their lives in 9/11 just a few months earlier. While the band played "MLK," a screen behind the band displayed the names of all of those who passed away in the terrorist attacks.
2. Bruno Mars with Red Hot Chili Peppers
Bruno Mars came out and electrified the crowd at Super Bowl XLVIII on Feb. 2, 2014 in East Rutherford, New Jersey, with his singing, dance moves, and skills on the drums. One of the highlights of the performance was when the Red Hot Chili Peppers took the stage and the two musical acts performed "Give It Away" together. You can watch the full performance below:
3. Beyoncé
Beyoncé had one of the most powerful halftime show performances in Super Bowl history in New Orleans at Super Bowl XLVII on Feb. 3, 2013. Some even believe her performance could have contributed to a power outage, which happened during the second half of the game. Aside from performing her biggest songs, the "Single Ladies" singer also treated fans to reunion of her old group Destiny's Child, as Kelly Rowland and Michelle Williams joined her on stages for "Bootylicious" and "Independent Women, Part I"
4. Katy Perry
Katy Perry played several of her top hits and gave the crowd plenty to sing along to at Super Bowl XLIX on Feb. 1, 2015 in Glendale, Arizona. Perry also had one of the most visually compelling halftime shows with different stage set ups and props. Who can forget left shark? The "Roar" singer also had some help on stage thanks to Lenny Kravitz and the return of rapper Missy Elliot.
5. Janet Jackson and Justin Timberlake
The halftime show at Super Bowl XXXVIII on Feb. 1, 2004 in Houston was the site of the infamous "wardrobe malfunction" where Justin Timberlake exposed Janet Jackson's breast to the world at the end of his song "Rock Your Body." MTV wasn't allowed to produce the halftime show following this incident and the NFL chose to go in the direction of older musical acts for the next couple of Super Bowls.
6. Aerosmith, NSYNC and Brittney Spears
Before the infamous Super Bowl XXXVIII, MTV produced a very entertaining halftime show at Super Bowl XXXV on Jan. 28, 2011 in Tampa, Florida, with Aerosmith, NSYNC, Brittney Spears, Mary J. Blige and Nelly. The highlight of the show was where all the artists came together for Aerosmith's "Walk This Way."
7. Michael Jackson
It seemed only fitting to bring together the King of Pop and the biggest NFL game of the year. Michael Jackson's stellar halftime performance features some of the singer's biggest songs, including "Billie Jean" and "Black or White." After his performance at the Rose Bowl on Jan. 31, 1993 in Pasadena, California, Super Bowl halftime shows started to get bigger and more popular artists would perform in the years to follow.
8. Bruce Springsteen
The Boss showed the world on the biggest stage why he and the E-Street Band are one of the best live acts around. For 12 minutes, Springsteen rattled through songs like "Tenth Avenue Freeze-Out," "Born to Run" and "Glory Days" at Super Bowl XLIII on Feb. 1 2009, in Tampa, Florida.
9. Rolling Stones
After over 40 years of playing shows around the world, the Rolling Stones proved they still had it when they performed at halftime of Super Bowl XL on Feb. 5, 2006, in Detroit. Mick Jagger brought his best moves for "Start Me Up" and "(I Can't Get No) Satisfaction."
© Copyright IBTimes 2023. All rights reserved.