Betsy DeVos Senate Vote: Trump's Education Secretary Pick To Face Unusual Early Morning Vote Following Mounting Criticism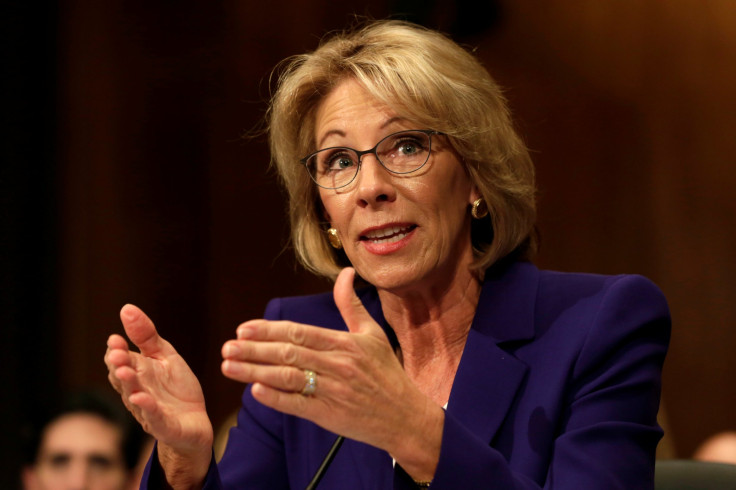 Senate Republicans are attempting to end the debate on President Donald Trump's pick for education secretary, Betsy DeVos, by scheduling an early morning vote — 6:30 a.m. Friday — to move ahead with the confirmation of the controversial figure.
While it is rare to see early morning votes in the Senate, Republicans say they are tired of the hurdles put in their way by Senate Democrats. Senate Majority Leader Mitch McConnell reportedly said he was confident of garnering the 51 votes required to end the debate on DeVos during the early morning procedure Friday.
DeVos, a billionaire philanthropist, is the daughter-in-law of Richard DeVos, the co-founder of health and homecare company Amway. She is the daughter of the late Edgar Prince, also a billionaire and founder of the Prince Corporation.
The 59-year-old has reportedly contributed to numerous nonprofits and charities like the Dick and Betsy DeVos Family Foundation, Kids Hope USA and Foundation for Excellence in Education. She has also poured $5.3 million into several political campaigns over the past five years, according to MLive.com.
The education secretary pick, however, has no experience in the public school system. While senators were not given much time to question DeVos during the hearing, it was apparent that Trump's choice was visibly unfamiliar with public education law, standards and problems.
After hundreds of furious calls from voters, two Republican senators — Lisa Murkowski of Alaska and Susan Collins of Maine — announced that they will vote against her in the final confirmation. They join big Democratic names like Sens. Bob Casey Bernie Sanders, Angus King, Debbie Stabenow, Cory Bookers, Kirsten Gillibrand, Bob Menendez, Tammy Baldwin, Joe Donnelly, Gary Peters, Tim Kaine, Chris Murphy and Senate Minority Leader Chuck Schumer in voting against DeVos.
Murkowski and Collins, however, will vote with other Republicans to end the debate on DeVos.
With the final votes for DeVos' confirmation expected to be tied at 50-50, GOP leaders are confident that her confirmation will go through — without any further defections — once Vice President Mike Pence steps in to break the tie.
An instance of an early morning vote in the Senate was when Democrats passed Obamacare shortly after 7 a.m. before the Christmas of 2009. The voting at the time was on party lines — 60 to 39.
© Copyright IBTimes 2023. All rights reserved.